Rev. Mark H. Creech
Statement on Apple coming to RTP, thoughts on HB 2, and a word to Governor Roy Cooper

By
Rev. Mark H. Creech
April 27, 2021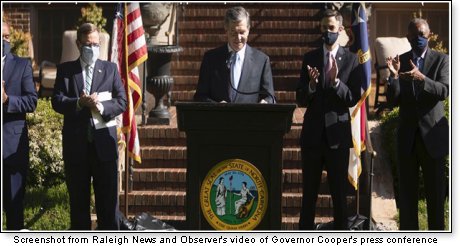 Today, lawmakers and the Governor celebrate the promise of Apple's plans to invest more than $1 billion in North Carolina and build a new campus in Research Triangle Park (RTP) employing 3000 workers.
The Governor made the announcement during a press conference, where he couldn't resist telling us that the CEO of Apple, Tim Cook, told him that the repeal of HB 2 and the sunset of the compromise legislation, HB 142, was very much a part of Apple's decision to come to North Carolina.
I believe the Governor's remarks deserve a response.
Governor, although you, pro-LGBT activists, celebrities, business interests, etc., made extreme claims about the economic harms of HB 2, we now know from a look at the economy between March 2016 and March of 2017, when the law was in effect, North Carolina's gross state product continued to grow steadily during that time as it has since 2012 when the state recovered from the Great Recession. Industry employment continued to rise at the same rate, even without PayPal, which supposedly refused to come to the state because of HB 2.
But even if HB 2 had seriously injured our state's economy (which it didn't) – the Scriptures say, "Better is a little with righteousness, Than vast revenues without justice" (Proverbs 16:8).
HB 2 was righteous legislation meant to keep men from using women's bathrooms, showers, and locker rooms – to preserve their fundamental right to privacy. HB 2 was intended to protect private businesses from being forced to promote ideas and participate in events that conflicted with their moral and religious beliefs. If it were a choice between Apple and the preservation of these fundamental rights, our state would be better off without Apple and the jobs they bring.
Governor, your leadership has taken us down a road that provides special rights for those who live in gross sin, while also endangering the innocent and diminishing the rights of those who walk uprightly.
As someone who has taught Sunday School and served as a deacon and elder of the Presbyterian Church, you have disgraced the cause of Christ and made our state and nation the object of God's coming judgment.
May God forgive us. May God save the great state of North Carolina.
© Rev. Mark H. Creech
---
The views expressed by RenewAmerica columnists are their own and do not necessarily reflect the position of RenewAmerica or its affiliates.
---