Rev. Mark H. Creech
Coronavirus fears: The fear of death and judgment

By
Rev. Mark H. Creech
March 13, 2020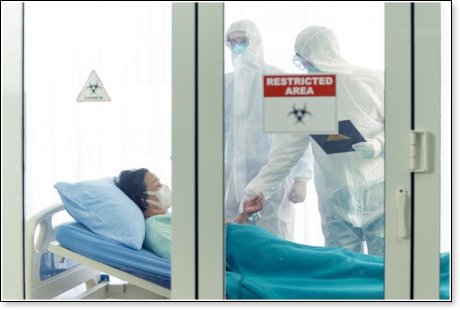 Coronavirus fears are intense. USA Today Health reports, "As the number of confirmed cases grows, so too does the nation's collective uncertainty. Psychologists and public health experts say anxiety is high, and it's largely fueled by a feeling of powerlessness."
Pandemics fuel our fears. Although there are precautions we might take, there's no guarantee that we can avoid the threat. There's no assurance we won't be affected.
There's a local restaurant I go to every day. Yesterday it was nearly empty, albeit for a few customers. The streets of Raleigh, North Carolina, where I work, weren't empty but considerably less traveled. People are anxious.
In an attempt to slow the spread of the sickness, travel to Europe has been suspended. Events that involve mass gatherings have been canceled. People are working from their homes and stocking up on supplies for perhaps a protracted stay. Colleges have extended their Spring Break periods. Some schools have closed.
"The good news is, for most people, the illness caused by the coronavirus is generally mild and the flu-like symptoms of fever and cough don't last long. The bad news is the virus is novel and highly contagious, and right now there is no vaccine. The elderly and those with compromised immune systems or chronic diseases can become very sick and in some cases die," says USA Today Health.
Novel illness? Highly contagious? No vaccine? Die? Scary!
Thirty-eight people in the U.S. have already died of the coronavirus. And the numbers are expected to climb. Even though at this point, the chances of dying from the virus are relatively low for most, the fear is we don't know what the illness will do. We don't like these feelings of being out of control. The unknown in the situation makes us afraid – afraid of death mostly.
It doesn't provide much comfort amid coronavirus fears, but the hard truth is people face the threat of death every day. Ralph Waldo Emerson said, "He has not learned the lesson of life who does not every day surmount a fear." None of us is promised perpetual good health. None of us is guaranteed tomorrow.
Moments like the present health crisis have a way of reminding us of what's paramount: our fitness, our family, but most importantly, our relationship to God and our final destination at the end of this life.
No one wants to talk about death, but the prospect of death is probably our greatest fear. Pandemics remind us of just how vulnerable we are. Things can worsen and get out of control. Disaster and death can't always be cheated. And while death is something to make us afraid, there's much more in our faith to make us unafraid.
Were you aware that Christ came to deliver you and your loved ones from the fear of death?
The Bible says that Jesus "took part of the same; that through death he might destroy him that had the power of death, that is, the devil; and deliver them who through the fear of death were all their lifetime subject to bondage" (Hebrews 2:14-15).
In other words, Christ's death on the Cross was substitutionary. He died in our place so that we never have to experience real death. Those who look in faith to him and what he did by way of the Cross and Resurrection, are delivered from death's power to destroy them. Jesus said to those who believe in him, "Because I live, you shall also live" (John 14:19).
The Bible also says the sting of death is sin. It's because of sin that we dread death. You may have never thought of it this way. But deep in our psyche is this horror of stepping into eternity unprepared to meet God. Most people suppress these thoughts, or they never manifest until they're faced with a life-threatening situation.
How different for the believer this becomes. The believer by faith understands that Christ took the punishment for his sins on the Cross. His sins have been dealt with, paid for, atoned for, forgiven, and forgotten. So for the believer, death is but a home going to heaven without any fear of Judgment.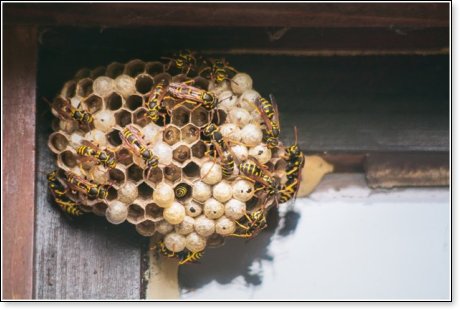 Years ago, when I was the pastor of a small church, I inadvertently bumped my hand against a window in the church building. On the other side of the windowpane was a large nest of nasty and aggressive wasps. Immediately dozens of those menacing pests swarmed the window to get at me, but not a one could touch me. Why? Because between me and their intended sting was the windowpane. They could still buzz at me and scare the wits out of me, but they were harmless to injure me.
Christ's atonement and resurrection stand between the believer and the harm of death. Therefore, the Scriptures cry out, "O death, where is your sting? O grave, where is your victory?... But thanks be to God, who gives us the victory through our Lord Jesus Christ (I Corinthians 15:55, 57).
E. H. Hamilton has beautifully written:
Afraid? Of what?
To feel the spirit's glad release?
To pass from pain to perfect peace?
The strife and strain of life to cease?
Afraid – of that?
Afraid? Of what?

Afraid to see the Savior's face?
To hear his welcome, and to trace
The glory gleam from wounds of grace?
Afraid – of that?
Coronavirus fears stoke our fear of death. The fear of death stokes our fear of Judgment.
Fear or faith? That's the choice before us. God invites us to receive Christ and be free of fear – free of the fear of death – free of the fear of Judgment.
Begone from me Coronavirus fears. There is nothing you can do to me that my Savior won't overrule and overturn on the Last Day.
© Rev. Mark H. Creech
---
The views expressed by RenewAmerica columnists are their own and do not necessarily reflect the position of RenewAmerica or its affiliates.
---