Rev. Mark H. Creech
Equal rights for LGBTQ

By
Rev. Mark H. Creech
May 3, 2017
Not long ago I read these remarkable words from authors George Grant and Mark Horne, in their book, "Unnatural Affections:"
"The Gospel's message of the sinfulness of homosexuality has been reviled by some as an awful bigotry. It has been equated with the evils of racism – which are categorically condemned in Scripture. But the reality is that treating homosexuality as a sin is the opposite of bigotry. For instead of simply stereotyping homosexuals as predetermined products of either their biology or environment, the Gospel treats them the same as every other sinner who needs to repent and believe."
The authors then go on to quote author David Chilton, who wrote:
"Calling homosexuality a sin will seem to be a cruel, insensitive attitude, a 'homophobic response' of condemnation rather than concern. But the truth is that it is the beginning of true freedom and joy for the homosexual. For if homosexuality were either an inescapable human condition (like height and skin color) or an incurable disease, there would be no hope. The homosexual would be locked in his lusts forever, with no possibility of escape. Once we see clearly that homosexuality is a sin, we can also see the way of deliverance."
Certainly, this is what the apostle Paul was referencing when he listed homosexuality as one of the sinful practices characteristic of those destined for exclusion from the kingdom of God (I Cor. 6:9-10). But the apostle adds, "And such were some of you. But you were washed, but you were sanctified, but you were justified in the name of the Lord Jesus and by the Spirit of our God" (I Cor. 6:11).
Unquestionably, this passage was addressed to numerous ex-homosexuals who had become members of the New Testament Church.
Of course, some will readily dismiss this argument and point to the testimonial of people like Katy Perry, the former Christian artist, the pastor's daughter from a fundamentalist Christian home, who said at the Human Rights Campaign Gala in March that she often tried to pray the gay away at Jesus Camps, but to no avail.
Perry now endorses same-sex marriage and is a zealous advocate for LGBTQ Equality.
Her remarks at the Gala have gone international.
But there's someone else of whom you've probably never heard whose testimonial eclipses Perry's, in my estimation, and speaks truth to the issue.
Matt Moore is a Christian writer living in New Orleans, who explained in a recent column that he had same-sex attractions from an early age. He was deeply troubled by the Bible's condemnation of homosexuality and its negative social stigma. The title of his article, interestingly, was,
I Begged God to Make Me Straight & He Never Answered. Here's Why.
Moore said he prayed earnestly, "God make me normal, make me straight – make me like everyone else." But God never answered those prayers because Moore's desire to be straight was all about him, he said.
"I had no interest in being reconciled to God or having a right relationship with Christ," wrote Moore.
Moore contended, "I had no real interest in God himself. I wasn't praying for God to do this [take away homosexuality] because I loved him or wanted to live my life for him. I was actually pretty unconcerned about him, to be honest. I wanted God to take away my own same-sex desires for my own benefit – so I could fit in, be normal, be one of the guys, and even so that I could just have sex with girls like all my friends were. So I obviously wasn't worried about being sexually moral. I just wanted to be sexually normal."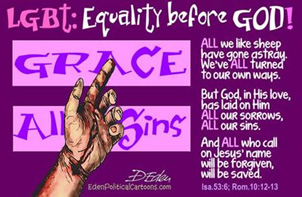 Moore also said something which I believe provides amazing insight. "Yes, it's true that God hates homosexuality. But more than that, he hates that our hearts are opposed to him and that we long to live our lives separated from him," Moore contended. "God's foremost desire is that we would come to him through Christ to receive new hearts that love and adore him. In fact, nothing can even begin to be done as far as the untangling of our sexualities until we receive new hearts that love and adore God."
Moore is so right! Furthermore, this is the case whether our struggle is with alcohol, drugs, sex, gambling, lying, anger, pride, envy, materialism, etc., etc. We cannot be changed until we see that we possess sinful and rebellious hearts. We were made by God and for God and we find our being in him. Only when we see how incredibly marvelous he is and how broken we are without him, then turn in humility and surrender to his benevolent sovereignty, does EVERYTHING BEGIN TO CHANGE!
I do not mean to be coy or flippant, when I say, I believe in equal rights for LGBTQ folks. They have an equal right as anyone else, bearing a burdensome load of sin, to share in the Gospel of Jesus Christ and be cleansed – set free from sin's power and penalty.
© Rev. Mark H. Creech
---
The views expressed by RenewAmerica columnists are their own and do not necessarily reflect the position of RenewAmerica or its affiliates.
---