Rev. Mark H. Creech
NC NAACP president attacks religious right as 'just running their mouths'

By
Rev. Mark H. Creech
February 2, 2014
Two Sundays past (January 19, 2014), in a sermon the media described as "fire and thunder," [1] Rev. William Barber, head of the NC NAACP mounted the pulpit of Zion Baptist Church in Columbia, South Carolina, and began to excoriate all things political to the right.
Rev. Barber singled out by name, U.S. Senator Tim Scott (R) of South Carolina, arguing, "A ventriloquist can always find a good dummy." [2] Barber said that Scott was just a mouthpiece for the Tea Party. The remark received considerable attention, even making the national news.
But it was what Rev. Barber said about pastors on the religious right that was largely overlooked. Barber said "[i]ssues such as voting, healthcare, environment and education 'are moral issues, faith issues.'" And he also added, "Any profession of faith that doesn't promote justice and standing against wrong is a form of heresy...pastors who obsess about topics like prayer, homosexuality and abortion while neglecting justice, poverty, fair play and equality issues 'are just running their mouths.'" [3]
Conservative evangelical ministers would certainly agree that the many social issues Barber named are "moral issues, faith issues." But it is Barber, we believe, who has embraced a heresy.
Barber constantly touts the term "social justice." It is, without question, the mantra of the left, both political and religious. Nevertheless, the notion of social justice as they understand it is without warrant in Scripture. Behind it lurks the static view of economics typical of socialistic, even communistic regimes. It is totally alien to the Free Market system taught in the Bible and endorsed by our nation's founders.
The late Dr. D. James Kennedy in a sermon titled,
The Bible and Economics,
once explained it this way:
"Free market economics postulates a growing economic pie and by no means indicates that if one person has more, another person must inevitably have less. It postulates exactly the opposite. If one person has more in the process of getting more, he has succeeded in contributing to the enlargement of every other piece. For example, Henry Ford was born into this world as a poor man. He left the world worth hundreds of millions of dollars. From the static point of view...he had hundreds of millions of dollars by plundering everyone. He had despoiled all of us, taken a part of our wealth. If justice will prevail, we shall take that away from him and divide it among ourselves because he has impoverished us by his gain.

"Is that true? Is not the very opposite the truth? Is not the truth that every one of us is richer because of Henry Ford, or would you have preferred to walk to church today or ride a horse?" [4]

Because Rev. Barber couches his words to sound as if they were about compassion for the poor and the deprived of this world, he is perceived by some as having the moral high ground. Still, the charity Barber demands is based in government coercion – a redistribution of wealth. It violates the eighth commandment of God which orders us not to steal another man's private property – a commandment that not only applies to the individual, but to the state as well. In other words, what Barber advocates for is nothing less than a legal form of plunder. He preaches a gospel of envy which operates in an institutionalized form of theft.
Kennedy also writes:
"Confusing justice and charity has produced something called 'social justice,' the basis of the welfare state. Social justice is having a tremendous negative impact upon the economic well-being of this country.

"You cannot have charity or justice when you forcibly take money from A and give it to B. You have not charity because it was not freely willed. You have not justice because you are not treating A and B alike but are taking from one and giving to the other. The rights of each have not been protected, but stripped." [5]

For someone who says he believes strongly in equality, Rev. Barber argues for something that in no way treats people "equally." In no way does it secure "fair play" or "justice." And there is considerable evidence available now since this approach was first put into law that it has done more to harm the impoverished than help them.
Moreover, Barber wrongly disparages the efforts of those on the right who talk about prayer in the schools, homosexuality and abortion. He indicates these issues don't really matter. I beg to differ.
Prayer in the schools matters.
Since the Supreme Court ruled prayer in the public schools was unconstitutional, it is an undeniable fact that crime and other destructive forces have become pervasive in the public school system. If children are taught they are simply a higher form of animal, then why should we be surprised if they act like animals? If they are not allowed to be taught that there is a God in whose image they are made, if they never hear that they are accountable to God who has a certain set of absolute moral standards, why should we be surprised when they demonstrate fewer internal moral convictions?
School prayer never violated the separation of church and state, it never established a state church, but the lack thereof did establish a new generation of youngsters seemingly uninhibited with murdering their teachers and their peers – something that unquestionably did not exist before prayer was removed.
There isn't enough gun control in all the earth to remedy the evil a simple allowance of corporate prayer and its power could change.
And what could possibly be more urgent than the undermining of marriage, our nation's first institution or our first inalienable (God-given) right – the right to life?
Marriage matters.
Genesis 1-2 teaches that marriage comes before any other institution in human society. It is the one institution by which all of life prospers. Therefore, every effort to redefine or undermine it must be a priority of every true minister of Christ.
I agree with Anthropologists Stanly Kurtz who argued, "When we look at Nordland and Nord-Troendelag – the Vermont and Massachusetts of Norway – we are peering as far as we can into the future of marriage in a world where gay marriage is almost totally accepted. What we see is a place where marriage itself has almost totally disappeared...Scandinavian gay marriage has driven home the message that marriage itself is outdated, and that virtually any family form, including out-of-wedlock parenthood, is acceptable." [6]
That being said, perhaps the NAACP president would also consider these words from Ari Fleischer, former press secretary to President George W. Bush:
"One of the differences between the haves and the have-nots is that the haves tend to marry and give birth, in that order. The have nots tend to have babies and remain unmarried. Marriage makes a difference. Heritage [The Heritage Foundation] reports that among white married couples, the poverty rate in 2009 was just 3.2%; for white non-married families, the rate was 22%. Among black married couples, the poverty rate was only 7%, but the rate for non-married black families was 35.6%...For children, the problem begins the day they are born, and no government can redistribute enough money to fix it. If redistributing the money could solve the problem, the $20.7 trillion in 2011 dollars the government has spent on welfare programs since 1964 – when President Johnston declared the 'war on poverty' would have eliminated income inequality a long time ago." [7]

I suggest that by siding with so-called "marriage equality" proponents, Rev. Barber is aiding and abetting in the destruction of our most important institution for fighting poverty – marriage. To oppose something so destructive is not "hate," but to marginalize its importance is nothing less than irresponsible.
And then, life really does matter.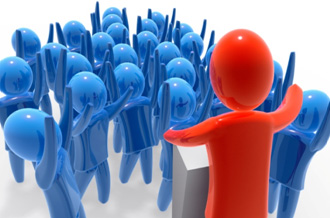 It is unnecessary to site all the Christian teachings that life is sacred at every stage. If the right to life is not vigorously protected by the government – no other right is safe. In compromising the sanctity of human life via abortion we are significantly contributing to the loss of respect for human life in general.
In 1994 Mother Teresa told the audience at the National Prayer Breakfast that the country that accepts abortion is teaching its people that they can use any violence to get what they want. She said abortion is the greatest destroyer of peace in our time.
I'll take a Mother Teresa over Rev. Barber any day. Life mattered to her. Life matters to God. But to Rev. Barber it seems inconsequential, as compared to throwing government money at our problems to support programs that haven't worked, don't work, and never will work. He makes the case for Band-Aid solutions and forgets to apply the salve that actually addresses our moral wounds.
So who is really "running their mouth?"
Resources
[1], [2], [3], Monk, John (2014, January 19). "NC NAACP Chief Denounces Extremists of all Kinds, Including Conservatives."
The State,
http://www.thestate.com/2014/01/19/3216854/in-fiery-pre-mlk-day-speech-nc.html
[4], [5], Kennedy, D. James.
The Bible and Economics.
Fort Lauderdale, Fla.: Coral Ridge Ministries.
[6] Kurtz, Stanley, "End of Marriage in Scandanavia,"
Weekly Standard,
2004, February 2.
Quoted by Frank Turek.
Correct, Not Politically Correct: How Same-Sex Marriage Hurts Everyone.
Charlotte, NC: Cross Examined, 2008, pgs. 48, 51
[7] Fleischer, Ari, (12, January 2014). "How to Fight Income Inequality: Get Married,"
The Wall Street Journal.
© Rev. Mark H. Creech
---
The views expressed by RenewAmerica columnists are their own and do not necessarily reflect the position of RenewAmerica or its affiliates.
---