Rev. Mark H. Creech
The alcohol is in the mail?

By
Rev. Mark H. Creech
September 22, 2013
Last month, US Postmaster General Patrick Donahoe said the US Postal Service should be allowed to start delivering, beer, wine and spirits. He contended the service was needed to help raise revenue for the financially ailing agency – an agency that lost $16 billion last year.
Donohoe contended alcohol deliveries had the potential of raising $50 million annually. He said, "There's a lot of money to be made in beer, wine and spirits. We'd like to get in that business."
I've been addressing alcohol policy for 14 years and it never ceases to amaze me the way public officials will consider loosening alcohol control polices in pursuit of filling budget gaps.
The prospectors of old used to say, "There's gold in dem dar hills." These folks say, "There's gold in dem dar bottles." To some degree the statement is true – there is money to be made – otherwise the Postal Service wouldn't be interested and alcohol vendors wouldn't be intrigued at the possibilities. But the proposal that the nation's mail carriers start delivering alcoholic beverages to our doorsteps presents a host of negatives.
It is a well-accepted finding among those who study the negative effects of alcohol use and abuse that greater access typically generates greater public consumption levels – the more outlets available – the more sales. Making beer, wine, and liquor available through an outlet with a scope expansive as the US Postal service would likely cause more widespread use of alcohol, consequentially leading to more alcohol-related problems.
It could also produce additional troubles with underage drinking. Let's not forget that purchase and possession of alcohol under the age of 21 is illegal in all 50 states. Yet the Centers for Disease Control (CDC) have been reporting for several years that underage drinking is epidemic. A study released earlier this week in the Journal of American Medical Association Pediatrics (JAMA) found that one in 10 high school seniors in America have engaged in "extreme binge drinking," which amounts to more than ten drinks in one sitting. [1] Young people can be very resourceful when it comes to getting alcohol, putting them at risk for impaired judgment, car crashes, sexual assault, altered brain development and dozens of other deleterious outcomes. It doesn't stand to reason that we would do anything that might remotely exacerbate this problem.
In 2005 the US Supreme Court ruled that wineries could ship to out of state consumers. The court concluded that states demonstrated little evidence that youth access online to alcohol was a problem. Since then, however, a recent peer-reviewed study from the University of North Carolina at Chapel Hill, says that minors can with relative ease purchase alcohol online and have it delivered via FedEX and UPS straight to their home. Rebecca Williams, lead author of the study said, "We were amazed at how easy it was for minors to buy alcohol online. Using their real ID and a prepaid VISA card, they could place an order for alcohol in just a few minutes and often have it delivered to their door in a matter of days without anyone ever trying to verify their age." [2]
"For the new study, eight underage participants attempted to purchase alcohol online from 100 popular vendors using prepaid Visa debit cards and providing their real identification when asked. There was little use of age verification at the point of order, and less than half of vendors asked that FedEx and UPS verify their customers' age at delivery, the researchers said. Of the 47 orders that arrived labeled as requiring age verification at delivery, only 34 percent were properly rejected by UPS or FedEx delivery staff after verifying the age of the recipient. Thirty-six percent were left at the door, and 30 percent were handed to the underage buyer after examining their underage ID or taking their word that they were 21." [3]
Do we honestly believe the mailman can do better than FedEx or UPS? Give me a break.
No! Alcohol via the mail is already putting our youth at risk too much. It's not simply conjecture, it's an established fact.
What is more, despite alcohol is often seen as a revenue growth initiative for government, the evidence clearly shows over and again that the social costs far outweigh any revenue it generates.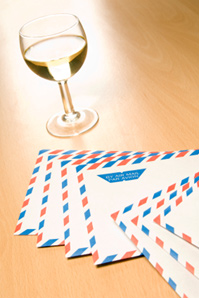 A report released by the Center for Disease Control (CDC) as current as last month says that excessive alcohol use causes a large economic burden costing our nation $223.5 billion every year, including everything from loss worker productivity to higher health costs. The report said the median cost per state for each alcoholic drink consumed was $1.91. Alcohol use and abuse is responsible for an average of 80,000 deaths and 2.3 million years of potential life lost in the United States. [4] The CDC added that it believed that even these figures were underestimated "because it did not consider a number of other costs, such as those due to pain and suffering by the excessive drinker or others who were affected by the drinking." [5]
Any astute business man or woman recognizes that such operating cost don't make for good business. A business venture that essentially makes no profit and squanders its assets is a business for fools. And heaven knows how foolish the government can be with money.
Huh! Who would've thunk it – alcohol via the postal service? It's a terrible idea. Next thing you know they'll want to put liquor flavors on envelope seals and the back of our stamps.
God forbid!
Resources:
[1] Megan E. Patrick, PhD; John E. Schulenberg, PhD; Meghan E. Martz, MA; Jennifer L. Maggs, PhD; Patrick M. O'Malley, PhD; Lloyd D. Johnston, PhD "Extreme Binge Drinking Among 12th-Grade Students in the United States."
JAMA Pediatrics,
16, September 2013.
http://archpedi.jamanetwork.com/article.aspx?articleid=1738765
[2] "Online Retailers, Shipping Companies Give Minors Access to Alcohol, Study Finds."
UNCNEWS.UNC.EDU.
07, May 2012
http://uncnews.unc.edu/content/view/5294/107/
[3] Ibid
[4] "CDC State Data Shows High Costs Due to Excessive Alcohol Use."
Centers for Disease Control and Prevention.
13, August 2013.
http://www.cdc.gov/media/releases/2013/p0813-excessive-alcohol-use.html
[5] Ibid
© Rev. Mark H. Creech
---
The views expressed by RenewAmerica columnists are their own and do not necessarily reflect the position of RenewAmerica or its affiliates.
---