Cherie Zaslawsky
Quoth the RINOs, NeverMoore

By
Cherie Zaslawsky
November 26, 2017
It is perhaps no surprise that a coterie of NeverTrumpers has been quick to jump on the NeverMoore bandwagon. After all, Roy Moore shares the President's agenda of restoring the rule of law to our country and making America great again.
This support of President Trump by Judge Moore infuriates those who object to the rule of law, chafe against American sovereignty, and hunger for a one-world government, provided it benefits them and their cronies.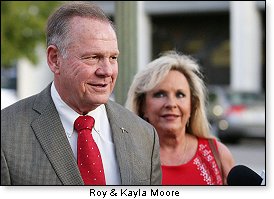 It shouldn't take a Poirot to figure out that a sudden rash of unproven and largely unprovable claims of Judge Moore's improprieties from 40 years ago, coming weeks before a crucial election, are likely spurious. Why have these women kept silent all these years, including when Moore ran for other offices?
And why has there been no pattern of unseemly behavior toward women in his life in the past 40 years, as we see with sexual predators such as Bill Clinton or Harvey Weinstein or Charlie Rose? In fact, even in their likely bogus stories from 4 decades ago, these women never accused Moore of rape. This is not the history of a sexual deviant.
But there is another pattern emerging, and we should pay attention to it.
What do Steve Scalise, Rand Paul, and Roy Moore have in common? They are all Constitutionalists and they have all been attacked in one way or another since Trump was elected.
Recall that Scalise was shot and seriously wounded while innocently taking part in a practice for the annual Congressional baseball game, when Bernie supporter James T. Hodgkinson opened fire on a group of Republicans playing baseball. Fortunately, Representative Scalise survived. And luckily, Rand Paul, arguably the most passionate supporter of the Constitution in the Senate, was not shot during that game.
But wait: he was later assaulted while innocently mowing his lawn. The cowardly and vicious attack perpetrated by Rand's neighbor came out of the blue – it was not some "neighborly dispute." Next door neighbor Rene Boucher so brutally assaulted Senator Paul that he broke five ribs, three of which are displaced fractures leaving the bones severed and out of alignment. His lungs have been damaged, perhaps punctured. He has been living in constant pain with difficulty breathing since he was blindsided by Boucher and now he has pneumonia – a potentially serious complication from his injuries. And note: Boucher was charged with only a misdemeanor and released on a measly $5,000 bail, after assaulting a sitting Senator and putting him through months of agony with no end yet in sight.
Here's a question worth pondering: why this sudden violent attack on Rand Paul?
Consider: these three men, Scalise, Paul, and Moore – two seated in Congress and one running for the Senate – are all staunch Constitutionalists and conservatives. All were attacked – two physically, and one through a smear campaign – presumably precisely because they take their vow to support and defend the Constitution seriously.
Both Scalise and Paul could have been killed, depriving our nation of two great patriots, and removing two key Constitutionalist voices from Congress, while the smear campaign against Moore seeks to keep another such voice out of Congress altogether. These men are targets because they represent American sovereignty, the rule of law, and We the People; with them in office, especially with Paul and Moore in the Senate, President Trump can get much of his agenda passed to restore American strength and prosperity. This, of course, is the real battle.
Back to Roy Moore:
Isn't it interesting that Alabama was reportedly flooded with Robocalls asking women to make accusations against Judge Moore, and offering payment of $7,000 to $9,000. And this bonus was offered risk-free, since any woman could make such charges with virtually no accountability.
And ask yourself why the RINOs and Democrats immediately called for Moore to step out of the race. Huh? Do these paragons of virtue believe that a sterling member of the community with a 40-year career of honorably serving his country, and who fought to retain a monument of the Ten Commandments in the rotunda of his courthouse, would defile the halls of the Senate because he once dated a couple of teenagers with their mother's permission? Who among them would like to cast the first stone? John Conyers? Al Franken? Bob Menendez?
It would take too much time and space to list the egregious crimes of dozens of congressmen and senators, past and present, that make the allegations against Roy Moore seem like a walk in the park.
But let's consider the two main claims against him.
First, Leigh Corfman, the woman who claims when she was 14, Moore drove her to his house and fondled her. She claims both were in their underwear – neither was nude. No rape, no sex. Still, if it happened, it is clearly culpable behavior since the girl was a minor. But did it happen? Highly doubtful, as there is no such pattern of behavior in Moore's life. And it is only her word that it took place, and that she was 14 rather than 16, 17 or 18 – past the age of consent in Alabama.
In fact, her own mother exposed a lie she told as part of her allegation. The daughter claimed she'd call Moore on the phone in her bedroom so her mother wouldn't know. But her mother says she didn't even have a phone in her bedroom when she was 14. Hmmm... We also learn that she's made claims against not one, but two pastors, saying they made sexual advances towards her. Here's a thrice-divorced woman with claims of sexual misconduct against two pastors and a conservative judge. She's also filed for bankruptcy three times. Does she sound credible to you?
But I've saved the best for last. Be suspicious when attorney Gloria Allred is called in.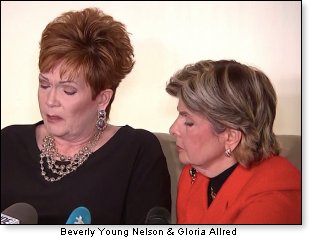 Allred's client Beverly Young Nelson claims to have proof. She has her yearbook with Roy Moore's signature! Even if he signed it, this would prove nothing except that he knew her – but did he sign it?
Oddly, the signature is dated in December rather than in May or June, when yearbooks typically come out. That aside, Moore's signature is followed by the letters D.A. It is likely that Nelson figured that meant District Attorney. However, Moore was only the Assistant District Attorney, and would not have signed his name giving himself a promotion to District Attorney. This gives us two reasons to doubt the authenticity of the signature.
It gets better: now we know that Moore was the presiding judge at Beverly's divorce case many years later – an interesting fact left out of her tearful news conference. Presumably, Moore's signature would have been on her divorce papers, followed by the initials D.A.
And here's the kicker: Moore had an assistant by the name of
Delbra Adams
who initialed his documents.
This is our Poirot moment: the "D.A." did not stand for District Attorney, but for Delbra Adams!
Unluckily for Beverly Young Nelson, Delbra Adams wasn't even working for Moore 40 years ago. Hence the yearbook signature has been proven false. Perhaps that's why Allred steadfastly refuses to allow handwriting analysts to examine it.
By the way, what are the odds that Moore's secretary would have the initials D. A. that would lead to the exposure of the forgery?
To me, this proves not only that the truth will out, but that God has a sense of humor.
Back to the NeverMoores:
Apart from being made up of many of the same people – including RINOs Mitch McConnell, John McCain, and Lindsey Graham among others – the NeverMoores and the NeverTrumpers may turn out to have something else in common: the failure of their plots to thwart the will of the American people.
Let's hope so.
© Cherie Zaslawsky
---
The views expressed by RenewAmerica columnists are their own and do not necessarily reflect the position of RenewAmerica or its affiliates.
---