Russia poised to achieve nuclear superiority over U.S.

By
Toby Westerman
January 28, 2013
In his second term as Russian president, Vladimir Putin has made the rebuilding of Russian military forces, including its nuclear striking capabilities, a top priority. Advanced missiles, bombers, and submarines are either on the drawing board or coming into operational service, just as the United States is on the verge of drastic cuts in its armed forces.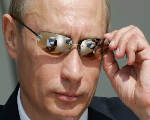 Of the three legs of Russia's nuclear triad (air, land, sea forces), attack submarines carrying newly designed intercontinental ballistic missiles are receiving special attention. Moscow is seeking first to equal and then overtake the United States in nuclear weaponry, according to a now retired military weapons and terrorism analyst.
"Over the long haul, Russia is on the right track to achieve "parity," and ultimately surpass the U.S." in nuclear capability, particularly if threatened budget cuts slash the military budget of the United States, said Rick Norris, a veteran of the U.S. Army, Defense Intelligence Agency, and a recognized expert in weapons and counterterrorism.
Norris' made these remarks after this writer contacted him about the effectiveness of Russia's newest ballistic missile submarine, the Yuri Dolgorukiy, which has just entered service in the Russian navy.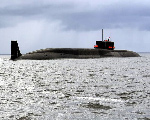 The Yuri Dolgorukiy, named after an early Russian military hero, is the first of the Borei class of attack submarines to enter into service, and is scheduled to be joined "in the near future" by the Alexander Nevsky and Vladimir Monomakh, according to a recent RIA Novosti report [
http://ria.ru/defense_safety/20130110/917607431.html
] . In all eight ships of this class are to be completed.
On board the Yuri Dolgorukiy is Russia's most advanced intercontinental ballistic missile, the Bulava ("Mace"), which is described as "low flying," "hypersonic," weapon with multiple warheads.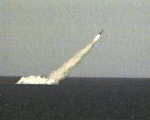 The "low flying" aspect of the Bulava is especially dangerous. During the Cold War, U.S. military experts believed that the Soviet Union was capable of launching a "low flying" missile attack which could destroy, with very little warning, the national leadership of the United States, according to Norris. Specific measures were developed that would ensure the survival of at least part of the American leadership, including the practice of at least one person in the presidential succession always out of the Washington, D.C. area, Norris said.
The Bulava is meant to be an improvement on earlier Soviet capabilities. Each of the ten warheads has its own guidance system and is capable of changing altitude and course to evade anti-missile defenses. The Borei class submarines will be able to eventually carry as many as 20 Bulava missiles, Norris stated.
Moscow plans to use the Borei class submarines in both the Atlantic and Pacific. Already Moscow has reintroduced regular submarine patrols of the U.S. coast, which "should be cause of some concern," said Norris.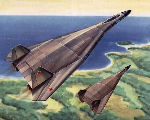 Russia is also working to improve the strike capabilities of other aspects of its nuclear "triad." In addition to modernizing its current bomber fleet, Moscow is developing a next generation long range strategic, possibly stealthy, bomber, referred to as PAK DA. Along with its submarine patrols, Russian bombers are again prowling along U.S. borders.
Another, and somewhat ambitious, revival of Cold War weaponry is the planned return of the missile train. In the Soviet era, certain trains would carry ballistic missile launching facilities along with passenger, mail, and freight cars. The missile trains were difficult to detect except that three locomotives were required to pull the extra load.
Russian scientists and technicians are now working on a nuclear-powered locomotive which remove the necessity of using three engines as well as refueling requirements. A prototype of a gas turbine locomotive, which could also pull a missile train, has already been built and successfully tested.
Moscow is serious in its intension to regain its place as a nuclear power. The political impulse influencing Russia's rearmament may be detected in a Tweet sent out by Russian Deputy Prime Minister Dmitry Rogozin and attracted Norris' attention. Rogozin made the Tweet after the acceptance into the Northern Fleet of the Yuri Dolgorukiy. Its message: "Tremble, bourgeoisie! You're done with."
© Toby Westerman
---
The views expressed by RenewAmerica columnists are their own and do not necessarily reflect the position of RenewAmerica or its affiliates.
---