Wes Vernon
Mainstream media icon: Back to the good ol' days when the left ruled the airwaves

By
Wes Vernon
November 26, 2018
Last week, CNN's Carl Bernstein, of Watergate fame, said news networks should "
start editing
" President Trump's "propagandist" press briefings instead of letting them air in their entirety.
In his remarks on CNN's
Reliable Sources,
the partisan commentator intoned that "We [in the media] need to start thinking of a different way to cover [Trump's] press conferences and briefings" – and added, "I don't think we should be taking them live all the time and just pasting them up on the air."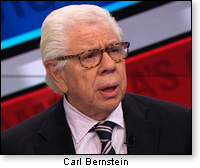 Obvious question
That of course raises the obvious question:
Why advocate minimal or edited coverage
of the President of the United States?
Could it be that the current White House occupant is viewed by the mainstream media as their day-and-night ultra frustration and that CNN and its like-minded cohorts no longer have the near monopoly of the airwaves they previously enjoyed?
"We need to start treating [a Trump briefing] like a news event," declared this oracle of the same CNN the president dubs "fake news." By this proposal, Mr. Bernstein unintentionally opened his lecture to the question: A news event? You actually mean without the CNN spin? When are you going to start thinking about that odd option?
Bernstein unashamedly added,
"We need to start editing.
We need to say [to the public] here's the story, not just give [Trump] a microphone when we know that his methodology is to engage and manipulate us on the basis of lying, propaganda, and agitprop." Beyond that, CNN's Bernstein went on, anyone can get the whole story by reading the entire press briefing on the internet.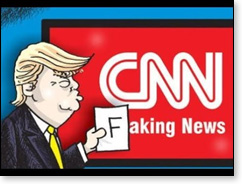 Search the web
Oh, sure; give the viewers another step to do if they want to gain information that should be part of a news report that TV should provide them in the process of their nightly viewing. Heaven forbid that the information be provided by its original source – the broadcast itself. We shouldn't have to lie awake at night pondering, "I wonder if I got the whole story. Now why didn't I search the web?"
All this is another way of CNN saying – "We've never accepted his election to the presidency. Why should we start now?" Of course, they won't come out and say that. Better to lead us all around the barn with answers that will be pursued by fewer viewers. Maybe that's why more of those viewers are editing out CNN in their living rooms.
© Wes Vernon
---
The views expressed by RenewAmerica columnists are their own and do not necessarily reflect the position of RenewAmerica or its affiliates.
---