Wes Vernon
Is California worthy of the United States?

By
Wes Vernon
March 19, 2018
We fought a Civil War to force rebellious states to remain in the Union. Has anyone ever contemplated the possibility that at some point there may be movement to eject rebellious states out of the United States, to leave – with or without their agreement to leave?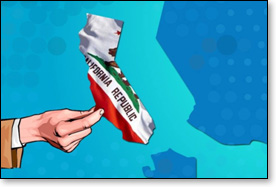 Some Californians have proposed that the "Golden State" secede from the United States. That pressure increased after Donald Trump had the effrontery to sweep Middle America in 2016. California gave Hillary Clinton a landslide within in its borders, as did much of the industrial Northeast. The "two Americas" (the establishment coasts vs. "flyover country") have drawn sharper and sharper cultural and philosophic lines in recent decades. Prior to the 2016 election, then U.S. President Barack Obama became America's first head of state to urge publicly that non-citizens go ahead and break our laws by voting in our elections, even though it was common knowledge that it was (and is) illegal for them to do so. Trump's election sparked some threats of secession among Californians who apparently felt they no longer wanted to be Americans.
But let's turn that factor on its head. Is there a possibility that someday the U.S. will want to kick California out? Surely, the state's all but official declaration of "sanctuary statehood" on the immigration issue (protecting illegal aliens from federal authorities) amounts to nothing short of rank insurrection – arguably reminiscent of the Southern states' insistence on the right to allow slavery in the 1860s. In fact, one could make the case that California's drive for separatism is actually stronger than that of the South in Lincoln's time. After the Civil War was settled and slavery abolished, our states amended the Constitution so that it was finally clear that slavery would no longer be allowed. No such amendment would be necessary if California were to leave. The issues are different, for one thing. The federal responsibility to oversee and enforce our laws on "immigration" is airtight. No new amendment to the Constitution can make that fact any clearer than it already is.
But let's be clear about our definitions
We need to define our terminology when we discuss "immigrant." An immigrant, as we have understood the term for years, refers to a foreign person who enters this country legally with the intent of adopting its culture and ambitions, its Constitution, its flag, its National Anthem, and its historic meaning, along with our support for this imperfect but ever-improving nation – and acknowledges that loyalty to the United States of America supersedes loyalty to all other countries. That is an "immigrant," an honorable term referring to our newer citizens. On the other hand, those who crash our borders and park themselves here uninvited or without utilizing the legal means of becoming citizens are not "immigrants" at all. They are "illegal aliens." (There are, of course, foreign people who become "legal residents," living here for business, education, or other legitimate reasons. But they should not be confused with "citizens" who have the exclusive right to vote in our elections.)
Why we brought this up
The fact that California, once the land that gave us the beloved "Reagan legacy," has been invaded by swarms of illegals is sad, and the talk of secession has shocked many Americans. It is by no means the one and only eruption signal that this once cohesive nation is on the wrong end of a battering, verbal and otherwise, delivered by people who hate this country and wish to see it taken down. We are not talking about legitimate criticism that one hears regularly in the body politic. We are talking about people who wish to see this nation destroyed, or are so blind and lacking in basic character as to have lost all sense of proportion with little sense of right and wrong, and whose inclination is to pose a danger to our citizens.
For example...
This brings us to the outrageous case of Garcia Zarate. Also to the stolen gun in the illegal possession of that 43-yerar-old Mexican citizen. That gun went off in San Francisco and killed 32-year-old Kate Steinle, an innocent American who was walking with her father on a pier. Zarate had already been deported 5 times, and now faces his sixth. Zarate's responsibility for the killing seemed to be an airtight case at the trial. He changed his story about whether he tossed the gun in the bay because he was scared, aimed it at a sea mammal, or dropped it on the ground and it went off by accident. The gun was retrieved by authorities shortly after the shot. Zarate said he couldn't have done the killing deliberately because of the defective trigger. The judge in the case denied the jury's request that it be allowed to test the trigger. Zarate got off on a wrist-slap for the case. He gets off even more easily because his time in jail awaiting trial has already been credited toward the time he has been serving on another charge.
Now, the ultimate outrage...
As an indication of the sheer gall with which California's invaders apparently feel they can make a mockery of justice, Zarate has pulled an additional insult-to-injury move, possibly so he can enjoy laughing at us. He has now complained to authorities that in the case, he was made a victim of "vindictive prosecution."That is a classic case of "How dare you hit my fist with your face!"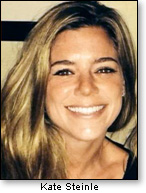 And what about the innocent victim, Kate Steinle, whose father gave a heart-rending account of how, when the bullet hit his daughter, she said, "Oh, Dad, please help me!"? Well, the public defender in the case allowed as how it's "unfortunate that these types of terrible accidents happen." There, don't you feel better? The defense attorney, who represented Zarate, intoned that cases of this kind are used to "foment hate." What? You mean the Steinle family did not even send roses of love to those who foment mock trials? Why, the ingratitude of it all.
And oh, by the way, this all happened in the congressional district of Nancy Pelosi, who said-----nothing. Maybe Nancy quietly believes that you have to mete out California "justice" so that you can "learn what's in it." Oh, but remember: despite the genuinely good people of that "Golden State," there are those there whose noses are turned upward at those of "flyover country" who just are not good enough for them. But then, what can you do with those squares who believe in real justice?
© Wes Vernon
---
The views expressed by RenewAmerica columnists are their own and do not necessarily reflect the position of RenewAmerica or its affiliates.
---