Wes Vernon
Hatch/Romney & 2018

By
Wes Vernon
December 8, 2017
The fate of this nation, as some of us see it, now depends (some would say perilously) on the outcome of the votes in several states in 2018. The makeup of the next Congress, plus governorships and legislatures on state levels, will be determined in the year ahead.
Today's drama has erupted largely through the banana republic-like tactics of an angry effort to gin up a revolutionary-appearing attempt to foment a "silent coup," whose endgame is to bring down a duly-elected President of the United States.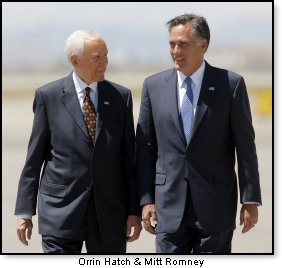 Not all participants in this ill-conceived effort are satisfied that their well-coordinated, vicious smears and propaganda or even peaceful demonstrations will be sufficient to accomplish their ends. They have been joined in the political crusade to overthrow America's orderly process of selecting its leadership. Some – most visibly the ANTIFA group – will no doubt continue to plunge ahead with outright violence. The demonstrations began in earnest on election night 2016 before the Trump/Clinton race was called but when the results of the count were obvious. Some of the tactics resemble those of un-democratic (with a small "d") street gangs that have helped bring down governments in other parts of the world.
One notable battleground
In the state of Utah, a United States Senate seat is occupied by 83-year old Republican Orrin Hatch, who was first elected to that position in 1976. As of this writing, Senator Hatch is undecided as to whether he will make a run for a seventh six-year term in 2018. At the same time, Mitt Romney, now living in Utah, where his family roots run deep, has indicated to friends that if Senator Hatch decides to retire at the end of his term, Romney will run for the Senate seat. The former Massachusetts governor, who ran unsuccessfully for President in 2012, failed in that bid nationwide, but easily attained 73% of the Utah vote.
Senator Hatch may not always have been the perfect conservative, though during his more than 40 years in the Senate he has been rock solid when it counted most. He was on the pro-America front lines when it came to successfully putting down the "high-tech lynching" tactics that almost derailed the confirmation of Clarence Thomas to the Supreme Court. He also helped expose the witch-hunt in the Iran-Contra case, where partisans on the Hill and a publicity-hound "special prosecutor" used tactics that – had they succeeded – might have put a crimp in the Reagan plan to bring down the Soviets without firing a shot.
Taxes too
Then just this year, Chairman Hatch's Senate Finance Committee has played a major role in the effort to shepherd tax reform through Congress. A committee Democrat, Sherrod Brown of Ohio, charged that the bill would intentionally hurt the middle class. That was too much for the normally even tempered Hatch.
"I really resent anybody saying that I'm just doing this for the rich. Give me a break," the Utah lawmaker thundered, and added, "You guys overplay that all the time, and it's getting old."
"Wait a minute, I'm not through," Hatch said as Brown attempted to interrupt him. "I come from the lower middle class originally, so don't spew that stuff on me," said the chairman.
Hatch was born and raised in Pennsylvania, the son of a working class metal worker. Hatch himself worked his way through the University of Pittsburgh, partly through employment as a janitor.
At the recent hearing, Brown responded to Hatch by saying he was sick and tired of rich people getting richer and richer because of Republican policies. Hatch replied that Brown's argument was "bullcrap."
All America has an interest
Here is the bottom line where all of America is concerned: A primary fight for the Senate between the two Utah favorites is likely off the table. The people of Utah, of course, will ultimately make the final decision as to how this political drama plays out. They have one dilemma that is of concern to conservatives in general: The incumbent senator's sixth term on Capitol Hill ends a year from now. That senator's record on Capitol Hill is conservative. Waiting in the wings is a RINO (Republican in name only), whose political claims to fame include "Romneycare" and a failed winnable presidential campaign. (See our previous columns on the 2012 race).
Conservatives, wherever they live, will probably hope that Senator Hatch hears from enough of us to encourage the incumbent Republican to climb over just one more 6-year political hill for America.
Whichever man runs will likely win in the general election. Democrats are not a significant factor in the race. They are a weak second party in Utah statewide.
With all of the determined Marxist-minded forces that are trying to bring down America, Utah can strike a blow for this nation in this time of challenge.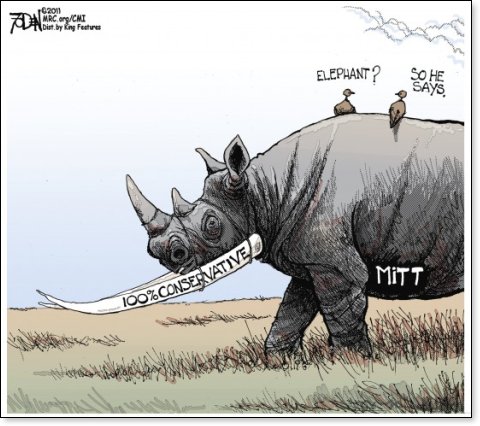 © Wes Vernon
---
The views expressed by RenewAmerica columnists are their own and do not necessarily reflect the position of RenewAmerica or its affiliates.
---