Wes Vernon
Forced to face it: Takeover of the U.S. closer to the doorstep?

By
Wes Vernon
November 7, 2017
This column, in reviewing the enemy's century-old (at least) effort to take over the United States, has tried to shine the light on those who would bring America down, whether from afar or from within. Their nefarious efforts could rid the globe once and for all of U.S. influence in the cause of freedom. That is why we try to track the the anti-freedom forces' seemingly unstoppable drive toward their goal of subjecting the world to permanent submission. Herewith some examples – two from outside, one from within:
1
– There exists, at this writing, an undercover agent – one of the "good guys" – who has pieced together a connection (the extent of which has been largely unknown) between the drug traffic and the terrorist threat. The illicit drug trade is being used as a lawless entryway to facilitate the infiltration of Islamic terrorists bent on killing as many Americans and Europeans of Western Civilization as possible.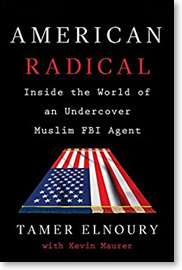 Saving lives: maybe yours?
A new book just out deals with their modus operandi on an international scale. In
American Radical,
author Tamer Elnoury (not his real name) takes us inside his world as an undercover Muslim FBI agent and his high risks to "live among them to defeat them." Indeed, the aim of Islamic terrorists, themselves, is control the world by killing as many as possible, as we have seen by their actions in recent days.
To many Americans, it will come as a revelation that Elnoury (whose pseudonym is used for obvious reasons) and his team even exist. The book gives us a look into the perilous lives of the daring men and women who risk personal safety to put themselves on the front lines in the war against terror.
Evil empire gone, evil ideology still here

2
– In post-Soviet times, we have learned – sometimes the hard way – that the collapse of "the evil empire" did not translate into the disappearance of the Communist effort to continue infiltrating all sources of world influence.
Most cold war American presidents of both parties would have been aghast at the very thought of naming a man to be CIA Director who was known to have voted for a top Communist in a presidential election. It took Barack Obama, who says he sought out Marxist professors in his college days, to break that pattern. He evidently saw nothing wrong, in fact, with making John Brennan Director of the Central Intelligence Agency.
Brennan notes the vote for a Communist was cast in his college days – in 1976, when he cast his ballot for Gus Hall, longtime the top leader of the Communist Party USA. Mr. Brennan has said he voted for Hall in the presidential campaign of that year to register his dissatisfaction with the candidates of the major parties – Jimmy Carter and Gerald Ford. Other people believed we could have done better that year to elect – say – Mickey Mouse, on the grounds that at the very least, fictional characters can do no harm. But these people didn't become America's CIA Director.
Historical comparisons
This well-known bit of history comes to mind because Mr. Brennan told CNN's Wolf Blitzer that if President Trump gives the order to fire Special Prosecutor Robert Mueller, government officials should refuse to follow his orders. At a broadcast from the Aspen Security Forum, Brennan justified effectively calling for a coup against the president by saying that, in the event Mueller is fired, "I hope our elected reps will stand up and say enough is enough."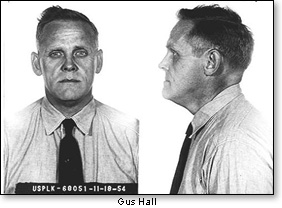 If a lawful order is defied by those in government who refuse to carry it out, then we would have a constitutional crisis on our hands. That may not bother a voter who saw no big deal in Mr. Brennan's vote for Gus Hall, even as a throw-away protest. But Gus Hall – who favored overthrow of the U.S. even by force and violence? What kind of mindset would register a protest by favoring one who would bring down the structure of the United States of America? Is that person – well – in the very least seriously lacking in judgment? Those who were dissatisfied with the 1940 choices of Roosevelt (FDR) or Willkie could hardly have justified throw-away voting instead for the head of the
German-American Bund
. Anyone is, of course, free to vote for whomever. But if one votes for sworn enemies of this country, seriously or in protest, others are entitled to question that judgment.
Voter fraud

3
– In some foreign countries, dictators have clung to power by controlling the voting booth. In the U.S., we've comforted ourselves with the notion that it "can't happen here." Maybe not quite so blatantly. But a new book out by Democrat National Chairman Donna Brazile pins on her predecessor, Debbie Wassermann Schultz, a collaboration with Hillary Clinton to rig the primaries against Bernie Sanders and in favor of Mrs. Clinton. This gives the lie to those liberals who say we must – at all costs – fight against "voter suppression" legislation. That's dog whistle language for saying it's OK to allow anyone or any organized group to walk into voting precincts and cast ballots without a proper voter I.D.
Our country is under attack, culturally and on legal issues, from an enemy that threatens our own safety. Radio Talk Show Host Rush Limbaugh attributes a substantial part of the problem to "the ascendancy of domestic communism – to put it bluntly." Whatever the cause, awareness and proper preparation are, to say the least, essential.
© Wes Vernon
---
The views expressed by RenewAmerica columnists are their own and do not necessarily reflect the position of RenewAmerica or its affiliates.
---