Wes Vernon
Americans – all of us – kicked in the gut (by football)?

By
Wes Vernon
September 28, 2017
So now we have come to the ultimate insult to normal Americans:
You may have noticed that the Hate America Left (H.A.L.) is constantly ordering us around as what we are allowed to say, think, support, do, or don't do, in the long parade of their edicts and lack of tolerance for what we honor that is pro-American.
If you spot Marxist propaganda on the part of a movie or some entertainer and you express a contradictory view, they will wax indignant that "I'm offended," while we are commanded to shut up and be quiet little sheep as they set about to tear down this great country.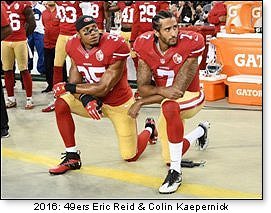 Meaning?
It is not that we as a people are any better than anyone else. It is that we – either native-born or legal immigrants – are part of a great but imperfect and always improving nation whose forefathers bequeathed on our succeeding generations the freest society ever.
America has made sacrifices in working not only for advances in its own society, but for the benefit of others as well. Graveyards of deceased Americans in many parts of the world (along with billions of dollars of our treasure) are more than symbolic of America's generosity and compassion for others, and of Americans' willingness to make the ultimate sacrifice in the process.
So now the H.A.L. – is ever alert to making sure that no venue of American everyday life – NO venue whatever – is safe from having the hateful spirit of anti-Americanism shoved down the throats of anyone with a pulse.
You're under arrest, America!
Everything –
E-V-E-R-Y-T-H-I-N-G –
on earth must be politicized. Nothing is safe from the Hate America Left's obsessive drive to make you agree with them or suffer the consequences. Everywhere is evidence that they are "out to get you" if you disagree with them. That applies to everything, whether it be threats to subject "climate deniers" to being arrested and even charged with murder for presenting ideas that contradict doomsday global warming propaganda, or forcing a raging debate over where little children shall go to the bathroom. Nothing, but nothing, exceeds in importance the H.A.L's incessant anti-American agenda.
And now, they've invaded one of the most unifying segments of American culture: the football field. The symbol of everything that resembles what it means to be American has now been occupied by those who resent such meaning.
Now they've done it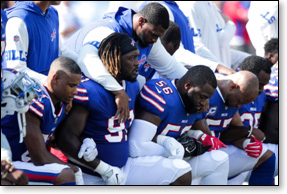 Excuse me, those of you who resent America: If you have some gripes about our country, you have every right to express them in an open forum or anywhere your complaints are the focus of debate. (Oh, yes, we do have debates, as opposed to your strict orders that we all must act alike, do alike, and think alike or risk being destroyed personally, professionally, and politically.) Think of Americans who have been hounded out of their jobs – and their right to earn a living – because they won't bow down to the Hate America Left.
The First Amendment is a precious entryway to our Constitution and allows us to speak out and disagree politically without fear of our lives being damaged or destroyed for speaking out.
Time and place for everything
Football affords us a surcease from the bitter friction that exists in many other venues. Let the debates and arguing go on. But leave us alone with our American football. And no, hopefully we will not follow your orders to stop playing the national anthem at football games. Think of it. Now the Hate America Left wants to drive the anthem from American sports events. How dare they!
© Wes Vernon
---
The views expressed by RenewAmerica columnists are their own and do not necessarily reflect the position of RenewAmerica or its affiliates.
---