Wes Vernon
Trump apparently deems yammerers not worth it

By
Wes Vernon
August 15, 2017
That kid who rammed his car into a crowd that was protesting a racist rally in Charlottesville will likely get the chair. Assuming he first gets to state his case before the bar of justice, he will meet his just desserts in this world and the next.
Never mind that a rally – even a racist one – is protected speech, however repugnant. Of course, then you run into the question of inciting to riot. I'll let the lawyers fight that one out in court.
But – if you please – a question
If the President of the United States cannot condemn what happened in Charlottesville over the weekend as an "egregious display of hatred, bigotry, and violence on many sides" without attracting a verbal firestorm, then we might opine that while bigotry was the apparent motive of the white supremacist-style rally, those who chose to disrupt the rally may have been guilty of lacking common sense.
One might have deemed it wisdom to treat gatherings of this sort the way most Americans treat street-corner crackpots who will mount a garbage can at Herald Square and holler that it's time to prepare for the invasion of the little green men from Mars. How else do you treat vocal nonsense? Most of us believe we have no time in our lives to give what vocal nonsense craves: publicity – the more, the better.
Secondly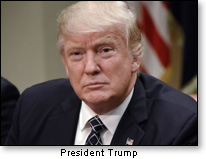 Because President Trump did not single out crackpots for being – well – crackpots, the usual suspect wolf pack went into another of its non-stop anti-Trump opportunities. Thus, by Sunday afternoon, the White House issued the following:
"The President said very strongly in his statement yesterday that he condemns all forms of violence, bigotry, and hatred and of course that includes white Supremacists, KKK, neo-Nazi and all extremist groups." If that doesn't satisfy the always-demanding-more harpies, perhaps blood would satisfy them?
Then, another thing
Almost since 9/11, Americans have been bombarded with angry demands that they refrain from identifying radical Islamism as – well....
radical Islamism.
We are hounded into satisfying ourselves that it is best to fight an enemy without naming that enemy. Even President George W. Bush allowed himself into being hounded into eliminating the term from his official statements. Not much later, President Obama doubled down on that. Under his auspices, all the training manuals and other literature emanating from the Pentagon were stripped of any reference to naming our enemy.
Yup! Upside down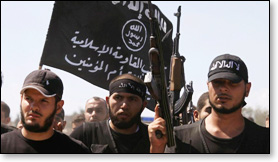 Look, I've lived through some of the worst latter days of the Klan and its ilk. Thus, no lectures, please, about them. But maybe we can be enlightened as to why there's so much emphasis on the super-importance of naming evil haters on our own soil who have been so roundly and near-universally condemned for more than an entire century, and in this century are a shadow of their former organized selves (back in the days when the Democrats backed them). All this at the very same time that many of the same people conduct bow-and-scrape campaigns to protect the tender feelings of enemies who have hollered "Death to America" many times and attempted it over and over again in reality (as well as by threats) and took out nearly 3,000 of our citizens on 911.
Compounding that is that those of us who call radical Islam – well – "radical Islam" are publicly excoriated (and called bigots) for daring to name the enemy whom we are supposedly fighting. Just wondering. Some of us get the feeling our supposed "politically correct" masters are out of sorts these days when we don't follow their orders and scripts.
© Wes Vernon
---
The views expressed by RenewAmerica columnists are their own and do not necessarily reflect the position of RenewAmerica or its affiliates.
---