Wes Vernon
Politics gone crazy: 21st century Nero fiddles as 'Rome burns'?

By
Wes Vernon
July 31, 2017
America needs to get its priorities straight. Picture this nightmare:
Ex-President Barack Obama did (and out-of-office continues to) do his best to bring down America. Unlike other ex-presidents who had the courtesy to go home after their time in office was at an end and get out of their successor's way, Mr. Obama moved himself and his family into a mansion in a toney neighborhood in Washington, D.C. where he – not satisfied with the damage he inflicted during the eight years the voters entrusted him the highest honor America can offer – is now well-situated to undermine President Trump. He's like the rude house guest who never goes home.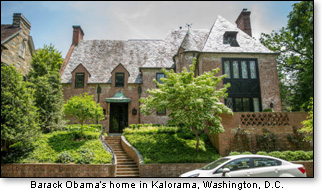 Make no mistake. It is hard to imagine this very active practitioner of all-things-Marxist is sitting around that cavernous palace twiddling his thumbs watching television – though he probably does some of the latter while following news coverage, to nourish his burning ambition to "finish the job" of bringing down America, so a weak and culturally-wrecked nation can fall, with the blessing of others who want to bring America to its knees. Some of us believe that this past election enabled us to avoid a sliding path to a "takeover," hastened by Hillary Clinton in the White House, to finish what the Obama years had enabled.
I shall return?
That historically engraved promise was once made famous by a true American
hero – General Douglas MacArthur – in a benevolent way. Barack Obama no doubt has something else in mind, and his wish to come back to the headlines would more than likely include designs on power, with re-establishing control of the military as a goal. The current White House occupant, Donald J. Trump is seen by Barack Obama – and most of his fellow Democrats in Washington – as an interloper, whose "surprise" win last November was an act of supreme impudence. That is what the vicious attacks via "fake news" and the sabotage of President Trump's agenda are all about.
That could be a de facto fast-express culmination of the longstanding drive to bring America down through cultural deterioration and infiltration methods that have been deployed by the enemy for decades. Another part of the enemy plan, of course, is control of "weapons of mass destruction" as a means toward our nation's ultimate demise.
WAR?
Unlike the hidden (and not so hidden) motives discussed above, perhaps a real military threat may catch the attention of Americans at large.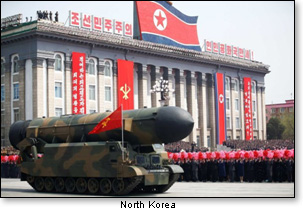 We have been warned by U.S. military experts that within a year, North Korea would have the ability to fire an Intercontinental Ballistic Missile (ICBM) capable of reaching the United States. It's difficult to control one's frustration at the fact that while we may be a few months away from an attempted annihilation, we in "Target America" have our military embroiled in an uproarious debate over whether we should continue to tolerate the vast expense and disruption incurred as we insert into our armed forces members of the LGBT community and give them special protection and privileges. To his credit, President Trump is pushing back on this ill-conceived policy foisted upon our military by the preceding Obama administration.
We are facing a possible war, with America's fighting ability and perhaps its survival hanging in the balance, and our military has to get bogged down in dealing with the niceties of a politically correct sandbox.
Or as one veteran publicly worded it, "You're putting good young men in peril just because you want everyone in America to feel good. Throwing more social experiments in the foray of it all" will hinder the mission of those whom we depend on for our protection.
Whither the GOP?
The case can be made (though unfortunately not strongly enough) that America may not have much of a future, given that our military's attention is diverted from its focus by such foolishness as the LBGT flap cited above, and by the nonstop attempted "silent coup" whereby the mainstream media are deploying Fake News to oust the duly-elected President of the United States – as Mr. Trump, by the way, is not helping himself by repeatedly attacking his own attorney general, Jeff Sessions. The AG is doing an outstanding job, especially in the all-important issue of illegal immigration and all the threats that go with it....the drug traffic, or the "sanctuary cities" that illegally shield border crashers from arrest. It is the responsibility of our Justice Department (which Attorney General Sessions heads) to protect us from killers who have put our own citizens in terrible danger.
Hopefully, a petition circulated by Coalitions for America will appeal to the president's better perspective of common sense. Signed by many of the most well-known conservatives in the nation, the petition pleads with President Trump to lay off the unwarranted attacks on the AG because Mr. Sessions recused himself from stopping the creation of a "special counsel." Under provisions of the law dealing with conflict of interest concerns, Jeff Sessions arguably had no choice but to recuse himself from that action, given his very active part in Donald Trump's successful campaign.
However....
The president nonetheless has every right to object publicly to the creation of a "special prosecutor," Robert Mueller, who has multiple conflicts of interest himself and who has stacked his staff with donors, campaign workers, and cronies of the Clintons. That is an even worse "conflict of interest than would have been the case
if
AG Sessions had disregarded the conflict of interest law in his own action. Not only should Congress demand that Mueller's witch hunt be stopped, but the statutes have proven to be badly flawed and have encouraged prosecutors, some with mentalities of hanging judges, to turn their investigations into vehicles for their self-aggrandizement.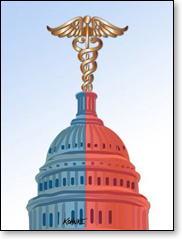 One more thing
The silent coup is thus far accomplishing one of its prize goals: forcing the Republicans to move mountains in the effort to get a decent health care bill passed. This column says to our lawmakers in Washington: No August recess for you until you kill Obamacare and replace it with legislation that gets rid of onerous rules that hinder better health care for our people. And don't take a holiday until you've done what you were elected to do. You asked for this job. Now do it. No more excuses.
Summing it up
But the witch hunt, the silent coup, the LBGT promotion, the Dracula-like return of Obama – all these issues will seem so terribly small if we are caught tying ourselves in knots when a Soviet-style state of North Korea run by a maniacal power-mad leader tosses a few ICBMs our direction.
© Wes Vernon
---
The views expressed by RenewAmerica columnists are their own and do not necessarily reflect the position of RenewAmerica or its affiliates.
---