Wes Vernon
A second civil war?

By
Wes Vernon
January 20, 2017
In the middle of the 20th century, the world made an almost seamless transition from the residue of World War II straight into a highly troubling aftermath.
Reports and hearings, in and out of Congress, showed that a demonstrably hostile force on both a worldwide scale and here at home had attained influence in many of the areas of society – education, entertainment, news media, powerful foundations, family relations; and also government, especially our own State Department, whose propaganda and "diplomatic" efforts had the effect of foisting upon us a Communist China.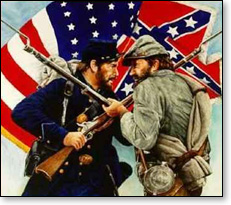 Less than five years after the Second World War's end, there was the Korean War, which our policy-makers – the politically blinded, as well hidden enemies – would not let us win, even though Communist North Korea was backed by Communist China and the Soviet Union.
The longest "war"
That was just one early indication of a larger war (part propaganda, part shooting) in an unrelenting generations-long campaign to crush the good in our society, and replace it with an ideological poison that will carry out its plot for world power, an effort that began on Europe with Karl Marx in the 1850s.
In the early years, there was no mistaking the identity of our enemy. It was then known as communism.
Today, the heirs of this legacy are carrying forth with its hostile efforts.
Though the Soviet empire collapsed, communism survives under other names, often with unclear identities. Today's Marxists are carrying on its work, some without consciously knowing they share the views and efforts of old-line communists. A U.S. president whose administration has just ended was mentored in his youth by a hard-line Communist (Frank Marshall Davis). It's not surprising that this 44th president has just pardoned the likes of Bradley Manning, a traitor who gave secrets to the enemy and endangered the lives of many Americans.
(Yes, he was born with the first name of Bradley. I refuse to call that traitor by the name he bestowed upon himself largely because of a sex change he asked for after he was sent to the slammer, and expected me and other citizen taxpayers to pony up for it.)
The real issues
That is one of many things that have personified the man who has been in our White House for the last 8 years, reaching for record impeachable offenses as if he had been competing for the bull's eye on bringing disgrace to the office to which Americans entrusted him.
No sense
All of this gets back to the challenge this column has submitted for years: Find me one single gut issue in those years where the president has taken an action that would weaken this country's enemies.
Got Bin Laden? OK, politically that was an obvious, easy call. Bin Laden was politically useful to the Democrats only when George W. Bush was in office and unable to catch him.
Civil war coming?
The 8-year reign of our 44th president has left this country more bitterly divided, more indebted, and more at each other's throats than at any time since the first Civil War.
In fact, who is to say that open agitation against a duly elected president is not a prelude to Civil
War II?
Example
It is assumed that most readers will recall an occasion that unleashed unhinged fury on innocent citizens who dared to express their views at the ballot box.
The scene was California, November 4, 2008. That was when 52 percent of the citizens of that state went to the polls and approved Proposition 8, thus making gay marriage illegal in the state, in defiance of a California Supreme Court decision to the contrary.
Bear in mind
What we're dealing with here is not the pros and cons of gay marriage. Rivers of ink have already been and no doubt will yet be devoted to all that. This is about the question: Do citizens possess the right to vote against a practice they and their ancestors have opposed on moral grounds for centuries? Some reports indicated the difference that tilted this California vote came from black congregations.
Do those citizens have every bit as much right to express themselves at the polls as the citizens with a different view? Answer the question: Yes or no?
If the answer is no...
Like their ideological colleagues eight years later, when a presidential race did not go their way, the participants in this movement hounded and harassed every person who had donated as little as $100 to the Prop 8 campaign, according to columnist Kimberley Strassel in her book
The Intimidation Game: How the Left is Silencing Free Speech:
"More than a dozen websites started listing names, 'outing' supporters of the initiative, posting contact information for the 'haters,'" apparently oblivious to the irony that those doing the outing were the same people who claim – and rightly so – that it is offensive to "out" gays. Yet they thought nothing, for example, of cross-referencing names with employment information, and targeting them house by house.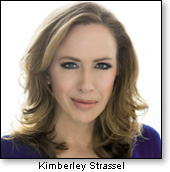 Again from Strassel
There were "raucous rallies, pickets, and boycotts outside of small businesses. Ballot supporters lost their jobs. Activists were defacing their houses, and vandalizing their houses."
People were getting ugly phone calls and e-mail threats, all because they followed their consciences and pursued their promised right to "life, liberty, and the pursuit of happiness." Under the orders of the hateful left, all three aspects of that right were under assault.
Eight years later...
That same "element" is now using every dirty trick in the book to block a duly elected candidate for president from being sworn in or given a chance to start his term, largely because "children of the sixties" are plotting to release foul-smelling butyric acid at the National Press Club with the intent of shutting down one of the inaugural balls.
According to
Project Veritas,
the plotters were told that anyone disagreeing with them should be "throat punched." Also, they were plotting to hook chains onto Metro rail cars to disable them. They would also block traffic into D.C.
Conclusion
However this turns out, don't let anyone tell you that the forces of darkness, after decades of floating in money from haters of America such as George "moneybags" Soros, can be ignored.
They are out to put you and me under their thumb, and consign us to a long era of darkness. The same force, under whatever name you choose to attach to it, is more and more open since the onset and aftermath of the hateful sixties – out to destroy America by
any
means necessary. Let every American be aware of that. Similar hatred preceded the last Civil War. Let us hope we ar not heading for another one.
© Wes Vernon
---
The views expressed by RenewAmerica columnists are their own and do not necessarily reflect the position of RenewAmerica or its affiliates.
---