Wes Vernon
And furthermore: America won, America-haters lost – Part 2

By
Wes Vernon
November 18, 2016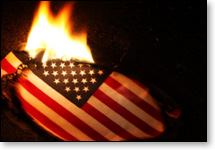 The left and their backers often argue their case by resurrecting parts of their closetful of smear paint, including the vilification of anyone who disagrees with them.
Enough with their threats to move to Canada (assuming Canadians will have them; our neighbors to the north have their own patriots, you know). We can't help the fact we have our malcontents. And we don't take their projected exit as a threat, but as a promise, and believe promises should be kept.
Enough with the customarily assumed "right" of some to a handout of everything. They need not worry. There are plenty of pro-Americans willing to pay the air, train, or boat fares to wherever the extreme "antis" want to go, provided they don't come back. They remind us of banana republic agitators whose attitude appears to be: "Whoever is the president, we just want him out of there."
Very few Americans will shed tears, though we might yawn, at the left's demands that we accept more of their latest orders to welcome some new, unheard of, half-baked
ism
or be destroyed, even though what we are now ordered to reject may have lasted thousands of years.
Which raises another "enough with" – i.e., their orders as to what we are allowed to say, lest we "offend" those anti-First Amendment zealots among us who can't stand to be "offended," ignoring that while everyone has a right to be offended, the fact that "I'm offended" is not an argument in any substantive policy sense.
Nyeh, nyeh – smears settle everything?
Almost no bitterly contested election gets by without unpopular, almost universally-shunned groups weighing in and thereby embarrassing those they claim to support. Such unwanted publicity was in full bloom when, as the left loudly noted, a Ku Kluxer had something favorable to say about Donald Trump.
So what about
this...?
Self-defined communist Van Jones, once a part of the Obama White House before Glenn Beck exposed his Marxist ties, recently defined the Trump candidacy and electoral success as "a white lash against a changing country."
Note this headline from
WorldNetDaily:
"Communist Party unites behind Hillary." The Communist Party used to field its own candidates, but in more recent times subversive Reds apparently deemed that effort a waste of time and money as the Democrat Party increasingly has been moving toward communists' line of thought in so many ways.
The Communist Party's seven-person team of reporters accredited to cover the Democrat National Convention produced such "enlightenment" as this:
"Donald Trump steals wages. He'd pick your pocket in a New York minute. He lies and spreads hate. He's a racist and a bully."
And the balanced, fair, and unbiased coverage goes downhill from there.
Now about the KKK vs. the Communist Party
It has been generally acknowledged that one extreme tends to bring about another. The Communist Party and the Ku Klux Klan are prime examples. But on a global scale, it is not worth arguing which is more evil. Their mutual distrust of American values sets them up as enemies of this country, wherever they claim to originate. "So is your old man" is not a relevant adult analysis.
Though there was a time....
The Ku Klux Klan was created by Democrats to protect Democrats in the Old South, where for more than 100 years the KKK way of settling an argument was often by imposing fear and death. The Democrats and their minions created the Klan to protect the power of the Democrat "Solid South."
Today, the Klan is a mere shadow of its old self, and the South is politically much more favorable to the party of Lincoln and Reagan – the GOP. The mature amongst us are content to let bygones be bygones. Then there are the infantile amongst us who judge the past through the eyes of the present, never let go of an historical grudge, and proceed to tear down monuments, names of buildings, and flags that today reflect the many principles far beyond our long-ago lesser side and now denote a love of basically cherished values, recognizing that even in the Old South only a small portion of yesterday's population engaged in slave-holding. But that's all gone now. Enough with the smears. It's long gone. Get over it. Maybe we need a weeping wall for the overly self-righteous.
The Red menace
The Communist Party, on the other hand, was and to this day remains unapologetic for its backing of one of the most evil menaces ever to stalk the planet – the worldwide, Marxist-spawned enemy whose driving force was and still is pure hatred.
Though Ronald Reagan, with the help of Margaret Thatcher and Pope Paul, brought down the Soviet empire, its Communist poison stalks the world and remains a threat, here and abroad.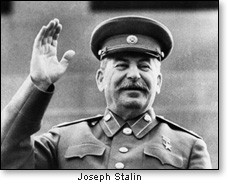 Together, with Islamic terror, America's enemies intend to take down the United States. From the late twenties to the early fifties, Communists marched to the order of Joseph Stalin, a psychopath to whom murder was a hobby in every way but formal designation. That is how he believed he would stay in power.
Stalin's successors were outwardly a bit less threatening (even Nikita Khrushchev's "We will bury you" was mild compared to Stalin's contempt for human life that led him to do just that to many of his "enemies," real and imagined.)
We have watched over the years and into this century the relentless march that continues to this day, and we have noted the telltale signs that efforts to drive the takeover of America have been on a steady path, in some ways on our doorstep. That ever-increasing encroachment, in whatever guise, is what confronts Donald Trump as he prepares for his presidency.
Well, you say, we've been under sustained attack before. Correction: We are under serious attack
now,
through infiltration and subversion. In this space, we have outlined these subversives' hopes to replace our Constitution and its Bill of Rights with a Marxist-supported
Constitution 2020,
backed by George Soros money.
Have you forgotten? That's illegal
Ah, but we are told that a constitutional change requires multiple steps that would involve approval of two-thirds of Congress and three fourths of the states – substantial barriers indeed. How can we possibly imagine a de facto "bloodless coup?"
Let's be real
It is not out of order to inquire – if a President of the United States can get away with issuing "executive orders" that are plainly unconstitutional, and bypass the input of Congress on huge issues that are its legal and constitutional responsibility, what stops the power-hungry who have no use for the Constitution from devising ways to take steps that ultimately lead to a perceived version of the Gulag? People with PHDs have been known to muse aloud as to how the "uncorrectable" among us might have to be consigned someday to "re-education" camps.
All this has been building "in steps" for years – though not always well-coordinated. In fact, once they are through with us, it is quite possible Marxism and radical Islam will turn on each other.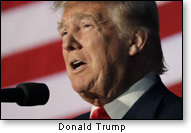 That does not mean we must get distracted into arguments over who is a deliberate communist, or over who is sympathetic to those who have "hijacked" (or tried to "hijack") the religion of Islam. We don't care what they worship. The very Constitution that they abhor guarantees freedom of religion. What is more important for our survival as a free nation is that we resist the direction in which they would like to move us.
In other words
The election of Donald Trump is not that "surprising" – not an "upset," not a "shock." It (or something like it) has been a long time in coming. Millions of Americans have had a sixth sense that something was amiss. That inkling has been in the air for a long time.
A large part of the American populace understands that something is wrong and that the fundamental underpinning of America is being compromised. Small wonder that they would turn to a man who speaks of kicking over some of the worst instigators of public angst. We dodged the bullet this time. Our new leader may not be perfect. Who is? But Donald Trump is the change agent Americans have unsurprisingly selected.
© Wes Vernon
---
The views expressed by RenewAmerica columnists are their own and do not necessarily reflect the position of RenewAmerica or its affiliates.
---