Wes Vernon
Surrounded? That's yesterday. Think 'smothered' (Live! On the world stage! The Hillary secrets)

By
Wes Vernon
October 25, 2016
Having witnessed presidential races during much of the 20th and so far in the 21st century, it's hard to figure out what's in store leading up to November 8th, when all the votes are in.
Based on what is coming to the forefront even as I write, there is too much at stake this time for Hillary Clinton to "get away with it" as she has in the past.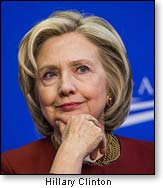 "Scandal" as selectively viewed
The media have been unrelenting in digging for all the dirt they can on Donald Trump, including candid and private comments on women eleven years ago. However, the mainstream media have not followed through on stories concerning what could be Hillary Clinton's own sex scandal.
What? Really?
Yes.
Forget for the moment her smearing the women who were raped or otherwise abused by Bill. We're talking about Hillary's own sex scandals, as alleged by the scandal sheet
National Enquirer,
picked up by Matt Drudge on the
Drudge Report,
and reported to you on this website. The story dealt with the former Secretary of State's use of a "fixer" arranging her liaisons with women and men, including Vince Foster.
That last name is a sore point with the Clintons. The late investigator and patriot Reed Irvine was convinced Foster – a Clinton associate from their Arkansas days – was murdered,
not
killed by his own hand, as other sources claimed.
"Everybody lies about...."
However, though voters have a right to judge personal behavior as a measure of any candidate's character, illegitimate sex is far less important, in this writer's view, than the substance of a candidate's record on respect for the Constitution, the law, and America's place in the world – not that the other doesn't matter.
What is more of a scandal in itself is the fact that WikiLeaks e-mails and comments made by out-of-the-limelight operatives suggest an organized effort to change America into something most Americans cannot imagine.
Perpetrators
Much of this illegitimate operation has been unearthed by the intrepid James O'Keefe. His operation
Project Veritas
has exposed a variety of circumstances in what would appear to be an underground vote-compromising operation.
Some of its operatives have been caught on tape boasting of a sophisticated nationwide political machine wherein, at this point in time, Hillary Clinton's elevation to the White House by any means is the be-all and end-all. Of course, any presidential hopeful would be expected to have strong supportive groups engaged in tough but
legal
activity. That is not necessarily what we're talking about here.
Whatever the rea
sons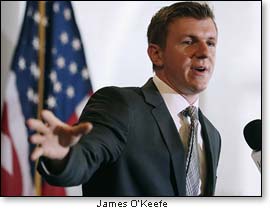 There are several reasons for Hillary's strategy beyond monkeying with votes and in effect tearing apart our democratic system of electing our leaders. The perpetrators also engage in violence covered up with deceit, as well as smear tactics to destroy reputations of those who "stick their necks out" in opposition to the left's agenda.
Some say they aim to lower the morale of conservative voters, make them feel "isolated." Others say the tactics are designed to strike fear in the hearts of those who lack the means to fight back. That would apply mainly to so-called "everyday citizens" who dare to charge skullduggery meant to tilt the election outcome in Hillary's favor. An honest vote count apparently works for America's main left-wing party only if it reflects its own desired outcome.
50 years – a half-century?
Apparently, this well-oiled operation has been at work on behalf of left liberals for 50 years (as operatives have claimed in unguarded moments). If true, that would put its origins at about 1966 – right smack in the midst of the decade when the left-wing revolution in this country really came into its own, so to speak; the decade of the "counter-culture."
The ear of the White House?
An apparent key operative and ex-con, Robert Creamer, reportedly visited the White House over 300 times and met with President Obama more than 40 times. (Ummm... sorry, we have no first-hand information as to whether the reason for the visits was to discuss the president's golf scores.)
"Ex-con?"
Robert Creamer pleaded guilty to bank fraud to the tune of $2.3 million apparently to fund his "public interest group"
Americans United for Change.
He paid the fine involved, and served 5 months behind bars and nearly a year under house arrest.
All in the family?
Creamer's wife, Democrat Illinois Congresswoman Jan Schakowsky apparently shares her husband's bare-knuckle affinity for winning and settling arguments or even dealing with "excessive" inquiry "the Chicago way."
At a gathering in her area, the congresswoman vowed that if any Tea Partiers showed up at a congressional constituent gathering in her district and asked – er – uh – rude questions, they would be dealt with (as she clearly implied) by prepared violence. Tea partiers have been known to ask embarrassing questions without starting any of the violence (attempted or carried out) in the blowback.
On tape: red-handed
The primary activities of this "off-the-books" type of operation appear to be voting dead people or voting more than once in different precincts (sometimes in different states, at times using such devices as switched license plates and preferring to send automobiles to polling places instead of the more suspicion-arousing "busloads"). They seem to have the tomfoolery down to a science, judging by comments of two perpetrators.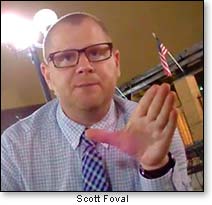 The detective work
For those revelations, we are indebted to the unmatched persistence of James O'Keefe, who has been running an undercover video counter-operation, putting the very words of the suspected vote jugglers and their allies on tape.
Thanks to his Project Veritas, we have on tape Scott Foval of the leftist Americans
United for Change
saying, "One of the things we do is we stage very authentic grassroots protests right in their faces at their own events. Like we infiltrate." And Foval adds this to his attitudinal hush-hush: "It doesn't matter what the friggin' legal and ethics people say, we need to win this [M – F – r]" and "We're starting anarchy here"
In another camera shot, Robert Creamer, obviously even closer to the top of AUFC, is caught spilling more of the beans from a vantage point right at the heart of the real power, or so it would seem. The Clinton campaign, he confides, "is fully in it. Hillary knows through the chain of command what's going on."
Rogues' gallery?
After the first two days of O'Keefe's evidence, Foval and Creamer either were fired or "resigned" from AUFC.
Before Creamer reportedly went out the door – probably to another left "activist " affiliate for "the Clinton crime family," as O'Keefe describes it, we have
Project Veritas's
reported list of prominent Democrats who served in key positions on AUFC:
...Jim Messina – Obama 2012 campaign manager.
...Roger Hicky and and Robert Borosage of
Campaign for America's Future.
...Caren Benjamin, former adviser to Rep. Nancy Pelosi, formerly Democrat Speaker of the House; former press secretary for Sen. Bob Graham (D-Fla.); and former communications strategist for the AFL- CIO.
The mainstream media, of course, would have to be aware of this since the information now has been made public, but for the most part, they are ignoring it. O'Keefe speculates this reflects a fear of blowback from the FCC over renewed broadcast licenses.
He promises "the best and last" of his reports "will pull the last pillar down on a corrupt house."
Dems fight back (so does Project Veritas)
Late in the last week, O'Keefe was informed that his Twitter account was being shut down because of unspecified violations of Twitter's "rules." O'Keefe told his viewers that the Twitter action was political.
O'Keefe's attorney then filed a complaint with the Federal Election Commission. Benjamin Barr, identifying himself as a veteran of FEC cases, charged that
Hillary for America, the Democratic National Committee,
and "numerous third party groups" appear to have knowingly violated federal coordination laws through hiring paid roughians to incite violence at Trump rallies, and otherwise manipulating the electoral system, and through moving fake "voters" state to state in the process of illegally gaming the system.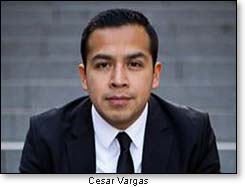 Editing?
Another Democrat operative, Cesar Vargas, charged that O'Keefe or his acolytes heavily edited a tape where Vargas supposedly was also caught appearing to discuss alleged manipulations of fraudulent voting. Vargas says the supposed "edit" made him appear to be saying things he did not say. He also charged Trump backers helped to fund
Project Veritas.
Some with a broadcast background will say that while the kind of heavy, heavy tape editing that is alleged may perhaps be theoretically doable, it is quite unlikely given the logistical timing constraints of a rapid fire back-and-forth "do or die" political campaign.
© Wes Vernon
---
The views expressed by RenewAmerica columnists are their own and do not necessarily reflect the position of RenewAmerica or its affiliates.
---