Wes Vernon
Hillary's failed "reset": Arming an untrustworthy Putin – Part 1 of 'Clinton Cash'

By
Wes Vernon
August 4, 2016
If any one issue can save an otherwise flailing effort to stop Hillary Clinton from her path to the White House, it will be her handing the potential keys to America's ultimate destruction into the hands of America's enemies.
It does not matter how inadvertent such assistance may be. The results make the Democrat nominee a walking threat, whether by her thirst for power or her personal "convenience" (see e-mail scandal).
What America reads
Enter the story of the Clintons' power play and "questionable" money-hunt, as exposed in the book
Clinton Cash.
Author Peter Schweizer reveals a uranium deal involving the Clinton Foundation and the Russian reset (proposed by Hillary when Secretary of State). At the very least, he writes, we get out of the "bargain" a tougher competitor in legitimate commerce. At worst, they end up with advanced U.S. technology that can be sold to our deadliest enemies.
"Reset" for whom?
This book is a treasure trove of information, complete with a parade of the smallest but most relevant details, as to how "Clinton Cash" has provided Russia's Vladimir Putin with the arms that could assist any "hate America" country that has the United States of America in its sites.
Schweizer approaches this fact-filled venture (of which the uranium deal is but one part) with strong credentials. His first of several books issued (shortly after the end of the Cold War) was titled
Victory
, which unveiled the most complete (up until then) narrative as to how President Reagan brought down the Soviet Union without resorting to a shooting war. (The late Defense Secretary Casper Weinberger, on my last
Crosstalk
radio interview, predicted Mr. Schweizer would make waves in the years ahead.)
Though his current book lacks an index, a time-consuming annoyance to researchers, the wave-maker's findings have appeared in condensed form in
The Wall Street Journal
and
the New York Post.
Coincidence?
"We don't have an e-mail or a pirated voice-mail message saying, 'We'll give you money if you help us with
Skokovo
(Russia's Silicon Valley),"' he told the N.Y. Post. "But what we do have," the author adds, "is a pattern that shows a high percentage of participants of Skokovo who happen to be Clinton Foundation donors."
Or "neat deal"?
So here's the way it works: The Clintons get their donations and speaking fees in the millions. The Russians get access to American technology. And tech companies (including Intel, Microsoft) get access to Russian markets and workers (as unemployment in the U.S. remains dismal) ....and...and...
What about us?
America, on the other hand, ends up with "nothing," according to Schweizer. If anyone can think of a logical answer or observation to contradict the record, don't ask the Clinton campaign. Those people have been contacted and asked. No comment.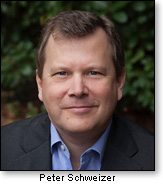 This is serious stuff. We don't really know how many people attending or watching the Democrat National Convention have even heard of the Clinton Foundation. Can you imagine this?: It's been the Clintons' major focus for years. Foundations are best known for their "laudable contributions" to the betterment of mankind, whatever questionable projects they may also fund.
Given all that, why is it you never heard any mention of that entity during the entire four days of the Hillary coronation. Nothing? It is not that the Clintons, being politicians, normally shy from spotlighting anything that makes them look good. Are they hiding something from public view?
That isn't all
It really isn't enough to consult the newspapers or the columns, including this one. You really need to read the book. There is much there. The author includes many details, all provable. That is in addition to the deal discussed above wherein Secretary of State Clinton was involved in granting nearly 50 percent of American domestic uranium output (yes, you read that right) to the Russian government, benefiting large donations to the Clinton Foundation.
Others include:

....
Bill's speeches for which he received large payments from foreign businesses and governments with issues pending before the State Department... or the mysterious multimillion dollar Foundation gift from a mysterious Indian politician that coincided with Senator Clinton's reversal on the nuclear non-proliferation treaty.
Clinton Cash
is chock-a-block with case histories of these and other infractions to ethical and/or legal practices.
Warning
The book is not what you would call "beach reading." Again, it is detailed, and includes cases of the kind likely to require painstaking attention to connect the dots. The informed voter is one of the best weapons available to bar Bill and Hillary's scandal-loaded return to the White House.
Clinton Cash
warrants a careful reading.
© Wes Vernon
---
The views expressed by RenewAmerica columnists are their own and do not necessarily reflect the position of RenewAmerica or its affiliates.
---