Wes Vernon
GOP Convention sets table for November showdown

By
Wes Vernon
July 25, 2016
As the Republican National Convention in Cleveland was fading into history, Republican "civilian soldiers" in high positions and at the grassroots of the "blood sport" that is politics were mapping strategy.
Research on issues on the front burner include America as it was before its "transformation," and what it would take to defeat the Clintons – Hillary and Bill – from retaking the White House.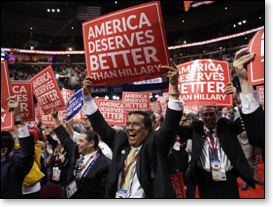 That has nothing to do with the split in the GOP that came to an intellectual boil during the primaries, in which the 17 candidates slugged it out until the field narrowed down to Donald J. Trump, the ultimate winner.
No small effort
Among thousands of documents researchers would do well to study as one part of that effort are two in particular. One is a recently-released congressional report, the other a book just out on the market within the past few days.
The report
The House Committee on Homeland Security has found that ISIS has now been linked to 100-plus plots against the West since 2014. To that information, we would add the FBI warns that Islamic terrorists are placing "sleeper cells" hidden in each of our 50 states.
Committee Chairman Michael McCaul (R-Texas), in his report, tells us that "a wave of attacks in the past month alone helped ISIS reach a record level of plotting following attacks in Germany, France, and the deadliest terrorist attack on U.S. soil (in an Orlando nightclub) since 9/11."
Targets
The congressional report adds the following about U.S. and other western countries:
The United States is by far the group's top target, and 40 percent of its plots have been directed at Americans.
That very real threat is a legitimate top issue in this campaign, with the Obama administration implementing a policy of allowing into our country more hundreds of thousands, perhaps millions, of unvetted "refugees" with no ID or traceable information as to who they are or whether they present a threat to American lives.
The book
Of course, we can't beat anybody without the benefit of "opposition research." That information is very helpfully provided in the new book A
rmageddon: How Trump Can Beat Hillary.
The authors, Dick Morris and Eileen McGann, have outlined how we can fight "the forces seeking to flout our constitutional government and replace it with an all-powerful president backed up by a judiciary that answers to no one."
12 points
Armageddon
lists the following reasons why the victory must be won and the Clintons must be toast. It offers a guide to any agenda of opposition.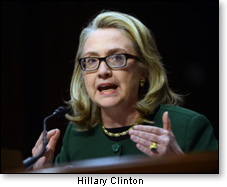 1 – Hillary demonstrated her inability to be Commander in Chief at Benghazi.
2 – She is a compulsive, pathological, and serial purveyor of falsehoods, who cannot be trusted to tell the truth to the American people.
3 – She will get us into war. She has alternately played both the hawk and dove political cards depending on which was convenient to the political moment. Lives are playthings for her convenience.
4 – Hillary and the Muslim Brotherhood are "perfect together." Her closest aide is Huma Abedin, who has strong connections to the notorious Muslim Brotherhood, which is linked overseas to Hamas and other alleged enforcers of radical, sometimes deadly, Islamist policies.
5 – Which is Hillary? She flips, she flops, and then she flips again.
6 – She is corrupt – always immersed in scandal.
7 – Hillary is obsessively secret and paranoid.
8 – Hillary lives in a bubble and is clueless about how people live.
9 – She doesn't know anything about our biggest problem (to most of us) – the economy, stupid.
10 – Hillary is governed by gurus, one of whom is Sid "Vicious" Blumenthal.
11 – She is rigid and stubborn.
12 – And don't forget nepotism: The Clinton Family Money Grab.
The highest stakes ever
So those are main points the voters may want to ponder, plus the congressional report that outlines current threats to our homeland – our very lives.
They stand as reasons worthy of consideration before voters go to the polls. We suggest you do your own research and/or consult the reports we've cited above for more detail. If Hillary carries through with her promise (threat?) to expand on Obama's "legacy,"
it's us as a country that may well be toast.
Note that Obama is the first president (with a slight exception for Woodrow Wilson) who has actually demonstrated contempt for this country. To imagine a successor president
expanding
on that policywise is chilling indeed.
© Wes Vernon
---
The views expressed by RenewAmerica columnists are their own and do not necessarily reflect the position of RenewAmerica or its affiliates.
---