Wes Vernon
Giuliani: Striking the right keynote for his party (every-60-years phenomenon?)

By
Wes Vernon
July 20, 2016
He apparently was not listed in the role – but, hands down, Rudy Giuliani was the
de facto
keynoter of the 2016 Republican National Convention.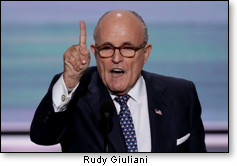 2016
"America's Mayor," best remembered as the man who, on 9/11, instilled a confidence in a nation that was undergoing an all-out war on its continental shores for the first time since the War of 1812.
That was an America frightened and angry that Islamic terrorists would unleash their hateful, violence-prone death cult upon our largest city.
But Rudy Giuliani, then in his final weeks as New York City's leader, helped to stir their already patriotic indignation.
At the GOP convention the night of July 18, 2016, Giuliani spoke emphatically, emotionally, and with outrage shared by his convention audience that this country of ours was slipping away from us under President Obama and the presumed Democratic candidate, Hillary Clinton, credibly accused of covering up for her husband on a rape allegation, a factor in his impeachment and ultimate disbarment.
Some disconnected people wonder why the country has so many angry citizens these days, a circumstance that was expressed as well as anyone by Mayor Giuliani. This week, the two-term mayor of Gotham took no prisoners. Or, as Newt Gingrich commented, Rudy was "on fire." Indeed, the clenched-fisted "America's mayor" slammed one out of the park.
1956
The late 19th, mid-20th, and early 21st centuries have presented three of the most emotional, electrifying political convention speeches in the history of that long era. That sort of "let it all hang out" rhetoric seems to have come up every 60 years like clockwork.
In 1956, when the Democrats met that year, the Republicans were in the White House, with Dwight Eisenhower in charge. For 20 years, Democrats in the FDR/Truman era had occupied the premises, and they had indeed become rather comfortable there.
So in 1956, the Dems were fired up. They picked as their official keynote speaker Frank Clement, Governor of Tennessee, little known until then.
Clement was assigned for the speech by Party Chairman Paul Butler, a no-nonsense politician from Indiana, who spent much of his political life delivering partisan speechifying against Republicans who – even during the New Deal heyday – had done quite well in Butler's home state.
He came through (speechwise)
Governor Clement brought the Democrats back to "Happy Days" life with his keynote speech (although Americans still liked Ike, who won re-election).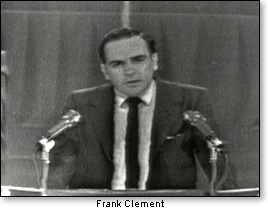 Governor Clement delivered a spitfire-like speech, in his heavy hillbilly dialect, one barb after another, shining the merciless light of condemnation on Ike, Nixon, Martin, Barton, and Fish and every other Republican of the recent decades. The Democrats lapped it up, but they didn't win the election.
However, while the Democratic governor was delivering his fire and brimstone, one Republican woman would later confess, "He was sooo persuasive, I found myself standing up and cheering him on. I guess I lost my head."
1896
As Democrats gathered in Chicago for their nominating convention in 1896, they had been out of power in the White House for most of the years since the Civil War, with the exception of two interrupted terms (1885-1889 and 1893-1897) when conservative reformer Grover Cleveland served as president. In 1896, Cleveland's enemies gained control of the party and ended up nominating a former two-term congressman, William Jennings Bryan.
In those pre-air conditioning days, the delegates sat in awe of this upstart, accepting their nomination with a speech on the burning issue of the day: money.
Bryan believed in "bi-metalism" or "free silver." The Republican candidate of that year, William McKinley, favored the existing gold standard, which had been money policy since 1873.
The upstart former congressman from Nebraska brought the crowd to its feet as he thundered, "You shall not crucify mankind on the cross of gold."
McKinley won notwithstanding, though some observers have opined that if there had been television back in 1896 to bring that Bryan speech into everyone's living room, the voters' verdict might have been quite different.
Bryan in 1896; Clement in 1956; Giuliani in 2016. So, let's see – 60 years until the next political barn-burner at a national nominating convention? That would be 2076. One wonders if it will make any difference. But then, that would assume we still have a country by then.
© Wes Vernon
---
The views expressed by RenewAmerica columnists are their own and do not necessarily reflect the position of RenewAmerica or its affiliates.
---