Wes Vernon
Top Democrat huddles with foreign leader in plot to meddle in U.S. election

By
Wes Vernon
May 12, 2016
House Minority Leader Nancy Pelosi sat down with an ex-president the other day. The purpose was to plot the defeat of the Republicans in 2016.
Okay, so what? She's a Democrat who wants to return to her old job as Speaker of the House. So of course, she would want to map strategy with an ex-Democrat president such as Bill Clinton or – uh – Jimmy Carter?
Uh-oh!
Oh, wait a minute. Those
are
the only two former Democrat presidents who are still with us, right? The ex-president plotting with Pelosi may be a leftist at heart (even though he was billed as what apparently passes for "conservative" in his home territory). But after all
surely
he's an American – er – isn't he? No? Vincente Fox of Mexico?
Not even hiding it
After seven and a half years of Obama, the anti-American hatred is not even prettied up anymore. Obama has made anti-Americanism de rigueur. That all started with his "apology tour."
I'm not a lawyer, but there are barristers sharp enough to advise clients on how to evade charges of "treason." Even that word is becoming old fashioned – something that well-heeled liberal clients can maneuver.
Now, it's okay
So now it's out in the open. The Democrat left is plotting with foreign forces to instruct Americans how to vote.
Not that this is the first time Americans have crossed the line to engage in what is arguably a "T-word" stab-in-the back by huddling with hate-America plotters.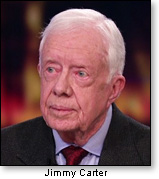 As in ex-President Jimmy Carter's visit to the Soviet embassy during the Cold War to plot against then-President Reagan's efforts to advance America's interests in the Cold War. It is irrelevant – though worth a reminder – that, had an ex-Soviet leader gone on a similar mission in reverse at the U.S. embassy in Moscow, there would likely have been an execution.
By comparison, this sort of thing unfortunately (and wrongly ) tends to minimize Bernie Sanders' honeymoon with his bride in the Soviet Union. One's selection of a honeymoon site is his business. Okay, but does that location tell you something about who he is? And he's running for President?
This is what we have come to expect after two terms of Barack Obama. Some people who followed the Pied Piper of Kenya may have been objects of an attempted brainwashing. Accordingly, this is one of many sources of their resentment.
Americans may sometimes be slow to anger. But after having anti-Americanism repeatedly shoved in their faces every time they turn around, they will at some point become more than slightly annoyed, especially if the "opposition" GOP takes the "scared rabbit" do-nothing route for fear of being accused of bigotry.
The result? Middle America is presenting Donald Trump partly as their hit-back. Like him or not, millions – including some who may not have voted for the controversial billionaire in the primaries – won't hesitate to try to settle: Exactly what happened to the America they once knew? Gone forever? They are concerned the ballot box may be their last chance to avoid learning the hard way.
© Wes Vernon
---
The views expressed by RenewAmerica columnists are their own and do not necessarily reflect the position of RenewAmerica or its affiliates.
---