Wes Vernon
The electoral mess: Is this an accident? Ted Cruz: Is this his moment?

By
Wes Vernon
May 2, 2016
Why is it that Barry Goldwater went down in flames, but Ronald Reagan came back 16 years a later with essentially the same world view to win the love of the American people in two landslides?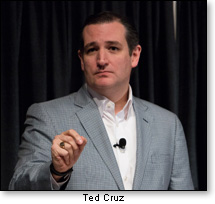 In the eighties, Democrats were stymied: How can you go against a movie idol with a soothing voice and the appearance of a strong, assuring leader? How can you bring down the "Teflon"?
But those things are just "feel-good" add-ons, albeit they contributed to his legacy. The real meat of that era can be found in the "fat years" of America's prosperity, and of course, the demise of the Soviet Union. Ronald Reagan's time in the White House saw the last unarguably successful presidency of these United States. Not only in taking down the "evil empire," but – with fits and starts – the "Seven Fat Years" that actually lasted 27 years (1982-2008), outliving his presidency, as well as his life on earth. That was a golden era set in motion by "Reaganomics."
Debilitating disease in the years preceding his death denied us the wisdom of the retired Gipper's outlook on such real-time history as 9/11.
What do you expect?
So here we are viewing the 2016 stage of electoral politics with a future that is not only uncertain, but holds some very unsettling possibilities. Would-be destroyers of this country lie in wait, anticipating the signal from who knows where (think George Soros or whoever).
Or perhaps there will be help (wittingly or not) from a largely distrusted White House leadership that seems to assume the right to control political paths by the virtual push of a button.
Angry Americans not fooled again
I sit here watching a TV panel of non-politician American voters disgusted and searching for a "new path" not always clearly defined, but eagerly sought.
At the same time that our country's very existence is under threat (from sources violent, culturally hostile, or both), surreally we have a chattering class directing our focus to an artificially-created uproar on the "politically correct" absurdity as to which genders should be allowed into which bathrooms.
This would be laughable were it not the kind of dangerous silliness that makes Nero and his fiddle during a burning Rome look like serious business by comparison.
The usual loud-mouths with a bullhorn abound before the TV cameras, exhibiting a surplus of heated air rather than light, though Americans can ill afford the attention span for them. It is one of those "issues" periodically distracting our attention from what is important.
Serious stuff
Why –
oh why
– is there no election-year debate over plans that are underway by confirmed Marxists who (after the election) hope to trash our Constitution and make the organized step-by-step destruction of that precious document a formal on-paper – not just de facto – legal act of fulfillment.
Meaning: Freedom of speech, "life, liberty and the pursuit of happiness," and all of that: Gone. (See our past columns on
Constitution 2020.
)
Is that not enough for you?
Or if you think that discussion will cause a run on the national supply of smelling salts, try these (just for starters):
We're about to lose the always precarious 5-to-4 pro-Constitution majority on the Supreme Court with the demise of Justice Antonin Scalia.


President Obama would like to replace Scalia with a man who has all the researched appearances of a chameleon: a very judicial-appearing temperament, well-liked by his colleagues, dignified personality, etc. But Judge Merrick Garland's actions in cases that have come before him in court indicate an indifference to the Constitution if it gets in the way of "legislating" from the bench. Remember Justice Souter?


Harry Reid, whose modus operandi is Attack! Attack! Attack!, is employing every underhanded smear tactic for which he is infamous to make the Garland nomination a cause célèbre – which it is to the organized left, with understandable reason from its perspective. The left could not survive with a high court that stuck with certainty to the true meaning of the Constitution.


On the other hand, the highest court in the land's flipping to a 5-to-4 liberal majority will shove down America's throat a slower-motion (but just as threatening) kind of Constitution 2020 (see above).


Obama's war on energy and other sources of power amount to a war on the very sources of security needed for Americans to lead their assumed right to everyday peaceful, normal lives.

This energy war could have terrible consequences for our aging power grid. What could happen in the absence of pro-American leadership is a nightmarish circumstance about which we have been warned, not just here in these precincts, but also by professionals with credentials to understand the consequences in the face of inaction.

Going without electricity – not just for hours, but for months, maybe as long as a year – would be life-threatening on a scale not unlike wartime casualties, possibly worse. An America totally without power would be vulnerable to being held hostage.


Lax immigration and refugee policies have left us with thousands on our soil about whom we know nothing. Authorities have told us our enemies have "sleeper cells" in every state ready for action when the time comes.

The election? Don't look for miracles
Forget "another Reagan" parachuting in. This election is not 1980. Our pattern has been that we get "transformational" presidents about once a generation. And of those, the ones whose transformational policies are benevolent are even rarer. (I.e. – both Reagan and Obama could be called "transformational." But their impacts for good or ill are miles apart. Being "transformational" can be good or bad. No diagram is necessary to spell that out. What we have "is what it is.")
The "choices"
The Democrat primaries for President have pitted an acknowledged socialist against (arguably) a criminal. She openly says, "No. We just can't trust the American people to make those types of choices. Government has to make those choices for people."
That has an eerie ring of something unfamiliar in America, at least as most Americans have understood their nation's principles.

And, yes, we've heard these periodic news stories saying Hillary will be indicted, or that if she isn't, half the FBI will walk out in protest. I fervently hope I am wrong, but I have a hard time believing it.
You know the Clintons: they're way ahead of the sheriff, so to speak. The unfortunate bet here is that she will "get away with it," just as she always does. Don't rest your hopes on that. If miracles happen, then hooray (but hold back on that until she's behind bars). Meanwhile, it might as well be assumed "the fix is in": (altogether now) "just as it always is" for them. Maybe someone turns up dead ("natural causes" of course).
The Republican choices
At this juncture in history, we may very well have passed (though you can never tell) our generations' Reaganesque transformation, right? No? Maybe you think, with all the cards stacked against us, we need another trip to that well, this time with permanence.
Another Reagan?
Nice thought, but bear in mind: Most of us have never found any two human beings whose personalities, ambitions, assumptions, capabilities, tastes, and inclinations fully match – down to the last detail. That's just a description of differences among all of us at large; it would be more acute between presidential hopefuls, especially of different generations. So let's assume no parachute in or before Cleveland in July.
The real world
The GOP this year's season is (politically) war-torn. Starting out with 17 candidates, we're now down to 3.
Kasich
My own memory of John Kasich is that of a Budget Committee Chairman who eloquently spoke out on the floor of the House of the better world that awaits our children and grandchildren if his committee's efforts to prune away at the bloated budget are ultimately upheld. The Ohioan laid out his case with a measure of religious fervor.
He is a good man and competent governor of his state. But at this point, he appears destined to have "fought the good fight." Maybe his persistence in the race indicates he knows something most of us don't.
Trump
Very little can be said here about The Donald that has not been carpet-spotlighted by the media.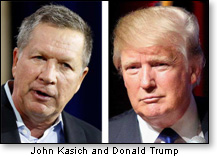 This column hailed his upward reach from TV celebrity to presidential politics. We saw him as a useful spokesman for giving voice to popular outrage against our leadership in both parties: the Democrats for the damage, and the "scared rabbit" Republicans for letting them get away with it.
At the same time, we expressed concern over Donald's inability or unwillingness to engage in sharp criticisms without resorting to gratuitous insults. That makes his nomination problematic. We are concerned too that his long record fails the test on several basic conservative issues.
CRUZ
Finally we come to "the last man standing," if not literally, at least to the acceptability of conservatives. And we pause here for a gentle but important reminder that the GOP is
the
conservative party of America. Failure to remember that has sometimes cost the Republicans dearly. You treat your party's base with ridicule or neglect, and just watch the stay-at-homes in November.
Beyond that hard lesson, one must carefully examine a candidate's pluses and minuses.
Rafael Edward "Ted" Cruz, United States Senator from Texas, arguably America's largest conservative state, has the intellectual capacity to take the reins as the 45th President of the United States:
The future senator graduated from Princeton University in 1992 and from Harvard Law School in 1995, where the famous liberal professor Alan Dershowitz described the now 45-year-old junior senator as "off-the-charts brilliant." Barack Obama, another Harvard student at the time, tried – and failed – to get into Dershowitz's class, which the professor now blames on the computer. Well – we'll pass on that one.
From 2003 to 2008, Ted Cruz served as Solicitor General of Texas, in which capacity he had ample executive experience. Cruz argued and won in cases before the Supreme Court (including the landmark
Heller case
, which affirmed the individual right to bear arms, eliciting a powerful written opinion by Justice Scalia for the majority).
He has served as an advisor in Republican presidential campaigns. In 2012, with the backing of the Tea Party, Mr. Cruz ran and won a primary bid for a vacant U.S Senate seat. That won him two organized enemies: 1 – the mainstream media, whose vitriol targeted his steadfast conservatism; and 2 – the GOP establishment, which took umbrage that this brash young man would dare oppose the Republican Lt. Governor who had been groomed for the job.
The "upstart"
In the November election, Cruz that year became a Senator-elect (on the same day many conservative Republicans in some key states were withholding their votes from the top of the ticket in droves because of Mitt Romney's inept campaign).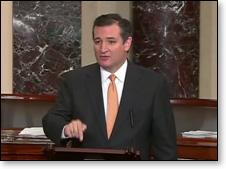 The Obamacare filibuster
When he arrived in the U.S. Senate, the new freshman Republican from the Lone Star State disregarded the traditional non-written rules that new members of the "world's most deliberative body" are to be seen and not heard – you know, just like children.
He could tie his colleagues in knots in debates on the floor and in committee. At one committee hearing, he had Senator Dianne Feinstein (D-California) so humiliated that she reportedly greeted him later in a Senate elevator as "Tough Guy."
Then there was the 21-hour talkathon on the Senate floor in opposition to Obamacare. It was not as though the new senator thought he would be able to stop that train-wreck from coming down the track. But he figured members who opposed the takeover of one-sixth (by most estimates) of our economy were obligated to put on the record their efforts to block it.
Problems?
There never was and never is and never will be the absolutely perfect candidate for office. Before assuming our own support for Senator Cruz, keep in mind that this writer was hopeful that retired pediatric neurosurgeon Ben Carson and then Wisconsin Governor Scott Walker would gain momentum required to make it to the finish line. When they came up short, it was no contest for us.
We would hope that the Texas lawmaker's usually cheerful persona will shine a little more often and that he would bear in mind he is no longer "the upstart" in the Senate. He would help himself if he would avoid appearances of being just a little too clever by half in his campaigning.
Most of the brickbats hurled in Senator Cruz's direction are not only undeserved, but openly vicious. If the Texas senator becomes President of the United States, he will surely be among our historical heads of state with the highest IQs. We trust that gift that he has will serve him well on the campaign trail and in the White House if (hopefully
when
) he is elected.
Wes Vernon, a veteran broadcast journalist, has been writing this column for RenewAmerica for 11 years. He was a reporter for 25 years with the CBS Radio Stations News Service.
© Wes Vernon
---
The views expressed by RenewAmerica columnists are their own and do not necessarily reflect the position of RenewAmerica or its affiliates.
---