Wes Vernon
Regionalism: constructive and otherwise

By
Wes Vernon
January 21, 2016
Number 1...This column does not endorse anyone in presidential primary races.
Number 2...Anything written during the primary season does not constitute an endorsement or rejection of any candidate for the nomination.
Thirdly...However, during primary battles, we do reserve the right to comment on candidate triumphs and failures. Further, once the nominations are secured and the general election campaign is on, we make no bones about our preferences.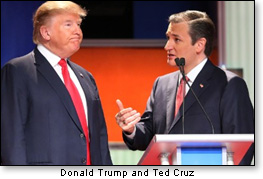 And the point is?
When Ted Cruz called out Donald Trump for his "New York values," Trump – an unabashed New Yorker – dispatched the Texas senator into negative territory.
At least that's the way it appeared at first. Shortly afterward, another side of the story emerged.
A gaffe, Donald?
The Wall Street Journal
– normally conservative on almost every issue except immigration – had been pounding Mr. Trump almost since his entry into the 2016 GOP sweepstakes. He was a demagogue, they argued, a master of the populist cheap shot, with some very un-Republican political baggage, no consistent philosophy, etc.
But during the debate, as Senator Cruz chided his Manhattan rival for embodying "New York Values," the Donald responded with an uncharacteristic degree of softness: "When the Trade Center came down [on 9/11], I saw something no place on earth could have handled more beautifully, more humanely than New York," he said.
A gaffe, Ted?
Suddenly, there emerged a side of the famed author of
The Art of the Deal
that the WSJ editorial writers claimed they had never seen before. They pronounced the Donald a winner of that round, and warned that both men need to realize they need to reach beyond the GOP base to win in November.
The Journal then concluded, "The New York values exchange suggests that Mr. Trump understands the task better than Mr. Cruz does."
A knockout debate punch? Which one?
Of course, no one ever gets the last word on the quest for the "Grand Prize."
In the intervening days, Mr. Cruz and his backers have unearthed a
1999 TV interview
with Mr. Trump; the late Tim Russert was the interrogator.
In that Q&A, the billionaire Manhattan developer acknowledged that while he hadn't given the matter a lot of thought, he probably had a different view on such issues as gay marriage than someone "from Iowa," due to his New York values. The same laissez-faire attitude applied to abortion and other socially liberal stands. But then at that time, he was not seeking the presidency, let alone the approval of Iowa caucus participants.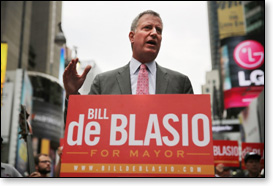 So what are "New York values"?
It has been said that while no one can really understand this country without spending some time in New York City, it is just as important to understand that New York City is not representative of the rest of the country.
For starters
One can fault New York City for electing a pro-Marxist mayor, and some will point to Mayor DeBlasio's ascent to Gracie Square mansion as verifying a 20th century anti-New York attitude, wherein the city was seen – not always accurately – as the seat of unwarranted financial clout. For 52 years, both political parties were discouraged from holding their quadrennial political conventions there. Barry Goldwater once suggested (somewhat facetiously) that the nation might benefit from sawing off Manhattan and letting it float out to sea. 800,000 New Yorker City voters cast their ballots for him anyway – a nice little pat on the back perhaps, but of course, far short of the electoral votes he theoretically was seeking. Goldwater failed to carry not only the city, but also the (more Republican-friendly) upstate precincts or statewide.
But wait!
Hold the phone: Surely this can't be the same New York which is "the city that never sleeps," as Frank Sinatra used to assure us. Isn't this the city that did give us some notable conservatives, not the least of whom was the late William F. Buckley, Jr., who almost single-handedly created the modern conservative movement? And how about the creative entertainers and super-talent that gave the nation the likes of the Gershwins, Berlin, and Rodgers & Hart? And we can't forget Ellis Island, which welcomed many of our legal newcomers, including our ancestors who came here not for a handout, but because they wanted to be Americans.
"Fly-over"?
Critics of New York values come mainly from
"
fly-over country," according to the sneers. That is, Middle America – the medium-sized cities, small towns, and rural countryside, usually found in the precincts in vast areas between the two coasts and whose denizens are unapologetic about their love of country, and also quite emphatic about "clinging to their guns and religion," as Obama categorized them in what he thought was a closed meeting in San Francisco.
These people can share credit for providing us much of our food, and in many charming ways can sometimes be identified with heart-warming characteristics epitomized in the pop song "Dear Hearts and Gentle People." Many who developed their souls in the villages where "everyone knows everyone else" have later become movers and shakers in the nation's decision-making that occurs in company executive suites, in government, in the military; they're creators, inventors, and a big part of the society of "that shining city on the hill" which presidents have defined as "America."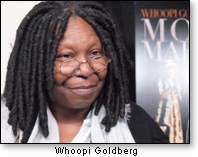 Of course, there are "stars" who have derided Middle America – Whoopi Goldberg comes to mind. And of course, they are entitled to their opinions, even if it does bring to mind a case of simple bad manners.
Constructive "regionalism"
This wouldn't be America if we did not have monumental local pride in the "home team" without malice.
That kind of regional pride gets back to the overall message that we're all Americans. We are blessed not because we as a people are better than our foreign counterparts, but due to the construct of our free society bequeathed and sustained throughout our history.
Politicians can try to ride to power on the backs of regional divisions. But at this time in our history, when we are more divided than at any time since prior to the Civil War, we can take comfort in having an electoral process that keeps politicians mindful of the differences between robust debate on the one hand and overheated rhetoric on the other. No need for anyone to draw an explanatory picture on where to draw that line. The innate instinct of the office-seekers – more often than not – will navigate the rough waters of the backfire.
© Wes Vernon
---
The views expressed by RenewAmerica columnists are their own and do not necessarily reflect the position of RenewAmerica or its affiliates.
---