Wes Vernon
Dems politically weak--so why is the GOP handing them opportunities?

By
Wes Vernon
September 28, 2015
Help! Somebody rescue Madame Hillary! She is learning big-time what it's like to be on the wrong end of a presidential attack machine.
Recall the days when she was having a high old time using the power of her office – i.e., as the First Lady – against the women who dared to expose her husband's criminality. You might say these attacks amounted to – well, a different version of...um...what? a "war against women"?
Smear machine is mine, not thine
It would seem Madame "Inevitable" does not like it when confronted by a White House of her own party whose tactics mirror her own "inside bully pulpit" White House smear machine – hmmmm – a vast left-wing conspiracy?
Hillary Clinton has urged the Obama White House to "call off your dogs!" The former Secretary of State believes Obama's people are behind much of the bad publicity coming her way on misuse of classified reports, compromised security, and arguably felonious behavior that are alleged. The Gowdy committee headed by Rep. Trey Gowdy (R-S.C.), a former prosecutor, has scheduled a hearing on the scandal October 22. This would appear to be bad news for Hillary and for the Democrats in general.
Not so fast
However, before the Republicans start celebrating the advent of counting chickens as a mere formality, the following is offered for consideration:
1 – Never never, ever, ever, count the Clintons out. "Getting away with it" was a way of life with them, and in fact a practice for which the very decade of the nineties was sometimes named just that: "Getting away with it' – a dubious honor Bill and Hillary in that era effectively shared with O.J. Simpson. Only he eventually went to jail. How come the – oh, never mind.
Even out of office, let's not forget the "secret police," an "off the books" Clinton entity that can be activated and used to strike back at enemies, meaning rank and file Americans, even without their knowledge. Note the Dracula-like return to the Clinton fold of Sid Blumenthal – not for nothing was he widely dubbed "Sid Vicious."
2 – Alas, the Republicans have suffered their own credibility problems:
(a) The GOP establishment tried to destroy the tea party by slamming the door in the faces of that group's members' attempted participation in party primary races; and (b) Then these establishmentarians pressured their hand-picked candidates, once elected, into doing – virtually nothing of substance, caving to Obama almost at every turn.
That led to...
Demoralization amongst the party rank and file followed shortly thereafter. Those people are angry because they feel betrayed. They have good reason to resent the idea of self-appointed "movers and shakers" who first said, "Wait until we get the House, and then we'll make good things happen."
So we the voters gave them the House. But Harry Reid still led the Senate, so we got his Mickey Mouse games to save Obama from having to veto popular legislation.
Thus nothing substantive happened. "Just wait 'til we get the Senate." So we gave them Republican control of the Senate. And they say "Ooooooo! The president will veto legislation that fulfills Republican promises, and we'll get blamed for a partial government shutdown."
So where does that leave us? With the scared rabbit wing of the GOP leaving us unable to tackle the monstrously unpopular selling of children's organs. Can't even move
legitimate
"women's health" to a better administrator than Planned Parenthood. Ah, but just wait 'til 2016, when we elect a president. Then, without any divided government, we'll finally get our program on the books.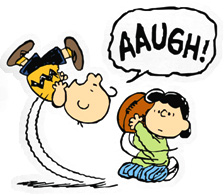 Sorry. That's when it'll be the end of the line for that silly game of metaphoric Charlie Brown and Lucy repeatedly moving the football goal-post. Y'see, the Republicans next year will have 23 incumbent seats to defend, whereas the Democrats only 11. How do you rate those odds? That places us right back where the "just-wait" game has had us all along: Behind the 8-ball. Congratulations, Republicans. The evil party wins again, as the stupid party ponders new excuses, only to find the well run dry.
Blow to serious candidates?
One victim of the crowded Republican presidential race this season is Wisconsin Governor Scott Walker. Here is a seasoned executive with a meaningful a real record of making promises and keeping them.
His fearless principled refusal to bow before special interests ended up saving the taxpayers of his state nearly a half-billion dollars, but not before facing down the most violent tactics of the left that imposed threats and riots at the capitol building.
The governor's refusal to back down led his left-wing enemies to force him and others into recall elections. Mr. Walker survived by comfortable margins each time he ran.
It is a shame that he now leaves the presidential race. He fully deserved to be in the fight to show the voters nationwide that he is prepared to do for them what he did for his people in the Badger State.
This column does not endorse candidates in primary contests. But we believe the governor of Wisconsin belonged in the 2016 sweepstakes. He is a relatively young man, and hopefully, he will someday consider a race for the U.S. Senate if that opportunity opens up
Blame?
In leaving or "suspending" his campaign, Governor Walker seemed to put at least partial blame on the noisy attention-getting entry into the campaign of New York realtor celebrity Donald Trump.
With all due respect, we disagree with Scott Walker on that point. We have opined in this space that Mr. Trump's forte in this all-important contest was and is that of "hell-raiser." As mentioned above, we believe
someone
had to call out the Republican establishment on its making a mess of the newly installed Republican Congress.
Although Mr. Trump himself does not agree, we are not convinced that he will end up as President of the United States. His highest usefulness lies in exposing a powerful but at times foolish part of the party whose "wisdom" lies in a talent for foul balls in bequeathing upon the GOP the likes of President Dole, President McCain, and President Romney. The GOP is America's conservative party. Watered down candidates do very well at leaving the party's base uninspired and prepared to sit on its hands on Election Day. But you, Donald, can target where it will do some good, rather than zapping allies such as Ben Carson and Carly Fiorina, who had nothing to do with those scared rabbits that ruined the 2014 victory they themselves helped to create.
Eye on the ball
Finally, back to
the
problem: Hillary Clinton. She remains the Democrat front-runner. We need to keep our critical focus on her at the very time a large segment of the public – even including Democrats – believe she is "a liar." That's not my word on some name-calling rampage; it is the word used in a description of a public opinion poll about the former First Lady.
The book on Hillary
Anyone who wants to get the lowdown on the threat that a Hillary Clinton presidency presents can consult any one of a number of books on her wrongdoings over the years.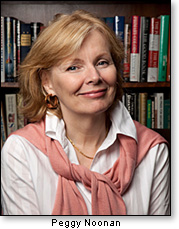 However, the best volume on the Democrat front-runner's career, in my opinion, is
still
"The case Against Hillary Clinton." The 15-year old book by columnist Peggy Noonan remains the very best and most concise to this day – even though on the market in 2000, with all that has happened since then, it remains the most well-targeted summation of the character of a person whose disregard for truth makes the present-day scandals such as Benghazi, lack of concern for security, and the email mess all the more understandable.
Whoever becomes Hillary's Republican opponent will need to be well-armed – must be well prepared to hand her the humiliating defeat she so richly deserves.
As the book's publisher says, the author offers an eye-opening look at "the First Lady's motives" and the differences "between public service and lip service."
Add to that, "consider the climate of deception and disgrace the Clintons [Hillary and Bill] have left in their wake – weakening our nation's moral standing, and damaging our political process in ways that will take years to heal."
They haven't healed yet, have they?
© Wes Vernon
---
The views expressed by RenewAmerica columnists are their own and do not necessarily reflect the position of RenewAmerica or its affiliates.
---