Wes Vernon
BOOK REVIEW: 'Takedown: How the Left has Sabotaged Family and Marriage'

By
Wes Vernon
September 7, 2015
TAKEDOWN: HOW THE LEFT HAS SABOTAGED FAMILY AND MARRIAGE
By Paul Kengor
WND Books, $18.95, 238 pages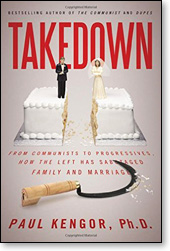 If you are puzzled that millions of mainstream Americans have been steamrolled into accepting same-sex marriage, this is a book you will want to read.
Moreover, if you can't understand how it is that the same America where 36 of 50 states had enacted laws banning same-sex marriage pulled a dramatic flip-flop in little more than a decade, again Paul Kengor's "Takedown" traces that radical change.
Above all, Mr. Kengor (best-selling author of previous books about Ronald Reagan, Barack Obama, spirituality, and the culture) probes what drove the most massive and dramatic public opinion switch in recent history. Americans have changed directions on social issues before, but in modern times, one strains to recall another instance where it all happened so quickly. That story is outlined in "Takedown: From Communists to Progressives: How the Left has Sabotaged Family and Marriage."
Despite that subtitle, "Takedown" is not another volume of pure commie-bashing. Communists do play a supporting role very late in the game, albeit with a considerable vehemence.
The best known 20th-century Communist tyrants detested homosexuals. Stalin, Mao, and Castro sent gays to filthy dungeons or worse.
Most U.S. Communists (or those of the "old left") – though devoid of concern for centuries-old traditions of morality – led lives of traditional marriages in the Cold War. They backed public positions that would weaken marriage, but they did not yet seek to redefine the centuries-old institution. That would come later, and in Mr. Kengor's view, was the ultimate conceit.
Marriage is not ours to "redefine," he writes, just as a dog is a dog, a cat is a cat, and marriage is marriage.
The author pinpoints the early 19th century as the starting point for a slow, two-centuries-long "desensitizing" where monogamous marriage, along with property rights, would hopefully cease to exist. That, of course, was Marxism before Marx, though he surely would have approved.
The book probes the question: How to counteract the rapid public undoing of basic Christian principles without unduly alienating the growing population of everyday Americans who naively accept gay marriage or encourage it. For the first time, the great majority of Americans and today's Communist Party (welcoming a public relations coup) appear to agree. Yet a large minority of Americans see themselves as a victim. So we're to see even more of a culture war over the meaning of marriage.
Speaking of which: There is a chapter on "The Gay Marriage President [Obama]" – and his mentor, the late Frank Davis, a Communist – with a capital "C" – and a credibly identified pornographer. Davis favored anything that would destroy man-woman matrimony or any practice that is supportive of centuries-old Christian beliefs. In fact, Mr. Kengor's research strongly indicates Mr. Obama actually favored same-sex marriage long before he publicly claimed he was "evolving" on the issue. That would suggest a political balancing act between wealthy gay donors and religious voters.
The author, a conservative Catholic, includes a chapter on the late iconic Bishop Fulton Sheen, who cited as one sign of Communism's dim view of the traditional marriage an early Bolshevik decree that all women ages 17 to 32 were property of the State, with the right of the husbands to consider them their wives "abolished." Variants of "group marriages" are predicted by an author who sees gay marriage as ultimately smashing the last barrier to the long effort to downgrade centuries of our civilization's traditional marriage.
Notwithstanding that U.S. Communist organizations in the 21st century have climbed aboard the same-sex marriage bandwagon, today's Russia, writes Mr. Kengor, has no special affinity for gays per se.
Not to be overlooked in this maze of seeming contradictions is the "Frankfurt School" (real name: the Institute of Social Research) formed in Weimar Germany. The "school" moved to the United States and found refuge at Columbia University, from there fanned out across our nation to spread its far-left worldview. Among this group were the likes of ultra-radical sexual Marxist Wilhelm Reich.
During the years that same-sex marriage in the United States remained mostly in the background, "smashing monogamy" did gain some open notoriety in the counterculture sixties. Mr. Kengor includes a chapter on sex orgies by high-ranking members of the infamous Students for a Democratic Society (SDS). The reader may want to take a shower after that one.
Now that gay marriage is openly sanctioned here, the great majority of Americans and the Communist Party are in agreement on a major social issue for the first time.
Paul Kengor's wording here aims to distinguish those deliberately planning the "takedown" of America from those "who have no idea" of the agenda they're following. To the latter, he says, "I would implore them not to get angry at me for pointing out what is happening."
If trying to reason with people riding a tidal wave doesn't work, the author concludes, well, this "takedown" has "been a long time in coming."
Reprinted with permission from the Washington Times
© Wes Vernon
---
The views expressed by RenewAmerica columnists are their own and do not necessarily reflect the position of RenewAmerica or its affiliates.
---