Wes Vernon
Obama: Now seeing Ayatolloahs under every bed? (White House game show)

By
Wes Vernon
August 10, 2015
Well! Well! Well! So this country does have a president who has finally found an "enemy" he can identify that seeks our nation's ultimate destruction.
The name of that enemy – (hold on; no coaching from the audience, please!)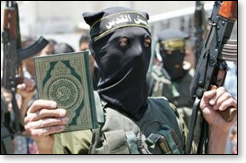 Name that cut-throat!
For months – no, for years! – this administration has steadfastly refused to say the words "radical Islam; Islamist threat!; terrorist cut-throats; or (heaven forbid) Muslim suicide bombers. All of these dangerous threats have repeatedly been winked at by an administration that evidently wants the threats to be seen as non-existent.
Death of innocents after death of innocents
Because most Republicans in Congress have refused to look the other way when a concerted, claimed, religious death-dealing enemy threatens (right out in public) to kill Americans and end the United States forever, our own administration – our "leader" – does diplomatic gymnastics to avoid naming the enemy; forget about actually engaging the murderers in any meaningful (or mildly adversarial) way.
The official response to their evil-doing is most often characterized as "workplace violence" or "man-made disaster."
While our language is being sugar-coated or prostituted, Congress is being harangued to sign on to a deal with bomb-making Iran wherein effective inspections are banned and at least two "side deals" (that we know of) are secret, oh-so-secret, that we won't tell you what those deals are. "Trust us," we are told, and don't be so nosy. Sign up and shut up.
The chief divider
Our leader waxed indignant that his diplomatic acumen with the Iranians was (again) challenged as he has attempted to bully Congress into green-lighting the document. Thus, he mounted the podium at American University, and complained that some Iranian hardliners had shouted "Death to America!
That may have seemed odd. Cries of "Death to America" have been threatened before by (excuse the political incorrectness) Muslim terrorists before without prompting yet another "high horse" act on the part of our current head-of-state. What's different this time?
Oh, I get it
Of course, he considered he had been handed a gift by the hardliners who apparently thought
any
agreement with the Great Satan at
any
time, for
any
reason, under
any
circumstance (albeit meaningless, deceitful, or weak) was per se evil, a designation they would accord the document if it were not any of these things.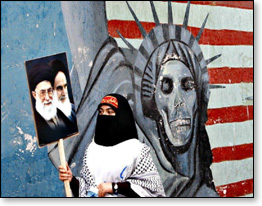 Therefore, proclaimed our president, it was obvious that the head cut-throats in Iran were "making common cause with the Republican caucus."
It was left to
The New York Post
to define that irrelevant insertion of domestic politics as a "gratuitous, unsupportable, vile insult." Yes, and one might add, quite similar to the "logic" that says Hitler was a compassionate and good-hearted man because he loved his dog.
Since "anti-patriotism" was brought up
Even for this regime, one would think that sliming the patriotism of its critics would be a subject to be avoided lest it lead to embarrassing conversation.
So, let us review some well-known facts: One need not take our word for this. We have consulted the writings of scholars who have done the homework on this issue, the issue of people in this administration who have had "common cause" cases of their own.
1 – Cut-throat history
The very ideology-driven death cult whose name the administration dares not speak, has committed unspeakable crimes against humanity, all of which inflicted upon this earth acts of violence, all in the name of governance and "religion." According to Robert Spencer, director of
Jihad Watch
:
1 – Muslim extremists teach that Muslims "must wage war to impose Islamic law on non-Muslim states."
2 – They are commanded to "make war on Jews and Christians."
3 – "The Jihad continues today; Europe could be Islamic by the end of the twenty-first century." Care to guess who's next in line? One shudders to think.
4 – In Spencer's book
The Politically Incorrect Guide to Islam
, he writes that "Ex-Muslims must live in fear, even in the United States." It can't happen here? Wake up.
Andrew McCarthy, prosecutor in the first World Trade Center bombing, has done voluminous research exposing the infiltration of Muslim extremists in the current administration.
He has also written in his book
Spring Fever
that "Shariah (Muslim) law in the United States, once fully implemented (gradually, so as not to alarm us, a process fully begun) would mean the end of America's constitutional protections. Women would be required to obey their husbands (no matter how outrageous the demand). Charges of rape would require multiple male witnesses. Adultery, homosexuality and conversion from Islam to another faith would be punishable by death."
That is the subversive culture that is gradually infiltrating much of America (see Dearborn, Mich.) and is being ignored by the administration, as it accuses its opposition party of sympathizing with the "Death to America" edict of Iranians.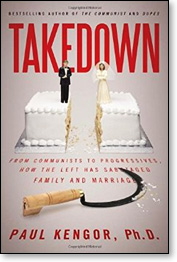 Bedside reading?
Of course, we have not even begun to scratch the surface.
For example, see a new book by Paul Kengor,
Takedown: How the Left Has Sabotaged Family and Marriage.
It is an encyclopedic exploration of many years-long connections of communism in the United States, with a special spotlight on Obama and his Iranian-born close confidant Valerie Jarrett, "who [both] hail from a truly remarkable line of mentors and family members with deep fidelity to the American Communist Party."
It would seem therefore that current White House residents would want to be careful about attempting to draw links between the Ayatollahs and the Republicans (and also that rabid right-winger Chuck Schumer, who has now joined the treaty critics).
© Wes Vernon
---
The views expressed by RenewAmerica columnists are their own and do not necessarily reflect the position of RenewAmerica or its affiliates.
---