Wes Vernon
Open the Books (and your eyes): ending the rip-off

By
Wes Vernon
February 25, 2015
You are being robbed blind. If you've looked at your tax bill lately, that may not be a great shock to you. But the sheer genius by which American taxpayers are being ripped off, often with a wink from government, is nothing short of outrageous.
This brand of (apparently legal) robbery is jaw-dropping in its sheer audacity and clever tactic of having you guard the front door as intruders enter your property via the back door to help themselves to the rewards of your hard work.
They're everywhere
If we hesitate to make a listing of those who are increasing their gain at your expense, it is because the list is so long. There are powerful bureaucracies that hope you won't be invited to "open the books" and see for yourself. It is not this column just pointing fingers a la
J'accuse.
Thankfully, there is – finally! – an organization that envisions an America where any citizen "can easily find virtually all information regarding how their federal, state, and local governments spend the taxpayers' money, whether it's for legitimate purposes or down rat-holes.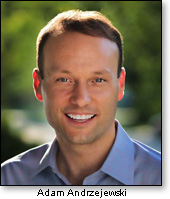 As explained to us by Adam Andrzejewski, the chairman of the nationwide group
Open the Books,
"Our mission is to limit government power by placing 'every dime online' of all government spending [at all levels of government] in an easy to access manner, empowering citizens to expose and curtail wasteful practices and ensure the more efficient allocation of government resources."
Very well outlined, that. This is an organization that should have some urgent appeal to citizens tempted to cry out, "Look, we're broke! There is
no
real 'government money.'" Get it? Now, Open the Books is "gathering every bit of information on the spending of every dime of every single government from Washington to your local town, city, county, and state capitol. They [establishment types] will get nothing of consequence past you."
Background: Who's "behind" OTB?
Adam Andrzejewski is an independent businessman from Hinsdale, Illinois (near Chicago). His independent publishing company employs 150 people and has an annual income of nearly $20 million. He is a family man and small businessman from America's heartland.
The honorary chairman of Open the Books is former U.S. Senator Dr. Tom Coburn, who led the fight for the pro-citizen organization. Coburn resigned his seat in the Senate after he became seriously ill and wanted to spend time with his family.
Early probe
Chairman Andrzejewski's watchdog group hit the ground running. One of the biggest hits in its early days occurred when the group showcased a Lyons Hill, Illinois, school treasurer who increased his own pay by about $130,000 in just one year. The man was eventually indicted for stealing $1.5 million over a 20-year period.
Most of Open the Books' work plunged straight into more general or larger rip-offs with more taxpayers victimized.
Rural vs. city folks: "Follow the money"?
Andrzejewski has drawn a map that shows who's getting all those farm subsidies out of your tax money. Think it's farmer Jones out on the flatlands? Nope. The map is headlined
Kicking City Slickers Off the Federal Farm Subsidy
. It is all about three urban areas, where a very wide and foggy definition of the word "farmer" is understood. And it does not necessarily resemble the proverbial "family farm." Rather it shows wealthy investors piggy-backing on a growing government program – the largess of farm subsidies whose beneficiaries don't live in rural areas; maybe wouldn't know a cow if they saw one, or tried to milk a bull.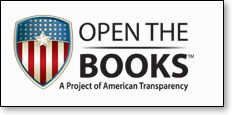 Uh-UH. No way. These are folks whose closest neighbors are Wall Street financiers, the Rockefellers, the Upper East Side, and followers of Minister Louis Farrakhan.
Amazing!
Even Central Park
, with all the green grass and trees, etc. bears no real resemblance to a farm.
Tell us more! Tell us more!
Then there's the story of the pair of teacher union lobbyists who reaped $1 million in just one day of substitute teaching. We could go on and on, but why?
This repetitive skullduggery is so commonplace,
it can get boring after awhile. Once it loses its shock value, the public shoulder-shrugging sets in, and fewer pay attention.
Openthebooks.com
exists to prevent boredom on the part of the taxpayers. It's taxpayers' money, after all.
As Adam Andrzejewski observes: "Transparency is necessary to stop government abuses or prevent them from ever occurring." He further adds, "If the citizenry does not know the impact government has on their lives, they have no ability to exercise the right of oversight. Governments across America continue to increase taxation, and encroach on every aspect of American life. People are just beginning to understand the dangers to liberty."
One is speechless. There is nothing to be added to that, other than to rest the case for supporting and making use of the good work of
Openthebooks.com.
© Wes Vernon
---
The views expressed by RenewAmerica columnists are their own and do not necessarily reflect the position of RenewAmerica or its affiliates.
---