Wes Vernon
Serious vs. clueless: dissecting the Giuliani flap

Voicing legitimate fears of millions

By
Wes Vernon
February 23, 2015
Does the President of the United States "love America"? Rudy Giuliani has given voice to the most widely believed, under-publicized "worst-kept secret" in the family tree of our president, Barack Obama: that the current White House occupant does not particularly like the nation whose people made him the most powerful man in the world. Mr. Giuliani believes he knows why.
"
America's mayor," as Rudy has been known since 9/11, has concluded that he is not going to be President of the United States. He apparently believes he can thus be more candid in sharing his own suspicions about the incumbent president, about whom the respected New Yorker has done considerable research.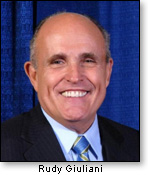 Nor is former Mayor Rudolph Giuliani going to be Governor of New York.
Nor U.S. Senator from New York.
Nor, for that matter, is there going to be another run for Mayor of "the city that never sleeps," where he left on a definite high note because of the classy and competent manner in how he managed the crisis that was the 2001 Islamist terror attack on the Twin Towers in Manhattan.
In the latter capacity, Mr. Giuliani could have had that third term for the asking. But by now, New York, a truly great city (albeit with a questionable political culture), has allowed 15 years to elapse as this "Mr. Mayor" – unlike his successors and many of his predecessors going back to Tammany – remains a man of the law and observes it.
Meanwhile, the sheer time slippage of fickle memory in my hometown has now freed Giuliani to speak his mind. The talent and smarts of Rudy Giuliani (elected Mayor in 1993 on both the Republican and New York Liberal Party tickets, but not supported by the NY Conservative slate) enabled him to serve two terms as arguably the most conservative public figure any mayor can be in that town and still be elected citywide.
Elder statesman's questions
"I know this is a horrible thing to say, but I do not believe that this president loves America," opines the New York City mayor of the nineties.
This allegation is not new. It has been uttered in public before, including in several books whose allegations have not been denied by Mr. Obama.
The assertions about Mr. Obama's background may leave,
de minimus,
a suggestion as to reasonable suspicion that he doesn't love his country. Mr. Obama has not chosen to answer them – possibly believing the media will cooperate with him by ignoring such attitudes, true or not. The
New York Daily News,
however, thought the issues here were worthy of front page attention.
Giuliani doubles down
Racism?
"Look," the former mayor told the
Daily News,
"this man was brought up basically in a white family, so whatever he learned or didn't learn, I attribute this more to the influence of communism and socialism" than to his race.
"[Furthermore] I don't [see] this President as being particularly a product of African-American society or something like that. He isn't" the form.
More precisely, Giuliani says of Obama, "Think of his background.... The ideas that are troubling to me are those [coming from] communists with whom he was associated with through family connections."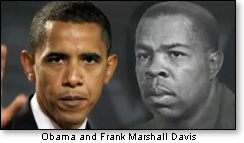 What "connections"?
Giuliani cited Obama's grandfather as having turned young Obama over to communist Frank Marshall Davis, a journalist and member of the Communist Party, as well as the "quasi-communist community" – i.e., Rev. Jeremiah Wright, and Saul Alinsky.
The "followup"?
Dana Milbank of
The Washington Post
went for the quick and easy cheap shot. After the mayor's speech, Mr. Milbank made a beeline to get in the face of Wisconsin Governor Scott Walker (all but declared presidential hopeful), and demanded that the governor say whether or not he agreed with Giuliani that Mr. Obama does not love his country.
Replied the governor: "The mayor can speak for himself. I'm not going to comment on what the president thinks or not."
Translation: Most of us are not mind-readers either.
It must be added, however, Mr. Milbank, that the mayor can hardly be condemned for merely reaching the conclusions that millions of Americans (the "nutters" as you call them) have also surmised. Nothing the president has done or said rings with a specific full-throated love of country. I'm sure you and he believe that puts us on our "high horse." But one can reasonably believe that Mr. Giuliani can choose his words, as Governor Walker can choose his.
Mr. Milbank was remarkably selective in the words he chose to cite, with an emphasis solely on whether the president loves his country.
History remembered?
Not a single word in Milbank's screed referred to well-documented and well-known Giuliani references to Obama's background of having been brought up in an atmosphere that reflects a tolerance for "socialism" and "communism."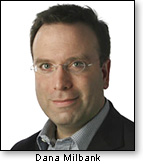 Given the "sensitive" history of the
Post
on those subjects, we won't go there, now, will we, Dana? Your editors (on behalf of their predecessors) may still be wiping egg off their faces through their insistence that Alger Hiss was innocent.
Milbank's column was headlined (in reference to Governor Walker), "Too spineless to be president." (Remember, whatever you think of him, this is the governor who stood up to rioters in the statehouse and beat them at the polls three times in two years – and he's spineless?) In the interest of (up-to-date) accuracy with regard to Dana Milbank, it would better read, "Too clueless to be credible."
© Wes Vernon
---
The views expressed by RenewAmerica columnists are their own and do not necessarily reflect the position of RenewAmerica or its affiliates.
---