Wes Vernon
Freedom-loving Cubans stranded; the "good guys" and the "bad guys" at Guantanamo

By
Wes Vernon
January 19, 2015
So we will all live happily ever, right? A U.S. president seems to be giving us that assurance as he's set to make nice with Fidel Castro.
President Obama is making himself "relevant" in the only way a spoiled child knows how to make the kind of attention-getting noise whose message is "Hey! Don't forget me. I'm here."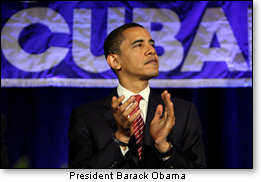 Here is a public figure who needs no cartoonist to draw his persona or inclinations. His cartoons play out in real life. And figuratively speaking, he himself draws them. Here's one: The scenario depicts an Obama-likeness "L'Enfant terrible," the angry child who deliberately goes out of his way to antagonize the grown-ups who no longer think he is "cute" and believe the kid has worn out his welcome. Time to put him to bed.
Castro and Obama: perfect together?
Oooooooooooo! Look at the big man. He knows we don't like communism with a small or a big "C." So he'll show us uppity Americans. He will "normalize" relations with Castro's Cuba. And yes, he kind of likes it that the Castro brothers stick it to us just a little more by vowing that Cuba will not become a free country, but will remain a communist prison state. So there!
Ooooops!
Meanwhile, as Obama amuses himself by applying his pen and phone to give official U.S. sanction to Castro's prison state, public examination of Castro's un-paradise-like half-century rule comes into clearer view. That includes refugees hiding at Guantanamo, of all places – hiding for fear of their lives from a tyrannical regime that wants them dead.
Guantanamo: escape shelter for good guys
It is galling to hear these expressions of "normalization," as we are told we can forget and just walk away from concerns over a murderous regime that enslaved its own people and at one time kept missiles on its soil, preparing, in league with the Soviet Union, to bring death and destruction to these United States.
For decades, this rogue state 90 miles from our shores actively built up communist forces throughout Latin America to forge anti-America alliances – first with its original Soviet sponsorship, then continuing thereafter to this very day under its own steam, with whatever help the Cubans can get for their part in the worldwide communist movement, still alive and well despite the collapse of the Soviet empire.
The fond Marxist hope was (and still is) that this hostile movement growing on our doorstep would force the United States to fall like over-ripe fruit, as predicted decades ago by Vladimir Lenin.
Multi-purposed Guantanamo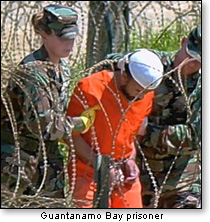 And here is the supreme irony in the upside-down world in which we live: While President Obama lets dangerous terrorists out of Guantanamo Prison (on Cuban territory, much to the chagrin of Mr. Castro), a lesser-known group also resides at Guantanamo. These are refugees from Castro's tyranny who have lived for decades within Gitmo's confines, and are afraid to leave.
Castro unsuccessfully tried to shut off the facility's power to force his prey to surrender. When that didn't work, he planted cactus outside to prevent any more refugees from fleeing to Guantanamo in the first place. They called it "the Cactus Curtain."
For the lion's share of an entire lifetime, the refugees have been there to hide or shield themselves from Castro, who – if he could only get his hands on them – would almost surely kill them. This has been going on ever since 1959-61. And the remnants of the protesters remain there, since to them it's either Guantanamo or certain death.
Their plight has now landed on the front page of the
Wall Street Journal
, with Michael M. Phillips spotlighting the long-forgotten and little publicized story of Cuban citizens whose anti-regime activism caught the unfavorable attention of dictator Fidel Castro and his henchmen within a few short months after his communist revolution overthrew Cuba's non-communist government on New Years Day in 1959.
At the beginning....
As news spread at the time that Castro was out to capture these dissenters, they searched for safe haven. They found it at Guantanamo (Gitmo), and sought refuge. The word spread very quickly, and the first of these intended victims started what turned out to be a years-long procession to behind-the-lines territory that was (and remains) on the Cuban island and yet is under control of the regime-hated United States.
In that latter capacity, Gitmo has been best known as the place where – since 9/11 – terrorists and anti-American cutthroats have been imprisoned, as throughout the world and especially in the U.S., a debate has raged over whether the terrorists imprisoned at Gitmo by the U.S. should be held there, whether they were "tortured," and whether they should be prosecuted as "criminals'' in U.S. courts instead of being tried by military courts, as would apply to captured enemies in virtually any other warlike setting.
(Oooooooh! What beasts we mortals be for pouring a little water down a few mass murderers' snouts! – Gasp! – Waterboarding!)
The plot thickens
So one part of Gitmo houses prisoners who are believed to harbor a desire to kill Americans (the more, the better, in their minds). These cutthroats (the "bad guys"), of course, want out of Gitmo.
Another part of the same facility houses freedom-loving anti-Castro Cubans (the "good guys") who would like to be able to leave, but don't dare, for fear of their lives. These good people, for obvious survival concerns, want to stay in Gitmo.
Put another way
The irony is the "bad guys" want out, but – pending the actions of a U.S. president who has a penchant for coming to the aid of America's enemies – must stay there for now. In time, they will probably get their wish, even if it means more Americans die as terrorists return to the fight for radical Islam's goal of a worldwide caliphate.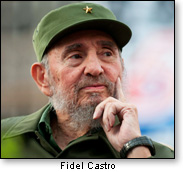 The "good guys" are waiting out Fidel Castro, now in his nineties, who shares the tough job of dictatorial rule with his kid brother, another believer in the right of Marxist hatred to rule the earth. The anti-Castro Gitmo residents have spent a virtual lifetime living an easy but restricted life where the Americans treat them well. (For that matter, the prisoners – "bad guys" – are fairly and comfortably treated; some reportedly have gained weight while incarcerated, possibly pending the U.S.-Cuban negotiations.)
"Normalize" what?
At one time, the Cuban refugee population in Guantanamo ("good guys") numbered in the hundreds. In 1987, there were about 80. Today, those numbers have been dwindling further. Here are honest citizens who have wanted nothing more than to live "normal" lives, raise families, have jobs, be free to travel, and live in peace.
For those normal desires, they have found it necessary to confine themselves at Gitmo for most of their lives. Those refugees, simply by their existence, are an embarrassment to the communist regime that rules their native island.
Such normal, good people stand collectively as a damning indictment of Castro-ruled Cuba as unworthy of membership in the community of nations.
America blesses communism?
So President Obama intends to "normalize" relations with Cuba. Some of the leftist elites on our own soil (who have derived many benefits from our free system) have taken pure delight in vacationing in Cuba, behavior which, of course, helps fatten the treasury of the regime. This spite-America move on their part will be the norm if Obama and Castro enter into what will surely amount to a "normalization" of tyranny.
Here is the rationalization our own administration is demanding that we endorse:
Isn't it time we let bygones be bygones and make nice with the Castro brothers in Cuba? Never mind that so eminent an expert in the field as Dr. Frederick Schwartz once wrote a book titled "You Can Trust the Communists – to be Communists." We are all wise now and know that's old fashioned. So let's "get with it." What do you say?
Here's what we say
What do we say? Some of us believe collaborating with this outlaw regime betrays much that has made America "the hope of the world."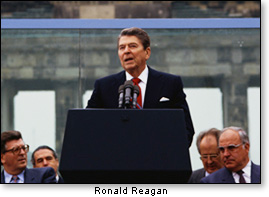 What a radical change from the days when Ronald Reagan instilled encouragement in prisons behind the Iron Curtain, as freedom-loving captives in the Gulag learned of our then-president's prediction that communism would someday end up consigned to "the ash-heap of history."
The downfall of the Soviet empire accomplished much of that happy ending. The very fact that communism remains alive and well in Cuba and other nations, however, indicates much remains to be done.
Our current president would love to see Reagan's work reversed. Making nice with the Castro brothers would be a step in that direction. Keep in mind, however, that both before and after the disappearance of the Soviet Union, communism played a significant role in advancing the Islamist terror threat that bedevils the free world today. Statesmen such as Israel's Benjamin Netanyahu warned as much back in the eighties.
Statesmanship, or politics
More to the point, we are witnessing a terrible message to the rest of the world, and the memory of the 200 million people (conservatively estimated) who died at the hands of the Evil Empire.
We really should know by now, as the Castro brothers are telling us (in so many words): "You can trust a communist dictator – to be a communist dictator."
© Wes Vernon
---
The views expressed by RenewAmerica columnists are their own and do not necessarily reflect the position of RenewAmerica or its affiliates.
---