Wes Vernon
BOOK REVIEW: The [Un]Documented Mark Steyn

By
Wes Vernon
January 15, 2015
THE [UN]DOCUMENTED MARK STEYN: DON'T SAY YOU WEREN'T WARNED
By Mark Steyn
Regnery Publishing, $29.99, 441 pages
Mark Steyn's appeal has spread quickly in these early-21st century years. A big hit particularly in the English-speaking world, the author-analyst-humorist is best known in the United States as a frequent substitute on "The Rush Limbaugh Show," America's most popular radio talk show.
Mr. Steyn has a unique talent for injecting just the right portion of humor with a call to intellectual arms in a pushback against those who would aid and abet America's widely perceived decline.
According to his publishers, the author can leave "devoted readers" in the United States, United Kingdom, Australia, and his native Canada ready to laugh at the absurdities of those with chips on their shoulders against Western civilization.
The English-speaking nations at the very heart of the cultural Western world (notwithstanding Australia's geography at an Asian location) know what to expect in Mr. Steyn's book, "The [Un]documented Mark Steyn: Don't Say You Weren't Warned." (He is in fact "documented" as a legal immigrant in the United States, living in northern New Hampshire, apparently in a "remote perch" suitable for a busy writer to do some serious research for his next volume, while blending that with his life as a husband and father.)
Some of Mr. Steyn's humor can leave you laughing and crying at the same time. Example, from a previous Steyn book (recreated here from memory): Abortion (via Roe v. Wade) stubbornly remains on the books, and of course (for some other reasons, as well) fewer babies are born. That in turn means reductions in America's younger population, as a percentage of what it was previously. At the same time, "seasoned citizens" are actually living much longer. At this rate, he opines, no doubt with slight bemusement, we may end up with baboons or gorillas serving dinner at the senior citizens centers out of necessity.
Mr. Steyn writes about anything, both the profound and the lighthearted. In this current volume, his extensive coverage does not shy away from the issues of our day that may not be settled in our lifetimes, including his opinion that you can't have conservative government in a liberal culture.
Washington's late cultural conservative Paul Weyrich went a step beyond that when he noted that while conservatives won the political wars in the 1980s, liberals won the culture war. Trouble is, he lamented, unless conservatives capture the culture, they will lose the political war, as well.
The "jury may be out" on that one, but California, once "the land of Reagan," does not look very encouraging. The Golden State would seem to validate the prediction with which Mr. Steyn appears to agree, though no doubt he would have preferred to have been proven wrong.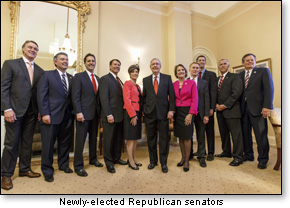 In "The [Un]documented Mark Steyn," the author concludes that the internal conflict where politics often trumps culture is "the position the Republican Party is in [today]."
Liberals expend tremendous efforts at changing the culture. Often responding to the pressure, conservatives seem willing to modify, or reject, some long-held conservative positions every other November. And that, says Mark Steyn is why the GOP is reduced to "twisting themselves into pretzels to explain why gay marriage is really conservative after all, or why thirty million immigrants with a majority of births out of wedlock are "natural allies of the Republican Party."
Some conservative pundits argue that most of the new Republicans elected to the U.S. Senate last November are more or less in that "pretzel caucus" (our term, not theirs).
There will be plenty of time to see if that plays out. But guess what? The culture conservatives on the outside are not going away.
Mark Steyn has made the point in his series of best-selling books that Europe is dominated by Islam and that in anywhere from 40 to 75 years, there will be a continent that he calls Eurabia. Others, of course, have similarly prophesied. Mr. Steyn's look into that future is simply more vivid.
For that, critics have accused the Canadian sage of New Hampshire of advocating genocide. His response is he's not talking about what he wants to happen, only what he thinks will, in fact, happen.
That copies of Mr. Steyn's current best-seller were snapped off the shelves of America just as France was going through a week of Islamist violent hell, ironically may be seen as lending tragic weight to his credibility or sense of timing or whatever.
The author goes into the final stretch of "The [Un]documented Mark Steyn" interviewing Doris Mary Ann Kappelhoff. Who? She's 90 – or 92 (even Wikipedia is uncertain). Who? Come again? Think Doris Day, one of the biggest movie, television, radio, and recording stars of the 20th century. Naturally, Mark Steyn could get this very outgoing icon to detail her early career when she was once so horrified that she ran offstage in the second verse of her ballad.
A book by Mr. Steyn offers a large landscape on life.
Reprinted with permission from the Washington Times
© Wes Vernon
---
The views expressed by RenewAmerica columnists are their own and do not necessarily reflect the position of RenewAmerica or its affiliates.
---