Wes Vernon
When benefactors stain their earned good will

By
Wes Vernon
December 22, 2014
Jon Huntsman, Sr., Utah's wealthiest man, says Mike Lee, Utah's junior senator, is an "embarrassment" to the Beehive State.
It is not unexpected that the knives are out for Senator Lee, who by now should be quite accustomed to pot shots, starting with a dirty tricks campaign waged against him when he sought and won the GOP nomination in 2010.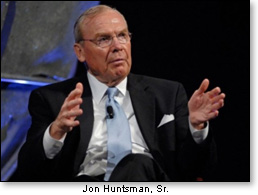 Treading sacred ground?
The Utah political establishment has never forgiven Senator Lee for daring to exercise his citizenship rights to run for political office. To compound the audacity, Mike Lee opposed (and defeated) three-term fellow Republican U.S. Senator Bob Bennett. Senator Bennett's credentials with the movers and shakers in the state were in perfect order. He was not one to "rock the boat."
Lee had several worthy priorities in mind – among them understanding full well that he was among the candidates whom the voters expected to resist the then two-year-old administration's total focus on "transforming America" into something quite the opposite from the special beloved place it was meant to be. Lee also has followed up with a positive agenda.
All of it?
Utahns who had respected and appreciated Mr. Huntsman Senior's good works as a benefactor for worthy causes had good reason to assume that anyone who had expressed an intention to die a poor man as a result of his intent to spend down his fortune for the betterment of his fellow Americans would likely be someone of good cheer. Not necessarily so.
Small wonder, then, that many would wonder why Huntsman would insult, and refuse even to have conversation, with a U.S. Senator whose agenda is pro-American. One wonders: What is Mr. Huntsman Senior's problem? Even well-meaning benefactors can at times be as mistaken as others. Their expertise on some issues does not necessarily reflect wisdom in other spheres.
The problem?
According to a Huntsman interview with
Politico
(as also relayed by the
Salt Lake Tribune),
one – perhaps the main – cause of his seemingly visceral dislike for the Utah senator is the fact that the first-term lawmaker helped lead the drive against Obamacare's further implementation. Huh? That's bad? Huntsman specifically says that effort by Lee led to a government shutdown which in turn cost the Huntsman Cancer Institute some federal money (Barack Obama and Harry Reid had something to do with that shutdown). He also notes the shutdown forced parks to close.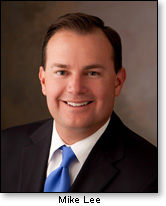 What about our children's future?
Two things about that:
No hard figures are mentioned in reference to the federal dollars lost to the cancer institute. But surely, the state's wealthiest man, who has voluntarily stated he will die poor by giving away all his money, could help fill that gap by raising money from other donors, including a portion of his own funds with which he is willing to part when his time to leave earth arrives.
As for the parks, c'mon; we're talking a few days at most. And what's a few days in the park alongside our children's and grandchildren's crushing debt and the threat of a misfortune equal to that of other nations whose experience with socialism writ large has curbed the freedoms of their people. Obamacare could lead to that result, as its goal is to control one-sixth of the economy.
Alternatives
Among those reportedly contemplating the prospect of taking on Senator Lee in the Republican primaries of 2016 is former State GOP Chairman Thomas Wright and Josh Romney, son of 2012 presidential candidate Mitt Romney, whose run for the White House left about five million Republicans staying home and not voting in that election cycle. Outgoing Democrat Congressman Jim Matheson has said he might consider making a run against Lee.
In the 2016 campaign, Senator Mike Lee will require help from freedom-loving patriots whose concerns transcend taxpayer-funded issues. He will need it. The Romneys and the Huntsmans (not always overly-friendly with each other) will be a formidable fundraising gang-up.
© Wes Vernon
---
The views expressed by RenewAmerica columnists are their own and do not necessarily reflect the position of RenewAmerica or its affiliates.
---