Wes Vernon
On the eve of destruction, Part 3: ISIS (yes, they are here)

By
Wes Vernon
September 11, 2014
At the time I'm writing this, President Obama is yet to deliver his anxiously-awaited speech to the nation, and we should soon know whether he is serious about the notion that Americans expect him to take time out from his social engineering (running our lives) long enough to focus on an enemy at the gates with plans to kill us.
If he doesn't mention the obvious danger or fails to voice a credible resolve to kill the savages before they kill us, he will have wasted our time.
Why watch?
Even the mainstream media are no longer giving a seemingly disinterested commander-in-chief the benefit of the doubt. CBS White House correspondent Major Garrett gave presidential spokesman Josh Earnest a litany of moves the White House has said the president will
not
propose, or what new ground will
not
be covered in the speech, and asked, "Why watch?"
Why indeed?
There is little curiosity in Washington about a story that emerged over Labor Day weekend when few were paying attention: members of the ISIS (Islamic State) are gathered just over the border in criminal-dominated Juarez, Mexico, with "imminent" plans to make their move into the U.S. to kill, kill, kill – with car bombs no less.
Why not? They have already declared "We are among you."
The information comes from such credible sources as Judicial Watch's Tom Fitton and has been taken very seriously by Andrew McCarthy, who successfully prosecuted the first Trade Center bombing, and by Leadership Institute CEO Morton Blackwell, who set the wheels in motion to distribute the new information "far and wide."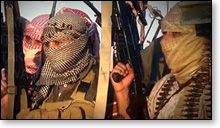 Someone I know who has experienced war and is prepared for anything – usually bad – remarked the information does not surprise.
It would not surprise me either. But my own journalist training had drummed into my head the facetious adage that "If your mother says she loves you, check it out." Thus I was prompted to ask around and ask and ask. There was a forbidding information wall.
See, hear, speak no evil
Official government sources deny the story, possibly on orders not to arouse the animals until after the election. Talking to Capitol Hill sources will either extract a non-committal or confused-sounding response.
In my gut, I believe the story is accurate. Of all the rotten luck, it surfaces and then vanishes during a holiday weekend. But terrorists, of course, don't act on our 24-hour news cycle. If the president does not mention it now that he has the nation's attention, that will suggest a certification of the widespread belief that as a wartime leader, he is simply not a serious president unless the issue at hand involves his social engineering agenda.
© Wes Vernon
---
The views expressed by RenewAmerica columnists are their own and do not necessarily reflect the position of RenewAmerica or its affiliates.
---