Wes Vernon
At last! Beginning to match the outcry of an angry left

By
Wes Vernon
September 9, 2014
This is just too delicious! Somebody wake me up. How long do you think I can take these beautiful dreams, only to reach the real world and find out I'm back in the punching bag, an experience that Middle America suffers 365/24/7?
Wake me! Shake me! Pour water on me! Anything! Just get me out of this fantasyland! I'm probably being victimized by some fiendish sadist who pulled butterfly wings when he was a kid.
What!? You say I
am
awake? [Reaching for my glasses]
It's all true!
My dream began badly but then had an ending beyond beautiful. What happened was I was
Phil Spelvin, taxpaying American,
at first subjected to the slander routinely meted out to the unfortunates taken with a weird notion they had the right to speak their minds without being labeled with such unlovely designations as
Bigot! Homophobe! Racist! Hater! Sexist pig! Tea-bagger!
You thought you could talk like a normal conservative or even a "fifties liberal" and imagine you could get away with it under the claim of your "right to exist?!" Silly you!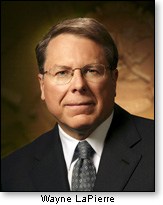 Then suddenly that's where the nightmare turns into something so gratifying as to appear unreal.
Here's the "skinny"
Comes forth news of a blow for freedom, once again mercifully inflicted by Wayne La Pierre – he of the highly effective National Rifle Association (NRA) – who publicly dared to sass back the regime in DC. Word has it that as Mr. Obama last year failed to get the gun control bill that he had ordered, there was emitted from the White House an expressed rage loud enough to scare the roosters into a wing-flapping midnight crow.
NRA's new plan (hint: not just about guns)
Okay, now here's what's new: Bring on the heavy political artillery.
The National Rifle Association (NRA) has unleashed "a multi-million dollar TV advertising campaign going far beyond the Second Amendment and gun ownership rights. This time the gun rights heavyweight is "reaching middle-class mothers, minorities," and other Americans "who believe our country is off the rails," LaPierre tells
The Washington Times
in an exclusive interview. (This is for real, folks, we left the dream way behind; are we all awake now?)
So what is the message?
As for ad message issues, expect for starters the IRS scandal, media elitism, security vulnerabilities, and other instances wherein there is – or was – a clear demarcation between right and wrong before self-appointed enforcers of "political correctness" graced the scene with their own definition of the word "judgmental" (except when they are the definers – perhaps of the gentle notion that it just isn't polite to cut someone's head off; that might make a fierce leader mad enough to stomp off to the golf course in a real huff).
Mr. LaPierre's travels around the country talking with Americans have convinced him his fellow citizens are "worried the character of the country is at risk," as the first new NRA ad asks, "Do you still believe in the good guys?"
Bingo! Do we?
Can
we answer that?
LaPierre fears that is not necessarily a given these days. And don't ask him what in the world that has to do with gun rights. He'll have none of it. He believes all freedoms are connected.
"It takes courage to be free," he says. Right; just ask any conservative who has been audited by the IRS on orders from powerful senators or – dare one say? – the White House. Recall that leading up to the day the auditing scandal surfaced, the most frequent White House visitor was a top IRS official. And do not speculate over what was discussed. That would be naughty, naughty.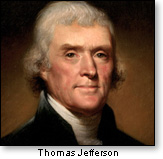 Recalling Jefferson
"What kind of country turns its tax collectors into secret police?" is the rhetorical question asked by the NRA. "Speak out. What kind of government spies on its own people? Speak out. The right to a private life is one of freedom's blessings." And further, "that's what the good guys believe."
It was Thomas Jefferson himself who warned "that government is best which governs least" – and further, "When the government fears the people, you have freedom. When the people fear the government, you have tyranny."
Laws for thee, but not for me?
Selective law enforcement is a target of the NRA's new ad campaign. Too often, according to the NRA, "the law does not seem written honestly [or] enforced fairly, and we watch lawmakers escape their own rules."
That has long been one of my own pet peeves. And it's always interesting to watch when that "slippery eel" sort of law-making backfires on those who perpetrate it. Often they will do so not just to exempt themselves from the laws they write, but often leave it to unelected regulatory agencies to interpret or misinterpret their vague wording. That way, if the law leads to "unintended consequences,' the lawmakers escape the political fallout.
Call out the bad guys
In various ways, the NRA (which hopes to get the campaign into all 50 states) is calling out cronyism, "politically correct" bullies, freedom-deniers of all kinds, and a pop culture that glorifies glamorous people who set bad examples for our kids.
Which, of course, sets up our gun-toting friends for attacks from those of the "gutter-snipe" community. But the NRA is well-prepared to fight back – in spades. With the NRA in action, the anti-Americans in our midst would be up against a multi-century iconic organization that has millions of devoted members and also, not incidentally, a fat treasury. Rapid response to the likes of the Soros puppets would surely be the order of the day.
The Tea Party back in 2010 materialized from a groundswell of alarmed citizens shocked at what they believed to be anti-American leadership suddenly directing U.S. policy – an ominous "transformation," if you will. The Tea Partiers were and remain a useful part of the political energy required. And now with the NRA adding fuel to that welcome fire, we get the benefit of bringing the pre-established and focused political marines to the fight.
Though the NRA ads are beginning during this year's mid-term elections, the NRA is on board for the very long haul, continuing months and years after the 2014 elections are over.
Social values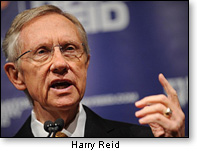 From the descriptions so far, it would appear that in 2014, the social-issue conservatives will not be neglected. That can be nothing but good news. Our friends at the Chamber of Commerce, apparently heeding the panicky pleas of what I would call "the scared-rabbit wing" of the Republican Party, are mistaken if they really believe that stirring dissent within the ranks during the election campaigns is the way to achieve our shared goal of victory.
If the GOP chooses to relegate the estimated 30 million social conservatives in America to second class status within the party, they will create a lot of stay-at-homes on Election Day. It's tough enough to guard against the Democrat penchant for such mischief as votes from the grave, double voting, "bused in" illegal voters, etc. What we don't need in addition to that is absent conservative voters when we're trying to encourage them to fire Harry Reid as Senate Majority Leader.
If we fail to keep the Reagan coalition intact, or if we ignore issues honored by each of the conservative schools of thought within the conservative family, we might end up in the teeth of a nasty surprise November 4. America can't afford that.
© Wes Vernon
---
The views expressed by RenewAmerica columnists are their own and do not necessarily reflect the position of RenewAmerica or its affiliates.
---