Wes Vernon
A third term: will the 22nd Amendment save us? (Part 1)

By
Wes Vernon
July 14, 2014
NOTE:
Prior to the 2012 election, this column ran a series raising the question as to whether that election would be our last free one. Then, as now, we were (and are) witnessing what is known as the Cloward & Piven strategy: the political manipulation of the "masses" by chaos, simultaneously coming from the top (Oval Office, for example) and the bottom (the likes Occupy Wall Street, as the second ingredient.)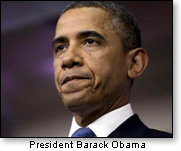 The resulting disruption, with the masses getting squeezed in the middle, ultimately leads to the downfall of government, paving the way for a dictatorship.
Launched in 1966 by the married Columbia University sociologists Richard Cloward and Frances Fox Piven, the rationale for this was to precipitate crisis in order to replace the welfare system with a guaranteed annual income.

Left out of the explanation (for public consumption) is that a society of act-alike, do-alike, and think-alike would lead to increased government power – ergo a clear path to tyranny.
Nearly two years post 2012
As I write this in the summer of 2014, the C&P strategy is working like a charm (using that term in a loosely framed manner).
The lead story in most news reports for several days has been the flooding over our under-protected southern borders of an estimated 50,000-90,000 illegal aliens (I refuse to use the dishonest term "undocumented immigrants"), some reportedly carrying serious diseases (possibly one reason the president refused to visit the border while in Texas for his real priority: fund-raising. He says he does not go for photo-ops. One can understand why he would not want to subject himself to the risk of shaking hands with someone with a communicable disease. Why then, does he appear only too willing to send them into our midst? (Just asking.)
He also can still use the pressure of this invasion to scare Congress into passing his Import Democrats legislation.
Question:
But, Mr. President, what if it turns out to be an
Import Terrorists bill?

Answer:
Go away kid, 'ya bother me
Members of the U.S. armed forces stationed in war zones are getting pink slips while on duty. Just another day at the office as our Commander-in-Chief seeks to cut the guts out of our military readiness. Meanwhile the bad guys worldwide plot our destruction. (Checked out Iran lately?)
A member of Congress says he is filing a resolution directing the House Sergeant at Arms to arrest the former IRS Director of Exempt Organizations Lois Lerner, possibly to be jailed on the charge of contempt of Congress. Ms. Lerner took the Fifth on whether she illegally targeted taxpayers who did not agree with her leftist politics. She also tried to target Senator Chuck Grassley with an audit for reasons both petty and silly. Hate to use the hackneyed term, but Senator Grassley is about as "squeaky clean" as they come.
Efforts to impeach Attorney General Eric Holder are gaining traction for his failure to launch a serious probe into this and other scandals. There are also several inquiries underway aimed at filing Articles of impeachment against the president himself. Different approaches toward that end are backed by (among others) Rep. Steve Stockman (R-Texas), former Rep. Allen West (R-Fla.), Sarah Palin, and (very actively) the leadership of this website; House Speaker John Boehner meanwhile announced he is suing the president for his illegal power grabs.
Rep. Trey Gowdy (R-S.C.) – a brilliant former prosecutor – heads a new panel which is laying the groundwork for (finally) blowing the lid off the Benghazi cover-up where four Americans were killed in a terrorist attack, and the then-Secretary of State intoned "What difference at this point does it make?" Hillary's slogan for 2016? Just asking.
And an author has just released a book entitled
The Murder of the Middle Class (
that will bring about the long-overdue rattling of more than a few cages).
Gee, is that all?
Oh, no, that's not all. There are many more examples of the chaos that follows when a "post-partisan" presidential candidate turns out to be the most partisan chief executive ever.
Why?
The 24-hour news cycle of the 21st century can have a dizzying effect. Though it is a blessing, there are some unintended consequences. One of them is it plays into the hands of the Cloward/Piven strategists.
In their collective minds, Americans can try to organize the chaos. Freedom enablers on every level could go for the big picture, list President Obama's so-called "phony scandals," and treat them as one big convoluted, well-thought-out scenario, which they appear to be. And there is more .....Later.
© Wes Vernon
---
The views expressed by RenewAmerica columnists are their own and do not necessarily reflect the position of RenewAmerica or its affiliates.
---