Wes Vernon
Carl Levin: the holy roller of human rights (mid-20th century vs. early 21st century)?

By
Wes Vernon
May 16, 2014
What would you think of a United States senator who, with malice aforethought, uses his power to sic the IRS on private citizens whose politics he doesn't like?
Pretty nasty and sleazy stuff, wouldn't you say? Why, if you were marinated in the faux indignation generated on the campuses of our Ivy League citadels, would you not want to raise some highly visible protest? (Oh! Of course, it depends on whose ox is gored. I forgot. How silly of me!)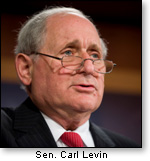 Selective outrage
Carl Levin is a longtime United States Senator, having climbed the seniority ladder in the august body of the Senate for nearly 36 years. Among his other titles, the Michigan lawmaker is Chairman of the Senate Permanent Subcommittee on Investigations.
In 2006, that congressional panel, on Levin's authorization, released what amounted to a document dump of closed-door hearings transcripts of the subcommittee when it was chaired about 50 years earlier by one of Levin's predecessors, Joseph McCarthy.
In addition to the nearly five thousand pages of testimony from 500 witnesses, members of the panel in the 21st century inserted their Monday-morning quarterback comments on how the same panel had conducted its inquiries a half century earlier.
The problem:
The unremittingly negative judgments in 2006 on Senator McCarthy's much earlier chairmanship do not accurately describe the overall tone of the hearings in 1953-1954.
This writer actually read all five volumes of the closed-door hearings and found Senator McCarthy to be quite reasonable and patient in advising witnesses of their rights and cautioning them not to perjure themselves.
Compare that record to the spin applied by the present-day chairman, Senator Carl Levin, and committee members who know better than to defend a long-dead senator against the onslaught of negative commentary by a senator who is not only alive but powerful enough to inflict much harm to their careers, especially the more junior lawmakers.
Now about 2012, 2013, 2014
Once again, Tom Fitton's Judicial Watch (JW) has had to use the FOIA (Freedom of Information Act) to follow the comings and goings of liberal lawmakers in order to clean up their mess long after the cheap shots have made it into the record and the perpetrators have "moved on" to other victims.
In a just-released report of its own, JW reports that Mr. Levin attempted to strangle the Tea Party baby in its crib through unconstitutional and legally dubious means.
Declares JW's investigative report, "Democrat Senator Carl Levin (Michigan) applied unusual pressure to the IRS to target any Tea Party and conservative groups in order to shut them down."
"Several e-mails," according to the watch-dog group, "document an intense effort by Levin and IRS officials to determine what if any existing IRS policies could be used to revoke the non-profit exemptions of new applicants."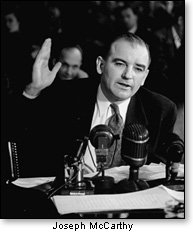 And also older groups
Now, bear in mind, here is a United States senator, chairman of a powerful investigating committee, singling out groups of citizens merely (as stated in the Constitution) for exercising a right "peaceably to assemble and to petition the government for a redress of grievances." Among the targets were
Club for Growth, Americans for Tax Reform,
and
60-Plus.
The Tea Party groups also were targeted, though they were very new, having been galvanized as a pushback to President Obama's push for his signature Obamacare legislation. (Gee, what's the matter with these people? All that happened was the President of the United States merely aimed for a government takeover of one-sixth of the economy. Such fuss budgets!)
Again: today vs. yesterday
Senator Levin in 2006 accused Senator McCarthy in the 1950s of failing to give witnesses adequate time to secure legal representation at his hearings – neglecting to mention that Senator McCarthy told witnesses showing up without an attorney (most of them did arrive with lawyer in tow) that he would postpone testimony in order to enable those witnesses to seek legal representation.
A half century later, the release of the hearings transcripts – again authorized by Senator Levin – left reporters with less than a week to digest over five-thousand pages. As a former news broadcaster, let me note here that few reporters are granted that kind of company time to digest five-thousand pages. However, Senator Levin and his colleagues did "helpfully" supply reporters with a pre-written two or three pages of
their
spin. That way, the media would have sufficient time to release a 21st century one-sided take on what happened way back before most reporters and much of the public were born.
Bottom line
21st century committee chairman Carl Levin has accused 20th century committee chairman Joseph McCarthy of "bullying."
Well, now. "Bullying?" Let us examine the meaning of the term:
On Neil Cavuto's May 15 TV show, the host inquired of Fox News Contributor Mary Katharane Ham if perhaps Senator Levin had engaged in illegality by coordinating [or] seeking an IRS crackdown on Tea Party groups.
"Well, it's all quite brash, isn't it?" responded Ms. Ham, "[contacting] the IRS, naming his political opponents, and saying, 'Hey, what's the best way we can sort of work these guys over?"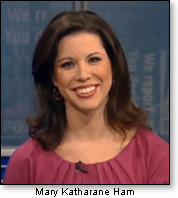 Though that is not exact language Senator Levin used, Ms. Ham nailed the tone of the exchange. Christopher Farrell, Judicial Watch's top investigator, summed it up thusly:
"This is not some spontaneous human combustion, [or] some strange freak event. This is an organized campaign to target political opponents and to bring the whole raw weight of the government against them. This doesn't happen in a vacuum. It doesn't happen by accident [involving] political operatives out of the White House...or out of the DNC."
High level intimidation by, among others, the Senate chairman of an investigating committee, with the cooperation of the then-IRS commissioner, now exposed thanks to Judicial Watch.
Now which senator did you say had engaged in "bullying?" Senator Levin, when he was on a university campus, first made the charge against Senator McCarthy, whose anti-Communist hearings were then underway.
Ah yes, the beautiful days of marinating in the faux indignation of "critical theory." Hypocrisy, anyone?
© Wes Vernon
---
The views expressed by RenewAmerica columnists are their own and do not necessarily reflect the position of RenewAmerica or its affiliates.
---