Wes Vernon
The "core values" of Brandeis: one small sliver of poison in a larger pattern?

By
Wes Vernon
April 22, 2014
Apparently, we may conclude that the "core values" tolerated by the eminent Brandeis University include activities such as (for starters) female genital mutilation, so-called "honor killings," wife beatings, and forced marriages.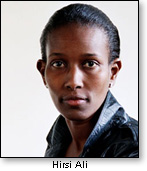 Whaaaaaat? A U.S. university condones practices that are so antithetical to the very basics of a civilized society? University President Frederick Lawrence himself withdrew his previous intent to bestow an honorary degree on Hirsi Ali, a well-known champion of Muslim women's rights, and withdrew her invitation to speak at the Brandeis commencement. Ms. Ali seeks to end the unspeakable practices referenced above, as she did in Africa, and in the Netherlands where she was an outspoken Member of Parliament.
Therefore, by banning Ali from entering the oh, soooo sacred "market place of ideas" on its campus because of statements that are "inconsistent with Brandeis University's core values," the question arises as to whether Mr. Lawrence disapproves of her many statements in opposition to violence against Muslim women.
Surely, the good university president would not want to leave us with the impression that Brandeis condones as "core values" female genital mutilation, honor killings, forced marriages, and wife beating," would he?
Even the more charitable possibility suggested by Foundation for Defense of Democracies President Clifford D. May would question whether Brandeis has – ahem – "lost its way." "Hey, scholar – in-chief, ever hear of Google?", the veteran journalist asks in
The Washington Times.
The ship has sailed
The enemies of free speech are so ubiquitous that hardly anyone talks about it anymore. Several years ago, this column presented a series arguing that "The Enemies of free speech are on the march." Ultimately, I lost count in the maze of examples as the series began to take on an appearance of "So what else is new?" After repeated poundings, one becomes emotionally drained and immune to shock.
Free and open debate is the bedrock of the Constitution. But as we more recently noted in this space, there are forces in and out of government that intend to obliterate our Constitution and replace it with something totally foreign to the constitutional rights that have been accorded Americans since this nation's founding.
(See this column "Next Crisis: the all-out formal death of the Constitution" – 12/19/13)
Culture of revenge
The pattern is clear. When the man in the White House said he would "punish our enemies and reward our friends," he meant it. Not only his administration, but his shock troops. (Oh, yes, they're out there, even if he didn't formally sign the order creating the "back-up.")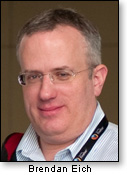 Remember as he sought the highest office in the land in 2008, he
advocated
a civilian military, every bit "as powerful" as the regular military whose mission is to protect America and Americans.
A de facto civilian military powered by what one commentator called the "gay rights" mafia demanded that Brendan Eich be ousted from his job as CEO of Mozilla. His crime? He donated to California's 2008 Prop 8 ballot initiative (which passed but was blocked by the courts) that would have banned same-sex marriages in the state.
Sneaky?
So now, the message from on high is clear: Agree with the regime and its shock troops, or you will pay the price. We will destroy you. Can you believe that throughout history, our young patriots have given their lives on foreign battlefields in defense of our precious liberties, only to have them trashed in 2014 with the threat of "a phone and a pen?"
Capitol Hill, too
Every time violence is used against a politician or against a minority group, the more opportunistic elements of the left wing come up with a scapegoat. After a Ku-Kluxer went on a rampage and killed Jewish people in Kansas, we awaited the predictable drop of "the other shoe." It was not long in coming.
Senator Ed Markey (D-Mass.) introduced a bill "to examine the prevalence of hate crimes and hate speech on the internet, television and radio to better address such crimes."
Keep in mind, however –
1 – The Ku Klux Klan was organized in the 19th century by Democrats. 2 – I know of no TV network or radio talk-show host who supports the KKK of which the Kansas killer was a part. 3 – Today, the propaganda of the KKK is almost universally ignored other than by Democrats shouting that any and all criticism of the president is "racist." 4 – Hate speech occurs on the floor of the Senate where Harry Reid has attacked private citizens as "un-American," knowing that anything a lawmaker says on the floor of the House or Senate is shielded from the laws of libel and slander that apply to the rest of us.
And 5 – Senator Markey is on a fishing expedition seeking another way to shut down criticism of himself, his party, and the president. This is yet another attempt to shut up Americans with views the current regime does not like.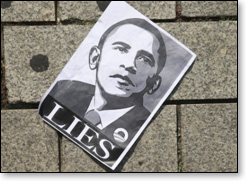 Drip! Drip! Drip! Then the gusher
From Fast and Furious to Benghazi to the IRS pursuing administration critics to unconstitutional power grabs, the destruction of our America continues unabated.
Many of us grew up in an America where we agreed to disagree and settled our differences at the ballot box (through honest elections) and then came together because of the one thing that kept us united...that we were Americans, unashamed of our love of country. And if you wanted to contribute to a political cause, or voice criticism of the government, that was your right because you were an American
That tolerance is slipping away from us in today's America. We can only hope there is an awakening before the window of accountability has passed.
They mean to end our America
In the counter-culture sixties, serious people sat around in discussions as to what will happen after "the revolution" when an estimated 25 million unreconstructed "capitalists" resist "re-education" camps and refuse to accept a socialist America. The implication was they would have to be eliminated. Some of the violent people (then on the outside looking in) are today on the inside looking out and looking down on us, ready to do us harm, either denial of right to make a living or the right to speak out minds.
Time is running short. In 2020, the anti-Americans hope to organize a second constitutional convention. That would lead to their "new America," where freedoms we have taken for granted will disappear, as perhaps will those individuals who refuse to "get with the program."
It used to be an honest intellectual battle. More and more, it is becoming a battle of survival. It is no accident that America has become more divided than at any time since the Civil War.
© Wes Vernon
---
The views expressed by RenewAmerica columnists are their own and do not necessarily reflect the position of RenewAmerica or its affiliates.
---