Wes Vernon
BOOK REVIEW: 'Double Down'

By
Wes Vernon
January 27, 2014
DOUBLE DOWN: GAME CHANGE 2012
By Mark Halperin and John Heilemann
The Penguin Press, 29.95, 473 pages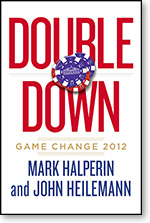 This is a book for political animals, especially those who enjoy a fun read. Researchers looking for carved-in-stone political history, however, might want to look elsewhere for the story of last year's presidential campaign.
In "Double Down: Game Change 2012," Mark Halperin and John Heilemann base roughly 80 percent to 90 percent of their inside information and many of their quotes on others' conversations and events they likely could not have witnessed.
A certain amount of that second-hand stuff is inevitable when political reporters use credible sources to ferret out the deep, dark secrets of campaign maneuvering. However, the process can be abused when it becomes the foundation for a narrative.
Moreover, in the book, we get page after page where the authors impart to us the "thoughts" of the players inside the Romney and Obama camps. Such rampant implied insight as to the mental processes of others adds yet another dimension to the reader's attempt to distinguish verified information from educated guesswork.
While the authors, along with others, apparently thought that in the end, Newt Gingrich's Republican candidacy would turn out to be more entertaining than viable, the former speaker of the House struck a long-simmering chord with middle America (including the Republican Party's conservative base) when he called out moderators who had asked candidates "questions" clearly aimed more at setting "gotcha" traps than at eliciting information in the interest of a better-informed public. That arguably led the moderators into several instances of off-topic gamesmanship. The kerfuffle over contraception is a case in point.
The effect of staging 20 debates before and during the primaries (other than to relieve the boredom of moderators obsessed with the "horse race") was to steer the hopefuls into trashing each other so that whoever emerges from the wreckage is damaged before arriving at the starting gate in a race against an incumbent president.
"Double Down" was hyped by over-the-transom publicity about one of its trumpeted nuggets: The authors allege that Jon Huntsman Sr. was the mysterious source of the allegation made by Senate Majority Leader Harry Reid, Nevada Democrat, that Mitt Romney had not paid his taxes for 10 years. The authors cite Mr. Huntsman, the philanthropic father of erstwhile Romney rival Jon Huntsman Jr., as the bearer of that potential political time bomb.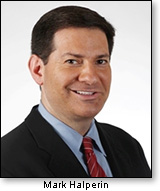 Post-publication of this book, Mr. Huntsman Sr. vehemently re-denied the allegation when queried by other media, and accused Mr. Halperin and Mr. Heilenmann's work of being "nothing but supermarket, tabloid trash."
So who to believe? On one hand, there is a philanthropist who has vowed to die broke after giving away all his money. On the other hand, there are authors affiliated with a "news" channel deemed by a Pew Research study to contain 15 percent news and 85 percent opinion.
The Huntsman candidate may have appeared to be a cipher. (He resigned as governor of Utah barely into his second term to become ambassador to China, then resigned to run against the president who had appointed him.) Huntsman pere, by contrast, is highly respected.
Many Romney supporters were nonplussed that all four moderators in the final general-election debates were from left-leaning networks. (One imagines the gales of laughter and cries of outrage that would greet a moderator lineup of Rush Limbaugh, Glenn Beck, Laura Ingraham, and Mark Levin).
Failure of the Republicans to insist on at least one moderator such as Chris Wallace, Brit Hume, or Brett Baier (serious journalists all) came back to haunt them in the last debate. It was then that Mr. Romney unfairly had his head handed to him.
Moderator Candy Crowley (of CNN) intervened on behalf of Mr. Obama as Mr. Romney accused the president of failure to define the Benghazi attack as "terrorism" right after it happened.
When Mr. Obama summoned a backup, Ms. Crowley – as though on cue – came to the rescue and said the Obama statement the day after Benghazi had in fact used the term "terror."
Though the authors acknowledge "a case could be made that Crowley was wrong," they fail to cite the president's specific quote at the White House: "No acts [plural] of terror will shake the resolve of this great nation." The White House statement had come while mentioning several other attacks after having applied milder terms specifically to Benghazi. "Double Down" rightly expresses astonishment that Mr. Romney's people did not call that quote to their candidate's attention beforehand. (Recall that Mr. Obama blamed an anti-Muslim video.)
There is no follow-up on the suspected impropriety of the Obama camp's collaboration with the moderator. The lawyers would call that "ex-parte."
"Double Down" is entertaining and well-written, but one misses the election post-mortems penned by Theodore White, Evans & Novak, Germond & Witcover, as well as Timothy Crouse.
"Double Down" is not for the kiddies. F-bombs are liberally sprinkled throughout, including in "thoughts" attributed to characters in the campaign, major and minor.
Reprinted with permission from the Washington Times
© Wes Vernon
---
The views expressed by RenewAmerica columnists are their own and do not necessarily reflect the position of RenewAmerica or its affiliates.
---