Wes Vernon
GOP battles: Obamacare (Senate) and Benghazi (House)

By
Wes Vernon
September 27, 2013
America needs some serious thought among Republicans and conservatives as to a ticket that will uphold the basic principles of whatever is left of our America by 2016. On the eve of the intended full implementation of Obamacare, the "opposition" party, the Republicans, appear to have all but given up on blocking it.
Democrats will brook no compromise (as President Obama has reiterated). By contrast, Republicans have compromised on so many issues over the years that we may be approaching the day when they will so boxed into those compromised corners that they will have nothing left to compromise. At that point, a de facto merged one-party system may be all but formalized.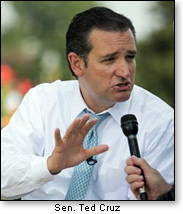 For those who have paid attention to what Senator Ted Cruz actually said during his heroic filibuster (as opposed to the verbal barbs hurled his way from both sides of the aisle), you know the freshman lawmaker made some very substantive points on the misery that lies ahead for Americans just trying to survive the byzantine twists and turns of Obamacare.
Issues vs. showmanship
Cruz's detractors accused the Texas lawmaker of "showboating," "grandstanding," etc. In fact, for his highlighting the solid decades-old positions the Republicans had always taken against socialized medicine, the senator's own party leaders have kept their distance from him. Truth be told, freshman Senator Cruz has accomplished more in 8 1/2 months than some of the Capitol Hill "wise men & women" have managed in 8 1/2 years or decades.
The Republicans have caved on socialized medicine? Well, not quite. They do still pay lip service against it. It's just that they appear to be searching for a graceful exit from the fight. Then why do we have two parties? When Democrats lose elections, they proceed to lecture the winners on how to behave. When Republicans win – they crouch in a corner so as not to be noticed.
That is why any American who does not want to see this great nation shoved down the dark alleys of socialism has every good reason to cheer Senator Cruz.
Indeed, it is very telling that it was necessary for the Texas senator to take to the floor so as to make frighteningly clear the substantive issues at stake – i.e., sky-high deductibles on health insurance, disappearance of "the family doctor," job-killing employment issues, shuttered businesses, and most of all, the literal end of America as we know it.
Next step?
So Cruz for President in 2016? No, not yet. Too early for that, even if the media want to spoon-feed us the "Doesn't everybody think so?" approach to Hillary Clinton's "inevitability." One senses we're being coaxed into a supine resignation to the reality that we might as well crown her queen for life right now and be done with it.
It may sound naïve that some of us still believe America is a Constitutional Republic, even if the Constitution is widely disregarded by many close to (or actually a part of) an establishment accustomed to getting its way. Why should we be surprised, given that we have been lied to for 100 years?
Yes, and don't we get it? This could be permanent make-or-break time. Once President Obama affixes his signature to the (also "inevitable") result of the House/Senate "ping-pong" maneuvering, that's it. There's no turning back. The lies our people have been told for a full century (with some occasional merciful interruptions) will have achieved a giant non-reversible step toward the major goal of their perpetrators: a socialist America.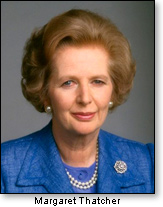 Legal bribery
Remember, in the eleven years that Margaret Thatcher was Prime Minister of Britain, she would have loved to have been able to expunge that nation's socialized medicine from the books. Too late. The whole infrastructure was solidly in place, too late to avoid disruptions that would have meant the downfall of her government, likely leading to something even worse. Churchill once described it as the equivalent of trying to unscramble an egg.
Bulletin!
You see, that is
why
Senator Cruz was crying out to alert his fellow countrymen. It's now or never, period. No turning back. Even if, as his colleagues noted, the damage is done, surely there will come a day when Americans will look back and ask (accusingly) why no one in Washington (beyond a small cadre of Cruz's supporting colleagues) would stand up and shout for all to hear, "This is our America! We will not become a socialist republic. We want this nation as it was meant to be!"
After his marathon speech, Senator Cruz was interviewed by Rush Limbaugh, who mentioned the GOP colleagues who withheld support from the Texas lawmaker's efforts. To which the senator replied:
"Listen, these are good men and women. I respect them. I like them. Many of them are my friends, but they've been here a long time and they've been beaten down. And they don't believe we can win. They don't believe it can happen, and the answer they say on every issue is, 'No, we can't do it. We can't do it.'"
Another GOP leadership issue
A full year has come and gone since 9/11/12 when four Americans were murdered and left to die in the Benghazi, Libya, terrorist attack, and we still don't know how it happened, or why Ambassador Chris Stevens and three others were effectively deserted. No rescue efforts were sent to assist them from terrorist attackers.
A majority of the Republicans in the House – a "majority of the majority" – have urged House Speaker John Boehner to allow the creation of a special Select Committee to investigate what happened that night and why the White House and State Department were unresponsive to pleas for help. Speaker Boehner has refused to create the special panel, saying it's better to allow a half dozen or so investigations already underway on Capitol Hill to go forward.
Citizens commission to the rescue
On September 16, a citizens commission, under the aegis of
Accuracy in Media (AIM),
made its debut, as it prepared to conduct its own probe as to all of the unanswered Benghazi questions.
A citizens commission, especially one organized by AIM, can be credited with determination, honesty, focus, and resistance to any cover-up. But it still lacks the advantages of a Select Committee (Watergate-style) in the House. The message is: If you won't do your job, we will do it for you.
A Select Committee, according to speakers at the AIM gathering, can dig into information and testimony from intelligence sources not as readily available to established panels.
Larry Ward, a political director of Special Operations Speaks, whose co-founders Larry Bailey and Dick Bauer are members of the new citizens panel, told the meeting, in answer to a question from Cliff Kincaid, that it could be that Speaker Boehner received advance classified information about the administration's Benghazi operation, shared with only 7 or 8 others in high positions.
Whatever "cause and effect" may or may not have been involved there, Mr. Boehner has dug in his heels against setting up a committee that could blow this case wide open.
A strong supporter of the Speaker expressed the view to this column that the AIM conference amounted to "rank paranoia."
Christopher Farrell, a top investigator for
Judicial Watch,
opined that all the apparent cover-ups and eyewash in this year-old mystery are aimed at distracting inquiries from the central fact that the Obama administration was arming al-Qaida. You remember al-Qaida – the terrorists who were "on the run?" Right? Hey, don't look at me; I only repeat what I heard during the campaign last year.
Holding back tears, Charles Woods, father of State Department security officer Tyrone Woods, one of the four Americans who died that night in Benghazi, read a poem from a general who had written, "We did our best for Uncle Sam, and President Obama didn't give a damn."
© Wes Vernon
---
The views expressed by RenewAmerica columnists are their own and do not necessarily reflect the position of RenewAmerica or its affiliates.
---