Wes Vernon
Harry Hopkins: 20th century agent of influence; bad legacy covered up in 21st century

By
Wes Vernon
September 16, 2013
There is currently underway a concerted effort (step-by-step) to blur America's understanding of the century-long dismantling of the America we have come to know and love.
That is why, beneath the surface and beyond the glare of publicity, a vicious campaign is being waged against an author who names names of those who've inflicted damage during much of the 20th and 21st centuries, and whose legacies have escaped public censure thanks to concerted efforts to keep such historical wrongdoing out of the limelight or, if necessary, "cleaned up" for public consumption.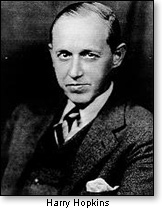 If neither effort succeeds, there is always a third option: defame anyone who unearths some uncomfortable truths.
Diana West, author of
American Betrayal,
complete with nearly 1000 footnotes of research, is the target de jour of those who possess the self-importance to set the outer limits as to names that should be identified as culpable in the long parade of disasters for America wrought by Communists and terrorists.
Prime example
Only in recent years has it come to light that a man who was a co-president of the United States in every way except the official designation worked tirelessly night and day, day-in/day-out, to steer U.S. policy in the interests of the Soviet Union, both during and after the Hitler/Stalin pact. That man was Harry Hopkins, an actual resident of FDR's White House (1940-1943), during the early and middle years of World War II.
If Hopkins' policies happened to dovetail with legitimate wartime goals of the United States, so be it. But where those interests conflicted with those of the Soviet Union, Moscow's wishes were vigorously pursued by President Roosevelt, with the Rasputin-like influence of Hopkins at his side.
No small factor
The Hopkins pro-Stalin influence was pervasive. He held policy discussions over lunch
and
dinner with President Franklin D. Roosevelt and Winston Churchill during most days of the latter's two-week visit to the White House in December 1941. The influence continued at FDR's bedside as Hopkins would brief the president on the agenda for the following day. In whatever capacity, Harry Hopkins steered or attempted to steer (failing only rarely) U.S. actions so as to compliment the wishes of Josef Stalin, not necessarily those of the United States of America.
Hush-hush
Public conversation about Hopkins has been accorded scant reference in the mainstream media, which over the decades have dutifully glossed over the de facto "occupation of the United States."
Of course, this kind of virtual occupation did not include tanks rolling down Pennsylvania Avenue nor the midnight knocks at the door by gendarmes in shiny black leather uniforms holding oversized flashlights. But in a less obvious flamboyant fashion, it was enemy occupation when one realizes that Stalin's reach for domination of Europe and ultimately the world was every bit as aggressive as was Hitler's. The occupation was buttressed by the presence of Communist Party members or Soviet agents in nearly every agency of the U.S. government.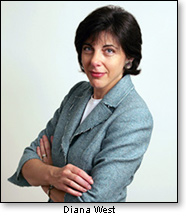 That de facto occupation program is thoroughly explored in the comprehensive and exhaustively researched book whose full title is
American Betrayal: The Secret Assault on Our Nation's Character.
By rattling some sacrosanct cages, Diana West has upset a cozy little cover-up club whose gatekeepers have buffaloed an unsuspecting public into acceptance of wildly distorted history of World War II and the ensuing 45-year Cold War.
An 80-year lie
The "cover story" of the little circle fest of comforting misinformation resembles something like this:
Stalin was not necessarily a good guy, but at least he had his priorities straight. It was the Soviet Union, not the United States, that brought down Adolph Hitler's Nazis.
(Note: Such Soviet-adoring propaganda has actually been supported these days at "prestigious" lectures in Washington.)
America? D-Day and all that? Well (continuing the propaganda line),
the U.S. just joined the fight late in the game, you see. Roosevelt may have been misled by a few Communists in his government, but gosh, he had a war to win. And most efforts to ferret out and sweep Soviet infiltrators from the U.S. government (before, during, and after the war) were motivated by crazy "witch-hunters." Now go back to sleep, nothing's wrong, and don't you dare challenge our monopoly on Cold War wisdom lest we decide to smear you into silence.
That mythology has been accepted by many for decades. As this column commented in our own review of Ms. West's book (
see this column August 1, 2013
), it is time – long past time, really – when the lying must stop.
It is with that in mind that we, herewith and in columns to follow, believe that one necessary step toward blowing the lid off this massive cover-up would be, in a historical sense, to lift a main culprit virtually by the scruff of the neck, and examine his misdeeds. Hence, our focus logically is – again – Harry Hopkins.
Harry Hopkins
Let there be no mistake. As author West writes, "A body of evidence has accumulated over the decades indicating Hopkins was at least an asset, at least an ally, and quite possibly an agent of the Kremlin." That, she modestly proclaims, "demands our attention." Indeed, it does.
Hunted down – in America?
Let's start with a real-life Soviet defector in a horror script made-to-order for Hollywood (or it would be, except that such a script would have to make communists the bad guys – and in Hollywood, there are no bad communists, you see; besides, they don't really exist anyway).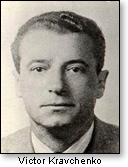 In this true drama, the Soviet defector, Victor Kravchenko, walked away in 1944 from a privileged position as economic attaché with the Soviet Union's Purchasing Commission on 16th Street NW in Washington, D.C., which West identifies as the Soviet administrative hub of Lend Lease to the USSR.
Kravchenko's purpose was to reveal his firsthand knowledge of "Communist crime" to the FBI. He blew the whistle on the Gulag years before Solzhenitsyn.
Ultimately, Kravchenko would tell his whole story in the book
I Chose Freedom.
He would reveal the many ways in which communists controlled propaganda worldwide, most especially the upside-down illogic against anti-communism. Such as:
McCarthy bad.
Communists good or non-existent.
Anti-Communism terrible.
Sound familiar?
From backing freedom to...what?
Victor Kravchenko would seek asylum in the land of freedom, the USA – only to find he was being pursued – "hunted down" you might say – by the co-president of the United States, one Harry Hopkins.
Josef Stalin wanted Kravchenko sent back to the Soviet Union. Harry Hopkins wanted to grant Stalin his wishes, in deference, he said, to "an ally." In fact, Hopkins spoke of Kravchenko as a "deserter," just as Stalin did.
The de facto co-president "blew his top" (according to West) when he learned from Joseph Davies (he of pro-Soviet
Mission to Moscow
infamy
)
that the FBI wanted to utilize Kravchenko's talents as a spy in the service of America, and that Secretary of State Cordell Hull knew about it and apparently had no problem with the idea.
"My God," thundered the pro-Soviet Hopkins, "what if Stalin knew that a member of the president's family had been a party to this desertion."
FDR (surprise) says no
In one of the very rare instances when President Roosevelt rejected advice from his closest confidante, the ultimate White House decision at the very top was that Kravchenko would not be sent back to the Soviet Union because, as we learn in
American Betrayal, "
he couldn't expect a meaningful guarantee from Stalin that on the defector's return he wouldn't be shot."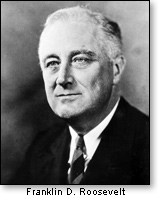 This decision by President Roosevelt not to send him back surely deviated from the normal mindset of FDR, who once said of post-war planning that if he just gave Stalin "anything he wants," Stalin would be reasonable. That of course, was a pipedream too.
Terror
One can imagine the raw terror of a defector who feared for his life, not just from Moscow, but more immediately from the misadventures of Hopkins, whose power at the White House was such that – as
Life
magazine phrased it – he could "make or break a plan or its proponent with as little as a grunt or a frown."
The here and now
Given that we have been systematically lied to for most of the last 100 years, and most especially the last 80, why should anyone be surprised that in 2008 and 2012, a majority of voters would be unfazed that the man they would elect as their president had been philosophically incubated in the miasma of Marxist redistributionist doctrine? Or that the "level playing field" was
tyrantspeak
for "equally" miserable and "equally" easy to control? More to come.
A truth award
The Center for Security Policy has announced that its prestigious Mightier Pen Award will be presented to author/columnist Diana West, whose latest book
American Betrayal
traces the century-old war on Western civilization. CSP President Frank Gaffney lauded Ms. West's "efforts to illuminate the contemporary threats to our society and culture – and to map out their historical antecedents and appropriate responses to them."
As mentioned above, one of the many topics dealt with in West's book is the unfortunate influence of Harry Hopkins in the Roosevelt White House. Some self-appointed keepers of the "approved narrative" of that era have been nipping at Ms. West's heels. (For details, see M. Stanton Evans "
In Defense of Diana West
" – CNS News.) This column intends to see to it that the truth does not slip away from us again. Our focus will continue to be Harry Hopkins.
© Wes Vernon
---
The views expressed by RenewAmerica columnists are their own and do not necessarily reflect the position of RenewAmerica or its affiliates.
---