Wes Vernon
Syria: the least bad option; Washington blackmail; subversion in plain sight

By
Wes Vernon
September 9, 2013
There may come a day when we and others of the free world will have to confront Iran's nuclear ambitions in a "shooting war." But when that day arrives, it should be with congressional input; support from our most reliable allies; an armed-to-the-teeth military whose troops are not demoralized by a series of federal actions that appear aimed at undermining their readiness; and above all, the full support of the American people, whose Commander-in-Chief attracts respect as a leader they can trust to use sound judgment in sending their sons and daughters off to fight for the "good old red, white, and blue" and possibly never return.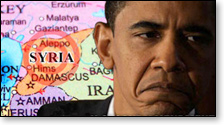 The circumstances listed above do not apply at this time. None of them.
Quick hit and run home again – really?
We know we can't pick and choose our own convenient time for war, but neither can we expect to wade into a possible prelude to a widening conflict when elements on both sides in Syria want us off the face of the earth.
Every indication in Syria is that the battle is between, on one side, Assad and his supporters that include Iran and Hezbollah; and on the other side, al-Qaida. There are no angels or even reasonable people leading their respective troops here.
"No boots on the ground," the president and his secretary of state insist – arguing that the hit in Syria is intended to be surgical (my word, not theirs, but an accurate description of their soothing claims).
Wrong move by wrong man
President Reagan commanded surgical hits in Grenada and at Kaddafi's Libya, and told the supportive American people that what had to be done was in fact accomplished and, if necessary, we would do it again.
The Gipper could do that because he had respect as one who meant business, with firepower to support him if need be. (That, needless to say, is a far cry from anything resembling "Red line? What red line? I never drew any red line. The whole world drew the red line. My credibility is not at stake here. It's not! You've got to believe me!")
What not to do
Action in Syria should not come under the half-hearted leadership of a Commander-in-Chief who reacted under pressure from those convinced, without "smoking gun" evidence, that Syria's Bashar Assad (an obviously evil man who has killed his own people by the thousands) ordered an attack using the chemical weaponry forbidden by world codes adopted following its extreme use in World War I.
But it is unclear whether the Syrian chemical weapons attack originated on Assad's side or the rebel side. And yes, al-Qaida, which masterminded the Twin Towers attack that killed thousands of Americans almost exactly 12 years ago, very well might have found someone with expertise in formulating that chemical mix.
Several sources have cited a credible report that the chemical strike was the work of an
agent
-
provocateur
who deliberately provoked the attack.
The Arab what?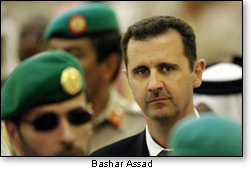 President Obama himself can credibly be accused of actions that led to the uproar in the Middle East. He and his subservient media dubbed the beginnings of the uprising the "Arab Spring," a silly moniker that could have been hatched by Madison Avenue.
That dream of peace, moonbeams, and lollipops has long been discredited, most notably by the ascension to power in Egypt of the Muslim Brotherhood, whose aim for more killing in the interest of ultimate world domination has been exposed time and again, though the arbiters of political correctness will hear none of it.
Right now, Egypt's President Morsi, an MB member, sits somewhere in a location unknown, reportedly facing a charge of inciting violence and murder.
The future?
The bad guys of the world are waiting for the right time to bring us down. At some point, Iran, Hezbollah, al-Qaida, Russia's Putin, Communist China, Stalinist North Korea, and the rest might decide that America is ready to fall just like over-ripe fruit, as Lenin once predicted.
Good guys vs. bad guys?
A strong nation that is still believed to be the world's only superpower should be ready for anything. Is Obama prepared? We await his Tuesday speech. Alas, we contemplate another demonstration of blaming everyone but himself.
So what will it be, America? Assad and Hezbollah/Iran? Or the insurgents with al-Qaida embedded in their ranks?
It's decision time, but Obama faces the proverbial Hobson's choice. It may now occur to him that deciding to go to war is much harder than going on apology tours and bowing to foreign potentates. So now, he has no good choices – only bad ones.
The least of the bad options is to not do the strike on Syria. The House opposition is very lopsided, and public opposition is even more so. The smart thing for Mr. Obama to do would be cut his losses in time to avert humiliation or disaster for both him and the nation. Even Senator John McCain, who has backed the strike, has warned boots on the ground without congressional approval will lead to impeachment.
If the president refuses to face reality here (even under whatever cover story, he is sometimes good at that), then members of Congress will have to take a deep breath and exercise the authority the Constitution provides them. It is their duty to avoid embroiling America in what has all the appearances of a well-laid trap.
WASHINGTON BLACKMAIL
We have warned in this space about the antics of the man who is now Secretary of Labor.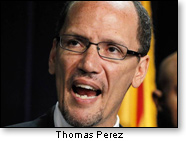 So imagine how unsurprised we were to read in Friday's
Wall Street Journal
that newly minted (very narrowly confirmed by the Senate) Labor Secretary Thomas Perez is up to his old bullying tactics in dealing with those who do not follow his imperious edicts.
Mr. Perez once did a stint as the councilman representing the district in which I live in Montgomery County, Maryland (suburban Washington). He was there despite my best efforts at the ballot box. He spent his time in that capacity running interference for the likes of
Casa de Maryland,
an organization shielding illegal aliens by any means, including strong-arm tactics that were arguably thuggish and mostly – well, illegal.
Predictably, Mr. Perez was not the least bit humbled by his recent rough confirmation fight to run DOL. He is now blackmailing his fellow Democrat, California Governor Jerry Brown. The edict? Lose billions in federal dollars, Governor, unless you exempt transit workers from last year's pension reforms.
Yet another example of Washington jack-bootery reaching into the business of a state and linking two separate issues.
The governor agreed tentatively to exempt the transit workers as per Perez 's demand after the secretary cut off $54 million to the Sacramento Regional Transit.
However, the governor and the transit agency intend to challenge Labor's de-certification in court. Neither federal nor state law requires that pensions be collectively bargained. So what we're talking about here is simply the "law" as advanced in the mind of one man.
California transit agencies complained to DOL that the money was needed to pay workers and maintain their systems. Secretary Perez acknowledged a "devastating impact" would be inflicted on California by the loss of federal collars. But his only remedy was for the state to do his bidding.
This is uncharmingly reminiscent of the "enforcer" in monthly mob visits to little shops in waterfront neighborhoods to remind the owners that all they have to do is make their monthly "contribution" and "everything will be cool." No mysterious fires or that kind of nasty business.
If Mr. Perez succeeds in forcing this carve-out for the Teamsters, then other public unions will demand it too. And of course, it is the taxpayer who pays for what WSJ editorialists rightly refer to as "extortion." Some of us warned of this kind of mischief before Tom Perez stepped into the national arena.
SUBVERSION IN PLAIN SIGHT
A few days ago, our
Washington Times
book review appearing in this column focused on Paul Kengor's highlighting of the misadventures of a man who – perhaps more than anyone – is responsible of what we today know as "media bias," or "the liberal mainstream media."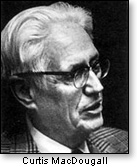 The man who started that trend on its way into every medium on which Americans depend for their information was Curtis MacDougall.
I had never heard of the man before I saw a fairly recent report by Cliff Kincaid, an investigator in his own right, president of
America's Survival, Inc.,
and not incidentally a fellow columnist here at
RenewAmerica.
He wrote an introduction to Kengor's just-released book
All the Dupes Fit to Print.
Some additional information on MacDougall (1903-1985): This "educator," Kincaid informs us, was investigated by the FBI because of his role as "a fellow traveler of the Communist Party with ties to Soviet agents. He succeeded in poisoning the minds of many young journalists. We are still trying to overcome his disastrous legacy.
That MacDougall legacy lies in the nine editions – from the thirties to the eighties – of his
Interpretative Reporting,
setting the table for a looser, less factually based journalism that encouraged newspaper writers – and later broadcasters – to put a spin on the news they report in such a way as to reflect the desire for a more "progressive" world. Hmmm, and we know what that means, don't we?
As stated in MacDougall's fifth edition, "[Journalism] is the place for the starry-eyed youngster who wants to help save the world." Uh-huh. How about reporting facts?
And how does one define "save the world," or at least MacDougall's world?
According to a 1962 report by the House Committee on Un-American Activities titled
The Communist Party's Cold War Against Congressional Investigations of Subversion,
those promoting the communist cause in the U.S. "were undermining the U.S. democratic system for the purpose of imposing a Soviet-style dictatorship." The report identified some of those working closely with Curtis MacDougall, such as Frank Wilkinson, as CPUSA members.
Kincaid's report
Saving the World for Socialism
lists in some detail the record on MacDougall's pro-communist and pro-Soviet affiliations. The following sums up the world outlook of this man whose influence on generations of American journalists has been nothing short of profound:
"MacDougall was so far-left that he regarded both major parties, the Democrats and Republicans, as too anti-communist."
The FBI had its eye on MacDougall. Indeed he was believed eligible for immediate arrest if the U.S. were to be involved in a declared war with the Soviet Union. Documents reveal the professorial journalist icon as being of "an extreme pro-Soviet bent," and even list him on the "security index" of potential threats.
MacDougall and Zinn – well, well, what a coincidence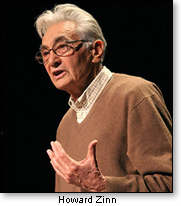 So we now learn of one man whose pro-Soviet anti-American views were spoon-fed the populace through his tremendous influence on the journalists who would decide for America just what is (and is not) "news."
Who else have we learned about in recent years that molded the thinking of young people with left-heavy propaganda day in and day out?
Answer: Howard Zinn, the author of "history" books in schools K-through-12 and into the universities. Zinn's "histories are decidedly anti-American, from the Founding Fathers onward. Like MacDougall, Zinn had a thick FBI file. Professor Zinn in fact was revealed to have been a member of the Communist Party USA.
What MacDougall was to the news media, Zinn was to Americans in educational institutions. Between the two of them, young Americans reached adulthood with a wildly false understanding of what this country is. (See this
column on Zinn
, August 9, 2010)
You can't help wondering if MacDougall and Zinn knew each other. They certainly moved in the same circles. Someday, someone may write book on their collaboration. Call it "Subversion in Plain Sight: The remaking (or takeover?) of America."
© Wes Vernon
---
The views expressed by RenewAmerica columnists are their own and do not necessarily reflect the position of RenewAmerica or its affiliates.
---