Wes Vernon
The 80 year sell-out of America

By
Wes Vernon
August 1, 2013
History may record the second decade of the 21st century as the era in which "the lying (at long last) had to stop." Any one of several factors may serve as "the turning point": another outsized 9/11 – perhaps at three or four times the body count (and the extent of overall destruction); multiple "leaders" feel confident enough to drop their masks and reveal their true intentions; or speech police may add a sharper-edged enforcement to the public opprobrium of violators of "political correctness."
Yet another possibility is that truth tellers along the way finally are vindicated by one personality who unlocks just the right resonant key that suddenly leads to a popular realization (hopefully not too late) that what the previous truth-tellers (those dead and some living) had told us (bingo!) added up.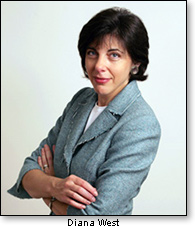 Where to begin?
Columnist Diana West has managed to cram into 355 pages the names, dates, and places for the 80-years-long parade of lies and treason foisted on America. For now, that demarcation would specify from 1933 to 2013 with no sign of a letup any time soon. Likely the author would not quibble with those who would roll the starting gate back to 1913, with Woodrow Wilson and the first "progressives" rounding out an even century, but 80 years of the deceit will suffice between a mere two book covers.
In
American Betrayal: The Secret Assault on Our Nation's Character,
Ms. West's well-established reputation for lacking "sacred cows" remains intact. The resulting beneficiaries are the readers, especially those who can deal with the truth.
To cite an example
One of the scores of historic figures cited by Ms. West to illustrate her point is the late British philosopher and social critic Bertrand Russell – ironic perhaps, given that Russell considered himself a "socialist" (though not "in any profound sense").
Nonetheless, the late Russell (deceased for 43 years) summed up the primary point that
American Betrayal
seeks to make in the 21st century:
"Bolshevism combines the characteristics of the French revolution with those of the rise of Islam.... Marx has taught that Communism is fatally predestined to come about; this produces a state of mind not unlike that of the early successors of Mahommet.... Among religions, Bolshevism is to be reckoned with Mohamedanism rather than Christianity and Buddhism. Christianity and Buddhism are primarily personal religions, with mystical doctrines and a love of contemplation. Mohammedanism and Bolshevism are practical, social, unspiritual, concerned to win the empire of this world."
Therein, please note the dispassionate outline of a two-pronged conspiracy that has cast a pall over the earth at a two-steps-forward/one-step-back rate characteristic of most ambitious often-successful movements. Let it further be noted that these words were enunciated by one whose reputation is hardly that of a wild-eyed "right-wing conspiracy theorist."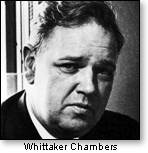 As the long era began...
The opening scene in
American Betrayal
is Washington's Union Station, and the arrival of Whittaker Chambers, then a Soviet agent. His mission in visiting the nation's capitol was to further the secret Communist Party apparatus whose infiltration had early-on wormed its way into the rapidly-expanding bureaucracy of Franklin D. Roosevelt's New Deal. (Chambers later would leave the Communist apparatus, and expose Alger Hiss, for which Chambers endured the smear bucket for the remaining years of his life, even as Hiss ended up in prison).
Arriving on a separate train was William A. Wirt, a nationally-known professor from Gary, Indiana. He knew nothing of secret organized Red infiltration of the government. But he firmly believed, based on conversations he'd had with government officials, that a revolution of some kind was underway there, and he would testify about it at a congressional hearing. On a party-line vote, he was ignored. The professor would die in obscurity.
Eighty years of betrayal
From there on, history is written in the blood of hundreds of millions of lives, aided by incompetence, sadly mistaken policies, good intentions accompanied by failure, ignorance, outright betrayal, and some notable victories – significantly, the Soviet collapse and (over the years) smaller beneficial hiccups. But overall for our enemies, it has been a slow but certain – again – two steps forward, one-step back.
What we were told vs. what really happened
The 80-year journey began with the newly-inaugurated FDR proclaiming "The only thing we have to fear is fear itself." That was intended to alleviate the public alarm caused by the Great Depression.
"No," responds Diana West, "it turns out there was much more to fear than that. The lies. The corrupting lies. Confess them all. Be done with "damage control" forever.
We lost World War II, wrote Rep. Martin Dies (D-Tex.) – first chairman of the House Committee on Un-American Activities.
"Yes," the author agrees.
We (the West) lost the Cold War, according to Soviet defector Vladimir Bukovsky.
"I would have to agree," writes columnist West.
In fact, according to British soldier and historian J.F.C. Fuller, "though Germany was defeated and National Socialism overthrown, Russia and Stalinism took their place, [with America] spending billions of dollars to stem the Communist flood."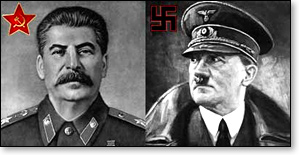 The "second front"
That latter assertion logically leads us to the question as to how we ended up with that unhappy result in the "Good War" that history books tell our children that we "won."
To make a long story short (and defer a fuller explanation for a future column), it comes down to this:
Stalin, who helped start the war through his collaboration with Hitler in the rape of Poland, put months-long pressure on the U.S. and Britain to launch a "second front" from the west (ultimately the Normandy invasion) to reduce the pressure of fighting his own battle at the eastern end of the continent – a confrontation wherein Stalin's erstwhile Nazi ally had left him no choice but to go on defense in what philosophically pitted Red socialists against Brown socialists. "Saving democracy," needless to say, had nothing to do with it.
Churchill "quite desperately" proposed the attack against Hitler's socialists via an already established Allied "front" and bases in Italy, with operations from the Adriatic to the Aegean seas into south central Europe.
On the advice of Harry Hopkins and other pro-Soviet influences within the FDR administration, the U.S. rejected that plan. The result: Eastern and Central Europe were left to the tender mercies of Red Army troops that – shall we say – forgot to go home for 45 years. Details in the book.
Diana West's father fought in the "second front" and took some shrapnel, but survived for decades. She pays tribute to the Allied troops (survivors and those who made the ultimate sacrifice). In terms of the resulting European map, and the years of suffering in the Cold War that followed, however, the author is moved to proclaim with more than a tinge of irony:
"All hail the true victor of World War II, a totalitarian regime with a freshly acquired empire."
Faux "history"
All throughout the Cold War (and later in the War on Terror), the minute any effective or outspoken opponent of communism (or apologist for terrorism) emerged, you could count on one thing to follow as reliably as the inevitable Swiss watch that could be set by the sound of a train whistle on Switzerland's famously on-time railroad system: The rude truth-teller would be trashed in the media and/or the "liberal establishment."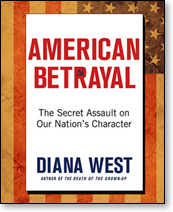 Some examples were William Wirt (referenced above), Martin Dies (ditto); General Douglas McArthur; Joe McCarthy (of course); Geert Wilders (Dutch parliamentarian, early foe of terrorists who were hiding behind "religion"); General George Patton (who actually wanted to win the war for the West), believed by some researchers to have been assassinated; the Nicaraguan Contras (ditto winning war for our side, can't have that, of course); Chiang-Kai-Shek (wartime ally dumped when he annoyed Stalin by possessing the audacity of objecting to a Communist takeover of China); Alexander Solzhenitsyn (Soviet dissident once dubbed by President Gerald Ford as "a G___damned horse's ass").
We could go on and on with this honor roll. But you get the idea. Fighting communism or Islam terrorists, or opposing almost any enemy of the United States in the public square, was pure poison to one's reputation and place in the history books. Diana West goes right to the question of
why.
This column too will explore that someday.
But you can do no better than to read her book. Not only will you understand the long parade of lies that we've been spoon-fed for lo these many years. You will also be able to connect the dots linking them in an eighty-years-long
American Betrayal: The Secret Assault on Our Nation's Character,
by an author who truly "gets it
."
© Wes Vernon
---
The views expressed by RenewAmerica columnists are their own and do not necessarily reflect the position of RenewAmerica or its affiliates.
---