Wes Vernon
Herbert Romerstein (RIP)

Part 7: Stalin's Secret Agents (and an American who fought them for over 60 years until his dying breath)

By
Wes Vernon
May 16, 2013
This nation, and those the world over who yearn for freedom, suffered a loss last week. Herbert Romerstein, easily one of the world's foremost experts on the evil deeds of Communism and other of America's enemies, passed away May 7.
Herb was an intrepid investigator. I am humbled to have known such a decent human being who also was easily one of the world's most knowledgeable experts on intelligence matters. His expertise earned him high intelligence and counter-subversion posts in the legislative and executive branches of government. His positions included being a lead investigator for the House Committee on Un-American Activities (later the House Committee on Internal Security), and the House Permanent Committee on Intelligence. His encyclopedic knowledge was also shared in testimony before the Senate Internal Security Subcommittee and the Subversive Activities Control Board.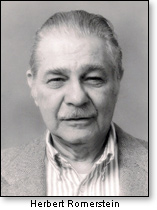 He had an understanding of the Cold War that was so voluminous it would be a challenge to find anyone who can match it and carry on its work. Of course, much of that understanding has been building up over the years in his own personal library. Thankfully those works will be preserved by the Hoover Institution at Stanford University. But how can one possibly duplicate the volumes of detailed material that Herb carried in his head? So much of that is irreplaceable. It has been said that no one is really indispensable. I would make an exception for Herbert Romerstein.
Not in the beginning
Actually, the Brooklyn-born Romerstein was not an anti-communist in his youngest years. Having been amongst the swirl of New York City politics in my own youth, I recall that even in that era, in that part of the world, a "conservative" seemingly was anyone who was not an outright Bolshevik.
Herb – born in 1931 – joined the Communist Youth League, and then the Communist Party. In 1950 when the Korean War broke out, his nagging doubts about communism quickly became revulsion, and he joined the U.S. Army, fought the Communists on the battlefields of Asia, and returned home to wage lifelong war against them on the battlefield of ideas with an investigative fervor fixated on exposing their subversion of U.S. society and their mischief throughout the world.
Mightier than the sword
Over the decades, Romerstein took to advocacy journalism, as an editor, freelance writer, and author. He was one of a group of writers (some of them ex-FBI agents) who produced the anti-communist newsletter
Counterattack
(I remember copies being circulated at many an American Legion gathering)
.
He also worked for The Bookmailer, a publisher that issued Herb's first book,
Communism and Your Child."
Any parent who ignores this book does so at his/her children's own peril.
At The Bookmailer, our late focused prober collaborated with Lyle Munson on turning out such Cold War gems as
Who Promoted Peress?
(about the McCarthy hearings);
For the Skeptic: Readings about Communist Activity in the United States of America;
and
The Martin Dies Story
by the first chairman of the House Committee on Un-American Activities.
Herb's other volumes included
The KGB Against the Main Enemy: How the Intelligence Service Operates in the U.S.
(co-authored with Stanislav Levchenko);
Soviet Active Measures and Propaganda: New Thinking in the Gorbachev Era
;
The Venona Secrets: Exposing Soviet Espionage and America's Traitors,
co-authored by Eric Breindel (where no relevant details in the record of FDR
Svengali
Harry Hopkins are spared – more on that below); and
Stalin's Secret Agents: the Subversion of Roosevelt's Government
co-authored with M. Stanton Evans. (This book provides shocking revelations on which the current series of our column is based.)
Nothing got past him
Herbert Romerstein was not a "rabble-rouser." He was a soft-spoken gentleman with a sense of humor who nonetheless could spot a poseur, a fool, a dupe, and/or a menace a mile away. And he would call out the likes of Lillian Hellman, Jean Paul Sartre, and the ("Red") Dean of Canterbury, Hewlett Johnson. Herb would calmly cite their records, allowing the facts to speak for themselves. He obviously did not conceal his conclusions – his cases were so air-tight that he was able to let them speak for themselves. His frustrated detractors hated him for that. Romerstein's demeanor was such that they couldn't paint him as a blowhard, so they resorted to name-calling invective. Example:
Washington Post
writer Dana Milbank who once stooped to a new cheap-shot low with a barb about Romerstein's age.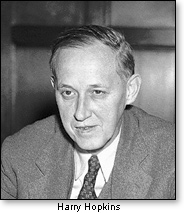 Harry Hopkins
Perhaps the most controversial of the allegations of pro-Soviet moles in the Roosevelt government are those regarding Harry Hopkins, whose position as Franklin Roosevelt's right-hand man was so solid, he actually lived at the White House for a period of time. What made his case so controversial is that it apparently did not come to light until the Venona decrypts were released in 1995.
The first I heard of it was when it was mentioned at that time by the late Reed Irvine of
Accuracy in Media,
who cited a matter-of-fact account of it in
Time
magazine.
Time
apparently treated the matter in a journalistic version of an assembly-line – along with others on the Venona list whose activities had been known for years, thanks to publicity surrounding the FBI or congressional committee investigative hearings and reports.
The allegations about Hopkins of course, have been met with derision by liberals and other defenders of the FDR legacy, but also by some other skeptics.
The record? Oh, that old thing
There is really only one way to settle this, and that is to consult the facts. So with the help of Herbert Romerstein's paper trail, let's examine the record. My interview with him on this and related issues took place late in the immediate past decade outside a room at the Woodrow Wilson Center where scholars – both left and right – had convened to discuss (primarily) the meaning of the Venona papers. (Note: the Venona Project was a years-long hush-hush collaboration of U.S. and British intelligence agencies whose focus was interception and
cryptanalysis
of Soviet Union intelligence messages, mostly in the forties. On the U.S. side, the Intel entity involved the then-super secret National Security Agency (NSA). Even to this day, there's a joke still making the rounds that NSA stands for No Such Agency. I've known two former NSA agents, both super-guarded about their day jobs.)
Truth "disreputable?"
One of the left-wing attendees at the Wilson conference had declared that the very idea of Harry Hopkins being a Soviet agent was "disreputable," a term often used by port-side ideologues when they want to shut you up. (Today they hope to make the mere mention of the word "Benghazi" as "disreputable.")
In my conversation with Herb Romerstein, he mentioned several facts about Hopkins' record, most of them from his book
The Venona Secrets;
one cited from
The Mitrokhin Archive
by the late Christopher Andrew (arguably Romerstein's British counterpart in terms of intel expertise); and yet another from Romerstein's own memory file.
"Disreputable" facts

1
– Ishkak Akhmerov, Soviet spymaster in the U.S. and liaison to many Soviet agents here, reported to his superiors in Moscow that he had learned of a meeting between Roosevelt and Churchill, and that he had been informed of that meeting from "agent 19," later identified as Harry Hopkins. (p. 473 –
Venona Secrets)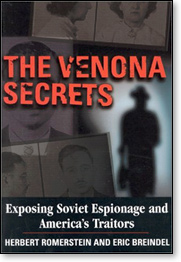 2
– A receipt for a 1943 shipment to uranium nitrate ordered by Harry Hopkins appears on page 468 of
Venona Secrets.
Against objections of military authorities, Hopkins – "a Soviet agent" as identified in the book – insisted the uranium be sent to the Soviet Union.
3 – "
Hopkins was identified by a defector and by Venona." (Romerstein interview – Wilson Center)
4
– (
Venona Secrets –
p. 215) Hopkins had contact "with the Communist underground in the early 1930's. Defector Whittaker Chambers testified that the leader of a cell in the U.S. government was Lee Pressman. The "procedure for each cell leader [was to] organize a 'study group' in his own agency. Later [cell members would be] evaluated and "some [were] chosen to join the underground apparatus of the communist Party, later to be used for Soviet espionage." From the Department of Agriculture in 1933, one of the members of the group was Harry Hopkins." "Other members of the group" were fellow travelers. Pressman took the Fifth Amendment against self-incrimination before the House Committee on Un-American Activities.
5
– (
Venona Secrets –
p. 218) Hopkins decided (during a visit to the battlefront in the Nazi/Soviet fight for World War II Poland) to withhold cablegrams Churchill intended for Roosevelt. The issue at hand was prompted by a U.S. request for Soviet permission to land planes on Soviet territory so they could aid the Poles in the battle against the Nazis. Allied planes were supposed to airdrop supplies to the Polish patriots. Stalin vehemently objected, and Hopkins complied for fear that the airdrop would "jeopardize our relations with Russia." The result? The Red army halted its offensive long enough for the heroic Poles to be slaughtered by the Nazis. (Note – FDR called the Soviets our "noble ally." Just saying.)
6
– (
Venona Secrets –
p. 212) Oleg Gordievsky (having become a Soviet defector to the West) recounted a lecture by Akhmerov who said that "the most important of all Soviet wartime agents in the United States" was Harry Hopkins.
7
– (
Mitroken Archive,
Andrew – p. 122) Vasili Mikhailovich Zarubin, a Soviet intelligence officer in the United States, traveled to California to meet U.S. Communist Steve Nelson (who ran a secret control commission seeking out spies and informants.) Zarubin gave Nelson cash for such organizing purposes. What neither man knew was that the FBI had placed listening devices in Nelson's home. FBI Director J. Edgar Hoover called the White House to inform them of the meeting and presumably asked that the information be passed to President Roosevelt. Subsequently Harry Hopkins at the White House turned around and contacted the Soviet ambassador in Washington and told him (confidentially) that a member of their embassy had been detected by the FBI, as he passed money to a Communist in California. One can only imagine Hoover's fury had he known that a top official at the White House had told the Soviets of a bug his FBI had placed in the home of a top U.S. Communist as he conferred with a Soviet intel officer.
8
– (Romerstein interview – Wilson Center)
"
Hopkins...was brought to Washington from New York by President Roosevelt" (whom he had served when the latter was Governor). Roosevelt brought him along "to head the Welfare Department. [Note: Not long afterward Hopkins became more involved in foreign policy and was very close to President Roosevelt at the White House], but Hopkins' mentor at that time [in New York] was John Kingsbury, who was a very pro-Soviet character [who] ends up as head of the [National] Council on American-Soviet Friendship [CASF]."
Our own research, including the Manuscript Division of the Library of Congress and the Presidential Studies quarterly, shows that John Kingsbury headed the NCASF from 1949 to 1956. This activity apparently drew the attention of the Subversive Activities Control Board where Kingsbury was listed as having testified in 1954 and 1955. The Board faulted NCASF for failure to register with them.
Wikipedia
describes the membership of NCASF as having been "largely made up of professionals sympathetic to socialism and communism."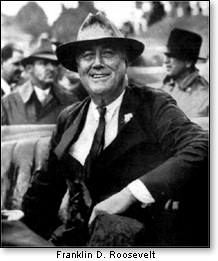 In 1951, Kingsbury had attended the World Peace Council (a worldwide pro-disarmament group originally organized from the Soviet Communist Party).
Kingsbury's relationship with Hopkins dated from the New York days when, according to Romerstein, the former mentored the latter, and lasted well into the era of Hopkins' service at the White House with President Roosevelt.
Conclusion
I'm sure if Herb Romerstein were still available, we could have contacted him for more information than we have here. So much of it, as we noted above, was in his head. In recent days, he was incapacitated and unable to share what I am sure were interesting nuggets of information about President Obama and those around him.
If people around FDR – led by Hopkins – were able to steer him in a pro-Soviet direction, who are their equivalents today in our current president's orbit? One good guess is Valerie Jarrett (strangely silent these days as multiple scandals swirl around this White House), and David Axelrod (who is officially off the White House payroll, but well within the Obama fold). Both have family histories tinged with Marxism. Or maybe even self-defined communist Van Jones, brought in with the high praises of Jarrett, before Jones had to leave the administration when he became "too hot to handle," thanks to Glenn Beck.
Much more is best left for another day, since we're way out of our usual allotted space. Unfortunately, Herb Romerstein is gone. Our condolences to his wife Pat and the family.
Meanwhile, there are people in the wings, hopefully able to take up the kind of work Romerstein did and apply it to today's crises, younger people who do their research – their homework, and are ready and willing to take on the 21st century equivalents of "Stalin's Secret Agents." Herb would be proud of them.
© Wes Vernon
---
The views expressed by RenewAmerica columnists are their own and do not necessarily reflect the position of RenewAmerica or its affiliates.
---