Wes Vernon
State Department tries to shut up lawyer for Benghazi whistleblowers

By
Wes Vernon
April 29, 2013
This will be denied – again. But the Obama administration has become so obsessed with covering up its own dereliction of duty in the Benghazi case (where four Americans died) that its top officials are all over town desperately attempting to derail witnesses to the Benghazi attacks who want to tell their story.
Washington lawyers have been retained by one of the whistleblowers to represent those willing to testify, but the Obama administration has revved up its six-month campaign to put the lid on the story, including the alleged misstatement of then-Secretary of State Hillary Clinton that she never saw the request from the people on the ground in Benghazi begging for security to protect the diplomatic compound.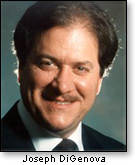 Bombshell coming
On the WMAL-AM (Washington) program
Mornings on the Mall,
attorney Joseph DiGenova revealed that his law partner (and wife) Victoria Toensing and three other lawyers are being denied clearances to appear before Rep. Darrell Issa's investigating committee so they can talk to their clients about classified information in the case.
An outraged DiGenova (whose credits include as U.S. Attorney for the District of Columbia in the Reagan administration) told his audience this is an obvious "attempt to prevent the testimony."
"There's going to be a constitutional showdown here," according to DiGenova, and "Congress is going to win. The administration's attempt to cover up what happened in Benghazi is going to fail. It's taken a long time, but [House Speaker] Boehner and company have finally gotten their act together and have decided that they must get the answers."
Further, as DiGenova sees it, "the whistleblowers are out there. They [the whistleblowers] are out there. They are great Americans. They were on the ground in Benghazi. They want to tell their story, and the administration is going to do everything it can to stop them from testifying under oath in public, and they want to protect Hillary and the president. That's what this is all about."
Further from the broadcast

Broadcast co-host Brian Wilson:
Now your law partner Victoria Toensing, I happen to know, has represented people in these high-security cases before.
DiGenova:
Yes, and she currently has a top security clearance.
Wilson:
Wow! And they will not clear Victoria Toensing for clearance in this case.
DiGenova:
Correct, she got new top security clearance in the last year. And now they will not clear her or any of the other lawyers to represent the other Department of State people. This is so outrageous.
Co-host Larry O'Connor:
Joe, name names here. You say this is State Department and..."
DiGenova:
Yes, the State Department, and of course, the White House, will say they know nothing about it, which is a bald-faced lie.
The Hillary factor. Perjury?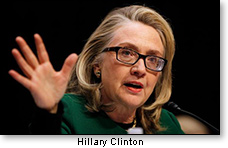 This has serious implications for former Secretary Hillary Clinton. Contrary to her exit testimony before Congress in January when she claimed she did not sign off on a letter denying the urgently requested security for the Ambassador in Benghazi and his colleagues, others are claiming the exact opposite is the case and are prepared to testify to that.
DiGenova assures his listeners, "That background story is one that will be told to the committee."
State-controlled media to the rescue
A
Washington Post
story is covering for Hillary Clinton, claiming that communiqués like that go our under a Secretary's signature all the time and they never know about it.
DiGenova shot back, "That op-ed piece is maliciously false or is completely uninformed because she in fact knew. Those details I'm not at liberty to disclose now. But in the hearing, this whole thing will be blown out of the water."
Other media
Later in the day,
FoxNews
followed hot on the story, and turned out an exclusive report where a special operator in the Benghazi case disputed Obama administration attempts to explain away the lack of security on the claim that no security forces were readily available. Far from it – and in fact there were at least two military forces that could have arrived on time.
So hang on. Will the Obama administration finally be exposed for treachery? Stay tuned.
© Wes Vernon
---
The views expressed by RenewAmerica columnists are their own and do not necessarily reflect the position of RenewAmerica or its affiliates.
---