Wes Vernon
BOOK REVIEW: 'Full Spectrum Diplomacy and Grand Strategy'

By
Wes Vernon
April 25, 2013
Full Spectrum Diplomacy and Grand Strategy: Reforming the Structure and Culture of U.S. Foreign Policy
By John Lenczowski
Lexington Books, 212 pages, $70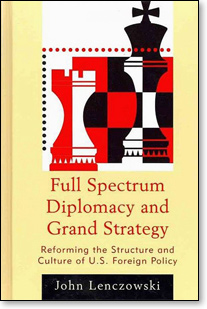 What's this? Yet another plan to "reform" government? No, it is not just another conventional idea to cure bureaucratic intransigence or reckless disregard for common sense, though John Lenczowski surely does grapple with those issues.
In "Full Spectrum Diplomacy and Grand Strategy: Reforming the Structure and Culture of U.S. Foreign Policy," the author envisions a fresh new government construct whose potential result could literally spell the difference between life and death for millions of Americans.
The United States arguably is or soon will be vulnerable to nuclear blackmail or even a nuclear Pearl Harbor, as credentialed military and foreign policy analysts have warned.
Mr. Lenczowski is well-positioned to understand the trip wires in our foreign policy, many of them self-inflicted, that have often played into the hands of those in other parts of the world who would do us harm.
By pedigree and achievements (scholastic and professional), this author knows whereof he writes. His grandparents escaped Russia and the clutches of the Bolsheviks just one step ahead of the revolution that created the Soviet Union. They settled in Poland, only later to be executed in a Nazi concentration camp during the German occupation. The author's mother barely survived the cruelty inflicted upon her in a Soviet gulag during Soviet occupation of Poland. Afterward, she and her husband, having refused to live under Stalin's puppet Polish government, came to the United States, where their son John was born.
With his doctorate in advanced international studies and other attainments in that field, Mr. Lenczowski became principal Soviet affairs adviser to President Reagan as the Gipper planned the take-down of the Soviet Empire.
The author is founder and president of the Institute of World Politics, whose faculty includes credentialed specialists in diplomacy, peacemaking, public diplomacy, strategic communications, military strategy, political warfare, intelligence and counterintelligence, homeland security, economic strategy, and moral leadership.
In "Spectrum and Diplomacy," Mr. Lenczowski proposes a sweeping reorganization of that entire range of government disciplines. A nerve center of such massive reorientation would be the U.S. Public Diplomacy Agency, whose portfolio is so extensive that its significance could not be ignored, and which would spur a culture of influence enough to be felt within the department and other relevant agencies.
The agency would be in the State Department but not really of it. Basically, it would be removed from the department's culture and "would operate at a greater effectiveness." The author notes the department's structure and culture of diplomatic policymaking were formulated before the arrival of the modern mass media.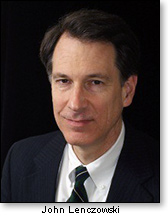 Mr. Lenczowski would supplement formal government-to-government diplomacy with public diplomacy's people-to-people approach. In that endeavor, he would enlist the assistance of Americans in and out of government. That would include visiting lecturers or scholars at educational institutions, performing artists and others who befriend the local populations.
For example, many foreigners, including in the Arab world, have concluded from our television and motion pictures that the United States is a land of a debased culture. "Full Spectrum Diplomacy and Grand Strategy" states that in this case, visiting scholars or others in far-off lands could show that millions of Americans in small towns attend church and are God-fearing people far removed from the libertine mindset of many production studios.
In an interview with this writer, Mr. Lenczowski said there is much yet to be learned about the recent debacle in Benghazi, but if reports are accurate that "our people, CIA people were there to get arms, to get Libyan arms to the Syrian resistance," then with the benefit of more information, we might determine if public diplomacy could have averted the crisis.
"From all I know," he added, "we didn't have a good handle on who those people were in Benghazi. Were they members of a rival tribe? Or were they jihadists, some kind of Islamic extremists? Or were they more democratically inclined? But when you [suddenly] come into a place like that [in a crisis mode], you don't know anybody, whom can you trust to tell you about who's who?"
Mr. Lenczowski would create agencies to see that disinformation about the United States conveyed to foreign populations is met with an effective response.
Another agency would be responsible for "ensuring a sufficient counterintelligence protection against foreign political influence operations and against the infiltration of U.S. public diplomacy programs by foreign agents of influence." He cites the documented fact that during the Cold War, "protection against infiltration at such institutions" as Radio Free Europe and Voice of America "was always weak." This agency could also counter "attempts by Islamists to secure a foothold of Shariah law" in the United States.
Mr. Lenczowski thinks it is way past time to start the national conversation on the tall order he proposes.
Reprinted with permission from the Washington Times
© Wes Vernon
---
The views expressed by RenewAmerica columnists are their own and do not necessarily reflect the position of RenewAmerica or its affiliates.
---