Wes Vernon
Part 5 -- Stalin's secret agents: U.S. & Britain follow Moscow's orders (Hollywood's missing movie)

By
Wes Vernon
March 7, 2013
(See Parts 1, 2, 3 & 4)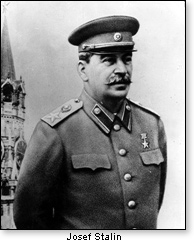 War is hell. Everyone knows that.
It's just that some chapters of any war imposed on innocent civilians are so hellish as to leave lasting psychological scars on those fortunate enough to survive.
Picture this nightmarish scenario:
Men, women, and children who thought they had attained hope for a free life, some settled in their new surroundings for years, are unexpectedly hunted down and yanked from their homes at gunpoint (by those they had believed were their new "friends") and hauled back to their original hated rulers to meet certain death. Is this some World War II horror movie?
The missing movie
Unfortunately, it's a true story. Ah! But unlike other infamous sellouts of World War 2, this is one in which Hollywood producers and writers have not evinced the slightest interest in dramatizing. Fantasize, if you will, a movie studio that actually did craft a production based on the slaughter of two million fugitives who found – much to their horror – that their refuge would be taken away from them – by the very people (the U.S. and the British) who had previously seemed to welcome them.
Any movie documenting that true story would be a box-office smash and would raise some questions amongst the American public about the betrayal of millions of fugitives by the British and American forces under orders from the highest echelons of power in those leading free Western nations at the end of the war. The result? Millions of anti-Communist Russians and others behind the Iron curtain (whose stories would have embarrassed the Soviet Union) were stabbed in the back.
That's right. U.S. and British leaders were dancing to Josef Stalin's evil tune. No, this is not an accident. As onetime U.S. Defense Secretary James Forrestal reportedly remarked in that era, "If our officials only made mistakes, they would occasionally make one in our favor."
Stalin's secret agents
But in no way was this a mistake. In their new book
Stalin's Secret Agents,
M. Stanton Evans and Herbert Romerstein document how this occurred as planned. President Franklin D. Roosevelt commented prior to the 1945 Yalta conference that he was certain he and Stalin could forge a happy post-war relationship, and therefore he (FDR) would move toward that happily-ever-after ending by giving Moscow's mass murderer "everything he wants."
That was all it took to encourage "Stalin's Secret Agents" inside the U.S. government. They pounced, and put the treasonous program in motion. The authors name names, including Harry Dexter White, whose "Morgenthau/White" planners were instrumental in carrying out the wishes of Josef Stalin (
see this series Part 3
).
White, a Soviet agent, was among the ring of Stalinist infiltrators in Washington who were influencing U.S. government decisions favoring the goals of the Soviet mass murderer. Other infiltrators inside the U.S. government coordinating Red aggression included Alger Hiss, who (
as outlined in Part 1 of this series
) advised Roosevelt at Yalta where the fate of the anti-Communist fugitives was sealed. Others working for Stalin from inside U.S. decision-making circles included Lauchlin Currie at the White House; and Owen Lattimore at the Office of War Information (OWI) and the pro-Chinese Communist Institute of Pacific Relations (IPR).
The meaning of Operation Keelhaul
Again, the agreement by the U.S. and Britain to ship some 2 million anti-Communist Russians back to Moscow was a deliberate stab in the back. Murder, Incorporated had nothing on this plot to send innocents to their deaths. The very code-name accorded in U.S. circles to the mandated disgraceful skullduggery says it all: "Operation Keelhaul." As Evans and Romerstein explain, "The allusion was to a barbaric form of punishment at sea, whereby captives were dragged beneath the keel of a ship, suffering agonizing death by torture."
The book cites a British "shoot to kill" order in the event the fugitives resisted, as many of them did. They knew that certain death awaited them in the Soviet Union. A number of them committed suicide, some first killing their children.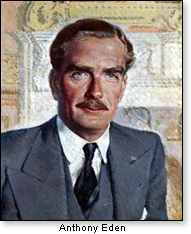 British foreign minister Anthony Eden (later Prime Minister) said it was British policy to send all the Russians home whether they wanted to go or not and by force if necessary. He further acknowledged that "we shall be sending some of them to their death." The term "some of them" likely should be replaced with "all of them." If any survived, I can't find any record of it, either by documentation or anecdote.
Grew: a good man speaks up
Stalin's Secret Agents
includes new details on the pushback against
Operation Keelhaul
by veteran State Department official Joseph Grew.
As President Roosevelt (along with his rookie Secretary of State Edward R. Stettinius and Soviet agent/State Department operative Alger Hiss) were on their way to – or had arrived at – Yalta, Mr. Grew was approached by the Soviets in Washington to "obtain approval for returning Soviet-nationality fugitives held by the United States."
Grew, a State Department veteran whose service dated back 40 years to the administration of the first Roosevelt presidency (Teddy), flatly rejected the request. He later was shocked at learning that his decision in the matter had been overridden by higher levels of government.
Co-author Stan Evans has unearthed and reproduced in the book a copy of the cable wherein Grew protested that the Operation Keelhaul agreement violated the Geneva Convention and American diplomatic practice. Nonetheless, U.S. officials at Yalta overrode Joseph Grew's humanitarian approach. They were hell-bent "to give the Soviets what they wanted."
Two other notes of interest
1 – Stettinius appeared at the time to be totally clueless. Evans' intrepid research has led to the reproduction in
Stalin's Secret Agents
of a document showing the newly appointed Secretary of State Stettinius emphatically denied (in conversations with historian Walter Johnson) that he ever had known anything about "forced labor" being agreed to at Yalta. Yet, in the earlier cable overriding Grew's citation of the Geneva Conventions, Stettinius seemed very knowledgeable and determined in rebuking Joseph Grew and in ordering that Stalin's wishes in the matter be granted.
2 – It was said that President Roosevelt hardly knew Alger Hiss prior to the latter's assignment as an advisor at the Yalta conference. If that is the case, why then did the president specifically ask – by name – that Hiss (later proven to be a Soviet agent) accompany him to Yalta? That little-known fact has been reported but not explained. Possibly this is because Roosevelt and/or Hiss took to the grave whatever explanation there is.
The legacy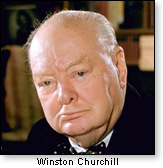 The desire on the part of Roosevelt – and to a lesser extent Britain's PM Winston Churchill – to "give Stalin whatever he wants" – has contributed to a path of rolling disasters that haunt us to this day.
If the two million innocent men, women, and children among Operation Keelhaul's families had been allowed to remain in the free world where they had sought refuge from Moscow's clutches, they would likely have exposed to the unsuspecting of the Western world the extent of Soviet deceit. That is obviously why Stalin ordered their return.
Here in the United States, surviving fugitives could have provided additional badly-needed support to the efforts of Alexander Solzhenitsyn and other Russian dissidents, writers and activists who attempted to warn us of the magnitude of the Soviet threat, as Stalin and his successors tried to take up where Hitler left off.
In fact, when it came to plots to overrun the globe (militarily and/or ideologically), Hitler was the pupil, Stalin the teacher. In such a circumstance, needless to say, the teacher is usually the more proficient of the two.
Perhaps many of the escaped innocents would ultimately have run for office here in the United States and, with an ability to influence citizens of their adopted country, enhanced a general understanding of the aggressive techniques deployed by Communism and later toxic movements that emerged after the Soviet downfall.
Or perhaps one of the surviving fugitives might have ended up in Hollywood and produced a movie telling the story of Operation Keelhaul. Tinseltown has produced dozens of films for decades panning the House Committee on Un-American Activities as payback for the committee's exposure of Communist writers and producers who bombarded moviegoers with pro-Soviet propaganda. One would think just one movie depicting the treachery that was Operation Keelhaul could click with the public. Hmmm?
For shame
Operation Keelhaul was a cowardly capitulation by the U.S. and British leadership – one more dishonorable act leaving a legacy of betrayal. Not only was it an unspeakable crime against its victims, but it also helped to weaken the cause of freedom in the years that followed. For shame. And there's more. We'll get into it later.
© Wes Vernon
---
The views expressed by RenewAmerica columnists are their own and do not necessarily reflect the position of RenewAmerica or its affiliates.
---