Wes Vernon
BOOK REVIEW: '50 Things Liberals Love to Hate'

By
Wes Vernon
November 26, 2012
50 THINGS LIBERALS LOVE TO HATE
By Mike Gallagher, Threshold Editions 319 pages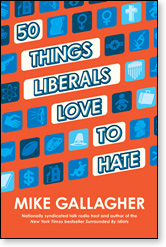 Taken page by page, this book is a fun read. Taken as a whole, it remains entertaining but acquires a deeper meaning. One must add up all "50 Things Liberals Love to Hate" to appreciate fully the huge canyons that have divided us into two nations in terms of worldview.
It is now common-sense Americans (of whatever ethnic, racial or religious background) versus a segment of the population that has bought into a strain of thought that constitutes an intellectual "foreign object" in our midst.
The latter is a disruption to — and arguably, an attempted destruction of — the free exceptional nation we have come to know and love and for which our Founding Fathers sacrificed that we may enjoy prosperity and happiness as rewards for hard work and initiative.
Author Mike Gallagher is a radio talk-show host whose daily routine is such that he can't avoid stumbling over other-planet ideas promoted by those who, with a straight face, imply, "Doesn't everybody think so?" If they get the wrong answer to that question, their follow-up will include such epithets as "racist," "bigot," "homophobe," and "Islamophobe," to cite some of the milder insults.
Mike Gallagher obviously had fun putting all these leftist pet peeves between two covers. The book is filled with howlers that are at once amusing and threatening.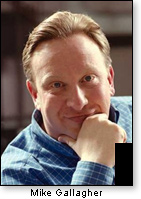 Take, for example, Boy Scouts and Girl Scouts, two parts of one of the "50 Things," and the ACLU acolytes who go to court to force each of those two groups to admit members of the opposite sex into their ranks.
The people pushing that idea are not ignorant of the most basic facts of life and human nature. Most (though not all) know that boys and girls are wired differently. Liberals know it all too well. That's what they intend to change.
They are not content with their own pursuits — they want to change your preferences and your children's inclinations without considering your parental outlook and force their lifestyle choices on your family. They are dead serious. Gallagher notes that happy liberals are a rarity, a reminder of misery's desire for company.
Liberals routinely oppose your right to free speech if you disagree with them. Is that statement paranoid? Think about it: When was the last time a professor was fired or suspended for saying something too liberal? As Gallagher says, "If it's ugly and it's liberal, the American Civil Liberties Union will rise to its defense."
Liberals would use the power of government to shut down conservative talk radio. They promote "speaking truth to power," except when talk-show hosts speak truth to liberal power via talk-back radio. Liberals hate that.
Regarding the Second Amendment, Gallagher writes: "Twenty-seven English words can't be all that hard to understand."
American history rates No. 8 on the liberal hate list. That is if we're talking about real American history — great stories of courage and the sheer scale of a continent that contained the dreams and imagination of generations of pioneers, inventors, presidents, villains and heroes. None of that fits neatly into the liberal narrative, which is basically that factories in the 19th century were pretty awful places and then we got the Occupational Safety and Health Administration.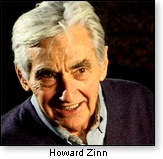 The author of "50 Things Liberals Love to Hate" brilliantly destroys the argument by the widely read Marxist "historian" Howard Zinn that we have no business being here, we stole everything, and we should give it all back. Quibble: The author stops short of citing Mr. Zinn's FBI file, posthumously released, that shows him to have been a dedicated member of the Communist Party USA who lied about it to the FBI.
This book shows how liberals hate suburbs (No. 27) because they provide space and freedom in which to raise families. Quibble: The author neglects to note that some people close to President Obama would like to require businesses desiring to move from city to suburb to apply for an "exit visa." Once implemented, that could extend to families desiring to make the same move.
So what's left for liberals to hate? Plenty. Try, for example, McDonald's, conservative women (Sarah Palin and Ann Coulter), black Republicans (Clarence Thomas and Herman Cain), the Bible, the West, the South, honesty, success, Wal-Mart, football, John Wayne, NASCAR, flag pins, steakhouses, small business, profit, the military, the Constitution, apple pie, doctors and patients (soon to be put in their impersonal places by Obamacare).
Of course, No. 1 on the liberal hate list is America itself. Whether or not he intends to make the point, Gallagher provides further evidence of an America divided as in no other era since before the Civil War. It's the "foreign object" crowd versus the rest of us.
Reprinted with permission from the Washington Times
© Wes Vernon
---
The views expressed by RenewAmerica columnists are their own and do not necessarily reflect the position of RenewAmerica or its affiliates.
---