Wes Vernon
The Republican convention (from Tampa: last call for America)

By
Wes Vernon
August 30, 2012
The Republicans were thrown a bit off their stride by having to skip the first night of their convention on Monday, thanks to Tropical Storm/Hurricane Isaac. But once they got going, their revised orchestration was on the proverbial roll.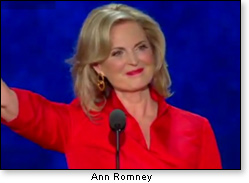 Ann Romney stole the show on the first night of the 40th Republican National convention. She gave us a good look into the human side of Mitt Romney, his role as a husband as a father, and her role as his partner.
The keynoter, Governor Chris Christie, did exactly what is expected of one who assumes that assignment: firing up the troops. Except that by the standards previously set by the New Jersey chief executive, it was relatively mild, notwithstanding such zingers as, "Mr. President, leaders don't follow polls; leaders change polls."
Who?
And who is this president that has belittled the country whose voters bestowed upon him their highest honor? Well, Barack Obama, of course. Then why did we not hear the name of the president at any point in the keynote address of the Republican convention?
There seems to be a suspicion that the word was passed: keep the very name of "Obama" to a minimum. What? Say it isn't so. If we're going to urge Americans to defeat the President of the United States, shouldn't we hear mention of his name in the keynote address of the opposition party?
OK, so everybody knows the president's name. But we believe it would be like the GOP establishment, often afraid of its own shadow, to caution speakers to remember that the "moderates" and people "in the middle" don't like to hear Republicans or conservatives criticize Democrats by name.
Oooooooh! That will offend their tender ears, you can hear them saying. Of course, if Democrats and liberals compare President George W. Bush to Hitler, the GOP masochists accept that as just something we have to endure. That is our destiny. (Sigh!)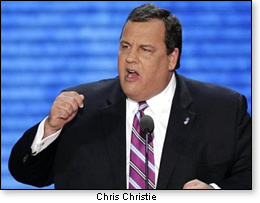 So why?
Why would the "mouth" that normally roars Jersey-style withhold mention of Barack Obama's name? Surely the governor of the Garden State did not land a star speaking assignment by holding anything back.
Governor Christie certainly is not the least bit bashful in calling out Democrat Frank Lautenberg, New Jersey's senior senator with whom he often feuds. And teachers union members in his state who march into a public forum to tell the governor he has treaded on sacred ground by denying them their expected pay raise are lucky to leave with their dignity intact after the "Moderate with a Mouth" (that's meant as a compliment) gives them a mouthful of advice as to how the millions of Jersey taxpayers — yes,
those
people — are deserving of some consideration too.
An explanation
Next day, Governor Christie visited the Utah delegation, and said he had decided he would not "absolutely tear the hide off the president." The reason? "Because I believe he is irrelevant because he made himself irrelevant." Instead, the governor chose to focus on the differences between the two parties.
"I've never seen a president like that who has so abdicated his responsibility to be a national leader," he added. Further, Governor Christie knew President Obama was watching the speech "because he's the thinnest-skinned politician in America."
Wednesday
If there had in fact been word from on high not to mention Barack Obama's name, apparently it was called off by Wednesday, because President Obama was explicitly identified throughout by the speakers at what turned out to be the convention's second night.
Even the usually mild-mannered Tim Pawlenty, former governor of Minnesota, urged the man in the White house not to despair because" a lot of people fail at their first jobs."
Though former Arkansas Governor Mike Huckabee, New Mexico's new Governor Susana Martinez, and former Secretary of State Condoleezza Rice had much to contribute, they cumulatively served as the prelude to the star of the evening, Congressman Paul Ryan of Wisconsin, the Vice Presidential nominee.
Obama on the attack
It's obvious what the Romney campaign saw in the seven-term 40-year old lawmaker. He has a natural disposition that enables him to castigate his opponent while maintaining an earnest manner that mixes with humor — a talent that is rare even in the best of politicians. He comes off as serious and very knowledgeable, but not threatening.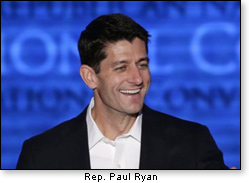 In advance of Ryan's appearance, the Obama campaign sent out a statement describing the congressman as "fiercely, harshly anti-female."
That name-calling was smashed to smithereens as Mr. Ryan referenced his mother who had been widowed at age 50, had to go to work, take a 40-mile bus commute, and then ultimately succeeded on her own. And "she did build that," he added.
"My mom is my inspiration," Congressman Ryan declared to a sustained roar of crowd approval, encouraging his mother Betty to acknowledge the boisterous accolade.
The GOP's veep candidate put the Dems on notice that their usual demagoguery on the proposed changes in the bankrupt-bound Medicare program will not work this time around. (Those changes would not affect anyone 55 and over.)
America, he said, will not settle for a program where "everything is free but
us
." (This column will have more to say about that in future installments of our ongoing series
2012: America's last free election?
)
As for Mr. Obama's assertion that if you have a business, "you didn't build that," Governor Martinez pointed to the approaching $16 trillion debt and said "You did build that." Congressman Ryan added that while the debt had started to climb before the Obama administration arrived, the president had done nothing to stop it, and in fact exacerbated it.
Again on Medicare, the would-be Vice President Paul Ryan says, "We welcome this debate. We want this debate. We will win this debate."
© Wes Vernon
---
The views expressed by RenewAmerica columnists are their own and do not necessarily reflect the position of RenewAmerica or its affiliates.
---