Wes Vernon
Republican Convention (ghost of George Romney a no-show: good; Biden a no show: awww!)

By
Wes Vernon
August 27, 2012
Vice President Joe Biden had planned to show up at the Republican National Convention so as to steal some of the GOP's thunder in Tampa. But we're told the threat of Hurricane Isaac convinced him to scrap the venture.
The bad omen for the week ahead in Florida is not the hurricane (the party is working around that). No, the pity is that Joe won't be there. Performing a little comic relief never hurt anyone. But perhaps the Obama campaign decided, why take the chance by turning him loose in Tampa — and right in front of TV cameras? Better to leave Joe in the attic.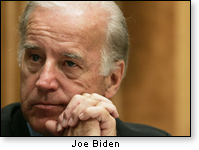 (Did we say "comic relief?" Actually, not funny. Leaving someone that removed from reality just one step away from the nuclear button could be dangerous.)
But then how could we not have eagerly anticipated another performance worthy of asking a man in a wheelchair to stand up, describing J-O-B-S as a three-letter word, telling folks in Virginia that he was confident they would get out the vote in North Carolina, or putting Franklin Roosevelt on TV before TV was with us? What will Jay Leno's comic-writers do now?
2016 = Orwell/1984?
Seriously though, the Republican Party has a big challenge before it — one that goes far beyond merely advancing the party's fortunes for the next four years. The task facing the opposition party this year is to rescue America from becoming a European-like socialist country (or worse) by the time 2016 arrives.
Those who have not seen the movie
2016: Obama's America
should make it a point to do so and persuade friends to do likewise. The film is a smash hit at the box office — apparently everywhere but in downtown Washington.
On its opening day — Friday — one multiplex theatre there clearly stated on its marquee the names of the films and the times of their showing on 9 of its 10 screens. Playing on screen number 5 — but unadvertised on the marquee — was
2016.
If you wanted a ticket for that one, you had to know already that the well-produced sharp critique of Barack Obama's background and stewardship was playing at that location before requesting the ticket.
One need not be paranoid to observe that the huge theatre was a walkable few blocks from the White House. If the actual year 2016 becomes a real-life "Obama's America," will a movie then critical of Dear Leader even make it into
any
theatre at all, with or without normal marquee mention? Just wondering.
The ticket
As this column has previously stated, our priority — first, second, third, fourth, fifth, sixth and beyond — is to get President Obama out of the White House. But as urgent as that goal is, voters generally want to feel they are voting
for
— not just against.
Those of us with long memories took our time to warm up to Mitt Romney. We remember his father George W. Romney, whose airtight certainty that his righteousness allowed no room for argument seemed to surpass that of any other elected official.
In 1964, then Michigan Governor George Romney trashed fellow Republican Barry Goldwater — both before and after the Arizona senator had secured the presidential nomination of that year. When asked at one point if he was supporting the Goldwater candidacy at the top of his party's ticket, the humorless Michigander responded, "You know damn well I'm not!"
According to Wikipedia, the elder Romney's self-assuredness was not confined to the public square: "George was also a strong, blunt personality used to winning arguments by force of will," according to the bio.
Romney vs. Romney
As one who enthusiastically voted for Barry Goldwater in 1964 and resented George Romney, I took my time accepting a member of the Romney family as a possible occupant of the White House. Two considerations have intervened with that mindset: 1 — I've never thought it was fair to blame a man for being his father's son. 2 — I refuse to take my eye off the current political goal to be honored above and beyond all others: Getting Barack Obama out of the White House.
We have had bad presidents before, but none of them — not one — has awakened each morning with a new plan to bring this country that to its knees. By his actions, this man appears so bereft of any feeling for the United States and its traditions that he has been willing to ignore its laws and its Constitution to force his will on his fellow countrymen (see our previous columns).
In another era, there would be a popular outcry for Articles of Impeachment. But in this century, our schools are graduating kids with a distorted impression or ignorance of American history and what the very idea of that "shining city on the hill" signified.
"We can't wait" for the other branches of government to follow his edicts and orders, the president intones. Mr. Obama must have his way
now!
Never mind that the Founding Fathers crafted that great document, with its checks and balances, for the specific purpose of reining in would-be tyrants.
Beyond the waters' edge
This is an emergency. All other considerations fall by the wayside.
As for the supposed lack of foreign policy experience on the part of the Romney/Ryan ticket: 1 — Mitt Romney himself has done mountains of research on foreign affairs issues, which he has outlined in writing. A little too adventurist for my taste, but guided by a deep sense of what is in the best interests of the United States. 2 — Paul Ryan has been in Congress 14 years. One with his IQ doesn't spend all that time voting on all the foreign policy issues that have confronted us (including as Chairman of the House Budget Committee, which considers expenditures for same) and not derive a good understanding of the world.
Speaking of bottom-line smarts: Anyone watching the "summit" on healthcare where members of Congress sat down to share their views with the president knows that Ryan thoroughly exposed (respectfully, and with facts and figures) the holes in Obamacare. An indication of how our gracious leader reacted to the "emperor without clothes" moment came when he invited Ryan to sit in the front row of a seminar where he insulted him to his face with cheap shots.
GOP: the task ahead
So when the Republicans meet in Tampa this week, their job will be to reintroduce their ticket with an emphasis on the positive side. Anyone expecting total perfection from the nominees will have to await the Second Coming. This is our last call to rescue the country from Barack Hussein Obama.
Not that the — er — uh — "imperfections" of the current administration will go unaddressed. That's why Governor Chris Christie is on hand as the keynoter to serve up a platter of good old-fashioned Jersey what-for. Pour it on, Gov!
© Wes Vernon
---
The views expressed by RenewAmerica columnists are their own and do not necessarily reflect the position of RenewAmerica or its affiliates.
---