Wes Vernon
ACTION ALERT: Reagan, the Cold War, and world government

By
Wes Vernon
June 18, 2012
Calling on Mitt Romney, Mitch McConnell, and the senators from your state (details below).
When Ronald Reagan arrived at the White House with an agenda to end the Cold War, he understood that in order to bring down the Soviet Empire, he would also have to face down one of communism's most intransigent enablers — the post World War II pressure for the surrender of U.S. sovereignty.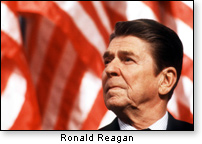 Many of those involved in the latter movement were determined Marxists (about which more below), who were allied with the benighted, the wishful thinkers, various other categories of the well-intentioned and mistaken, as well as the politically-motivated, and the simply anti-American.
It was for this reason that when the Law of the Sea Treaty (LOST) was proposed, even before he became president, Reagan studied the document and saw right through the flowery phraseology that masked a serious disadvantage to the United States
From the "get-go"
In a radio commentary for October 10, 1978, Mr. Reagan endorsed the idea that "no national interest of ours could justify handing control of two-thirds of the earth's surface over to the Third World." Later,
President
Reagan refused to sign the LOST.
Creeping world government
Arguably, the most dangerous provision of the treaty would establish an International Seabed Authority (ISA), a new UN-style bureaucracy. As one of more than 160 countries in that body, the United States would suddenly have very little input to the body's decisions on the deep seabed.
As we have seen for decades in the UN General Assembly, the ISA would be dominated by anti-American interests. But far beyond what even the General Assembly has been able to accomplish, decisions of the ISA would be ironclad. The U.S. would have no veto.
Currently, America has sovereignty over its continental shelf, including oil, gas and other mineral resources. Our nation can thus collect revenue from royalties that energy companies pay to drill there. LOST would require the U.S. to hand over the bulk of such royalties to the ISA for "redistribution" to the "developing world," including corrupt, dictatorial, and terrorist governments.
(Even putting aside the "Mother, may I?" characteristics of that arrangement, stop and ponder this for a moment: We hear constant warnings of fiscal collapse just around the corner as this nation is weighted beneath an indebtedness of $16-to-17 trillion. And yet seemingly normal people not wearing tin foil hats want us to forego a net plus for the Treasury and ship it off to an international bureaucracy in Kingston, Jamaica? Unbelievable.)
Cap and Trade anyone?
Our membership in LOST would require the U.S. to go hat-in-hand and justify itself in answer to claims brought against it by another member. You can be dead certain that extreme elements of the "environmentalist" movement will be actively pursuing specious complaints against the United States on "pollution" issues.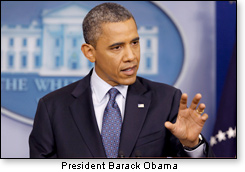 Recall that President Obama in 2009 failed to get the overwhelmingly Democrat Congress to enact its jobs-killing "Cap and Trade" bill. Since then, Republicans rode into control of the House and increased their numbers in the Senate in large measure because of this attempted attack on the middle class in the name of the "environment." Mr. Obama has said everyone's utility bills will "skyrocket" under his Cap and Trade.
As the president pushes LOST and its potential for punitive "green" edicts, his White House modus operandi seems to be if Congress won't give him what he wants, or an executive fiat is too politically sensitive, hey, no problem. Just turn it over to international bureaucrats who can't be booted from office by the American taxpayers who are stuck with the bill. Clever, no? (Oh, yes, there would be international taxation. The U.S. would owe a 7 percent tax on whatever it recovers on or under the ocean floor.)
And there's more
Washington Examiner c
olumnist Holly Martin lists additional reasons for rejecting this treaty: 1 — We would be required to hand over not only the proceeds from the resources the U.S. recovers, we would also be required to engage in the "transfer of technology and scientific knowledge" that enabled the recovery. 2 — The U.S. already abides by international law and other conventions involving ocean-going vessels. 3 — It won't end there. There is an endless line-up of sovereignty-threatening treaties awaiting our attention. They too would sacrifice our liberties to international bureaucrats. Now is the time to say — enough.
The Reagan factor
Again, when President Reagan rejected LOST in 1982, he saw the agreement as a hindrance to his two-pronged effort to reverse two flawed assumptions that had guided post World War II foreign policy. Those assumptions were, first, that the Soviet Union could not be defeated in its world domination ambitions without resort to an all-about shooting war; the second fallacy was that in order to maintain peace, the U.S. should be prepared to surrender some key sovereign rights to international bodies. Reagan intended to bring down the Soviet Union without resort to all-out shooting warfare and without surrendering American rights to a "one-world" cabal.
LOST friends and foes
It is interesting to note where outspoken veterans of the Reagan era have stood in recent years on the Law of the Sea Treaty.
Generally speaking (likely, there are exceptions), Reagan advisers who have opposed this document predominantly were in on his concerted effort to bring down the Soviet Union early-on, or enthusiastically supported the effort.
Jeane Kirkpatrick
Like Dracula, the Law of the Sea Treaty returns to the front burner every few years.
Among those pushing for Senate ratification of the treaty in 2004 was Senator Richard Lugar (who BTW, lost his Senate seat in a recent 2012 primary in part because Indianans were unimpressed with his affinity for international treaties that threatened U.S. sovereignty).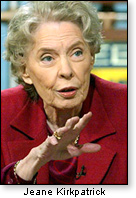 The late Jeane Kirkpatrick, a Reagan administration stalwart, appeared before a Senate committee in '04 to urge the lawmakers not to provide the constitutionally required two-thirds majority for ratification of LOST unless and until the treaty was revised to include protection to American interests.
Kirkpatrick, who had had "prolonged and serious dealings" with LOST, faulted the agreement on many shortcomings, including the following:
1 — The formula for representation of industrialized "producer" countries would leave them as a permanent minority.
2 — There was no guarantee "that qualified applicants [for seabed exploration] would be granted permission for mining," even if they met all the requirements of the treaty.
3 — It vested control over seabed mining in countries that do not possess the necessary technology.
4 — It burdened companies interested in mining with unusual costs and obligations, while providing permanent advantages to their competition.
5 — "We were not guaranteed a seat on the 36-member executive council," but the decision-making structure "should reflect economic interests and contributions of participating states."
6 — The notion that the oceans or space are the "common heritage of mankind" is "a dramatic departure from traditional Western conceptions" of property rights.
7 — It is difficult for the U.S. Senate to ratify an agreement whose contents could be subsequently altered by other treaty members.
8 — The decision of the U.S. not to participate is even more valid than when it was first given. We object to "the cavalier fashion in which G-77 [developing nations] is ready to impose obligatory burdens on developed countries."
9 — Finally, Kirkpatrick argued "there has been an opportunity to see that when the U.S. declines to go along with a scheme that is incompatible with American interests but beloved by the global establishment, the sky does not fall."
That sums up the case against LOST. It's pretty hard to improve on it.
Except to note...
In a new book
Political Woman,
author Peter Collier outlines Jeane Kirkpatrick's stellar service to her country. Her common-sense testimony just summarized above validates that judgment.
President Reagan appointed Ms. Kirkpatrick against the advice of the (George H.W.) Bush faction at the White House. When she accepted the appointment, the president told her, "You've made my day." That is one more of mansy examples as to how the Gipper would listen to advice from differing perspectives, but in the end would not be dissuaded from his agenda.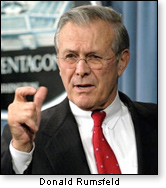 Not alone
Kirkpatrick's views on LOST are shared to this day by — among other Reagan administration veterans — Donald Rumsfeld, whom President Reagan sent around the world to discuss with leaders of other nations why the United States rejected LOST, and Edwin Meese, Attorney General and close confidante of the president.
In fact, Meese recalls that Reagan "did not just not sign the treaty. He very publicly refused to sign it. He also dismissed the State Department staff that helped negotiate it."
Republicans supporting LOST include Henry Kissinger (denied a cabinet position in a Reagan administration unimpressed with his "détente" approach to the Soviets); James Baker (who leaked information to the media designed to put the president in a bad light); and Colin Powell (supporter of Barack Obama in 2008).
Again, we are reminded that President Reagan had some people working for him who were in sync with his goals, and others who couldn't wait for him to leave so that George H.W. Bush could take over. To be fair, Bush was loyal to the Gipper while he was his Vice President. It was after Bush himself became president that he turned his back on key elements of the Reagan revolution.
The origins of LOST
Cliff Kincaid's
America's Survival Inc
website traces the origins of the Law of the Sea Treaty to a socialist and key figure in the World Federalists of Canada. The German-born Elisabeth Mann Borgese was the organizer of the Oceans Conference which proposed an "Ocean Development Tax." Borgese openly proclaimed her admiration for Karl Marx.
What you can do
Senate Foreign Relations Chairman John Kerry (D) has indicated he may hold the vote on LOST in abeyance until
after
the election, thereby possibly offering up its ratification as a going-away present to his defeated colleague on the committee, Senator Richard Lugar (R). Such sweet bipartisanship. Makes you want to outlaw lame-duck sessions of Congress, which are nothing more than end-runs around the voters. Your input is needed in the effort to foil this "public-be-damned" strategy:
1 — As of this writing, 27 senators have signed a letter opposing LOST. 34 senators are required to deny the two-thirds majority needed for Senate ratification of a treaty. If senators from your state are not on that list, you might want to give them the benefit of your views.
2 — Senate Republican leader Mitch McConnell (R-Ky.) is not on the list (although I've just learned he said — in answer to a question — that he opposes LOST). He needs to hear from you, his name needs to be on the list.
3 — As does Governor Mitt Romney. If he can be persuaded to weigh in with personal opposition to LOST, that would likely mean its desired knell. BTW, this would give the candidate an opportunity to fire up his party's national security base.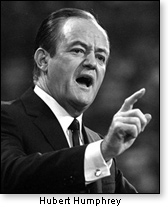 P.S.
Jeane Kirkpatrick had previously been a liberal Democrat. Since she had read
The Federalist Papers
at age 15, her ultimate conversion to the conservative worldview was almost inevitable. She and her husband had been associated with Hubert Humphrey — Democrat senator, former vice-president, and presidential candidate. At first glance, that might be off-putting to some — until you read this passage from Alfred S. Regnery's 2008 book
Upstream.
"[Senator Humphrey] died in early 1978 after a bout with cancer. One day in the summer of 1977, he asked Paul Laxalt, the conservative Republican senator from Nevada, to come to his office, where he told him that he no longer believed that liberalism was what the country needed, but that he agreed with most of what Laxalt said. He was too old and too sick to explain why or to express his newly formed belief."
Another carbon copy of the many post-sixties neo-cons? Perhaps. Or maybe more than that, if he agreed with Senator Laxalt on most issues. The Nevadan was a Reagan confidant and an un-hyphenated conservative.
From that standpoint, the connection between Humphrey and the Kirkpatricks makes even more sense.
© Wes Vernon
---
The views expressed by RenewAmerica columnists are their own and do not necessarily reflect the position of RenewAmerica or its affiliates.
---