Wes Vernon
The subversive network taking over America

By
Wes Vernon
April 30, 2012
The time has long passed when we could afford to look the other way on the extent to which subversive influences — communist and jihad-oriented Islamists — have for years been worming their way into the high councils of our government.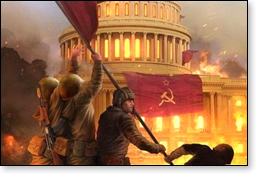 So let's say this again: When the Cold War ended, the enemies of America did not just go away. America is under attack from Communists (with both a large and small "c") and Jihadists.
These two threats to America (by violent means if necessary) have philosophical differences, but they are bound together by an identical ultimate goal: a one-world dictatorship where they can rule forever by the threat of death for dissenters. Recall this column reported a meeting where supposedly "intellectual thinkers" seriously contemplated the incarceration of 100 million Americans and killing 25 million of them — all in order to complete the takeover. (See "
Hollywood's red stripes
" — 10/31/11.)
No congressional committee is investigating this threat to kill Americans and rule the world — a scandal in itself.
Priorities, please
So why on earth should we become embroiled in an out-to-lunch debate over whether every conspirator in this plot carries a Communist Party card in his pocket? Who cares? What matters is that they are moving closer and closer to our destruction and we're demanding that a congressman who sounds the alarm can produce photocopies of the Communist Party USA cards (complete with official membership numbers) of the plotters. Have we lost all sense of proportion?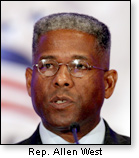 Earlier this month, as Rep. Allen West (R-Fla.) was asked by a constituent, "What percentage of the American legislature do you think are card-carrying Marxists or International Socialists?" Congressman West answered that he believed "there are about 78 to 81 members of the Democrat Party that are members of the Communist Party." When asked to name them, the freshman lawmaker replied, "It's called the Congressional Progressive Caucus."
Combination: Uproar and....silence
Because West used imprecise language with the term "members of the Communist party," critics took the opportunity to nitpick. The head of the Communist Party itself said West "didn't know what he's talking about."
Politico
— the de facto magazine version of the
Washington Post —
called West a "McCarthyite." Chicago Tribune columnist and editorial writer Steve Chapman demanded that House Republicans "either condemn West and expel him from the caucus or else confirm that his views are perfectly acceptable."
Cliff Kincaid of
Accuracy in Media
sent Chapman a video of Rep. Danny K. Davis, a member of the Congressional Progressive Caucus, following the latter's cheerful acceptance of an award from
The People's World
(longtime Communist organ) at a meeting of the Chicago headquarters of the Communist Party USA.
Since Chicago is the neighborhood of Chapman's newspaper, one would think he could easily access (right under his nose) the goings-on of a local congressman's award possibly just a stroll down the street from the Tribune Building. But the video is available to the world via "Rebel Pundit" Jeremy Segal, a disciple of the late Andrew Breitbart. On the tape, Davis sheepishly evaded Segal's persistent questioning. (Breitbart's fight for America lives. Right on!)
No small matter
But here is the more alarming angle to this story — one worthy of a storied media outlet that in better times dubbed itself "the World's Greatest Newspaper": This same Rep. Danny K. Davis (D-Ill.) is a member of the House Committee on Homeland Security. Talk about the proverbial fox in the henhouse.
That is the committee whose investigations inevitably lead it into the inner workings of the infrastructure (human and otherwise) required to see to it that we are protected from those who want us dead. And a member of that sensitive panel says (as Davis does in the video) that citizens should not be concerned with communists.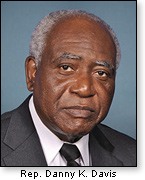 Beyond that, Davis is a mere reflection of the mindset that dominates the Congressional Progressive Caucus. The group is chock-a-block with members who have given aid and comfort to America's enemies. We do not claim to read their minds to determine what motivates them. It is their records that matter.
What is a conspirator?
Back to the question: Was Congressman Allen West off base when he called out the Congressional Progressive Caucus? Answer: No.
In the first place, the overwhelming majority of anti-American conspirators long ago stopped short of formal membership in the Communist Party. That doesn't mean they've stopped working day and night to achieve their Hate-America agenda.
And how does one go about achieving an agenda where groups of the "I'm-better-than-you" intellectuals with PhDs can calmly contemplate killing 25 million Americans? Simply by reaching for more (and more) government takeover of your life.
In response to his critics, Congressman West has defined the CPC agenda as a nanny state that 1 — has bit by bit slipped its tentacles into every aspect of our lives, from the types of light bulbs we use to the size of our toilet tanks; 2 — imposes mandates handed down by unelected officials which threaten our constitutional practice of religion however we see fit; 3 — adheres to the "collective ideal, directed and controlled by a centralized government," that justifies enforcing its will on citizens through such sugar-coated platitudes as "social and economic justice."; and 4 — promotes "larger and larger government, centralized economic planning and redistribution of wealth."
As long as we're talking about semantics, Representative West makes the point that you can use whatever label you wish to describe this agenda. "In our lifetime," he says, "the unpalatable and pejorative brands 'socialist' and 'communist' have been replaced with the more user-friendly 'progressive' term.'"
Since you mentioned it....
Not every member of the Congressional Progressive Caucus has been as publicly open and accepting of communism (with a small or large "c") as has Congressman Danny Davis. However, every one of them supports the steps enumerated above that are leading us (like the metaphoric frog in gradually heating water) toward a communist-style dictatorship. They know in their hearts whether they welcome the coming takeover of America by hostile forces. Wily as politicians generally are in some ways, in other ways they can be incredibly short-sighted or naïve.
But for the sake of argument, let's take on the literal "communist" issue. Herewith the records of some Congressional Progressive Caucus members, as unearthed for the authoritative book
Red Army
by investigators Aaron Klein and Brenda J. Elliott: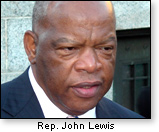 — Rep. John Lewis (D-Ga.). As of June 1963, identified as a member of the Communist Party USA (CPUSA) in New York; supporter of the black supremacist Student Non-Violent Coordinating Committee; backed the Fair Play for Cuba Committee (pro-Castro); associated with the Southern region of the (Communist-front) National Committee to Abolish HUAC (the House Committee on Un-American Activities); defended the W.E.B. Dubois clubs against the Attorney General's listing as a communist front organization.
— Rep. John Conyers (D-Mich.), former Chairman of the House Judiciary Committee. Supported Marxist movements — i.e., the Soviet-front World Peace Council and United States Peace Council; was a strong supporter of the "pro-communist" Institute for Policy Studies; advocated "creative forms of public ownership [socialism]"; spoke before Communist Party-front National Alliance Against Racism and Political Repression; served on the executive board of the Communist-front National Lawyers Guild; participated in a convention of Democrat Socialists of America (DSA); promoted "the concept of world government."
— Rep. Jim McDermott (D-Wash.). Closely allied with DSA; helped extend a visit to Fidel Castro during a World Trade Organization (WTO) meeting in 1999, in part to "give us the opportunity to educate the American public about Cuba"; was "partly responsible for a flood of (sometimes violent) protesters at the WTO meet.
These are just three samples (plus Davis). Not all CPC member records are as egregious as the above, though others have records that are arguably worse. Space limitations prevent us from citing the full record here. But you get the idea of the general mindset. That is the relevant issue, and is what Congressman Allen West — a patriot and war hero — was alluding to in answer to a constituent question. As the lawmaker says, "I am not a politician by trade. I learned to communicate on the battlefield where 'nuance' is not at all useful, and can in fact be dangerous."
Let there be no mistaking...
By any standard, the Communist/jihadist alliance is making great headway. There is reason to believe that this political pincer movement views an Obama victory in the fall as essential to its takeover goals.
Here is a glimpse of what we might expect if this president gets a green light from the voters:
President Obama's campaign is publicly bullying donors to the Romney campaign and, in an abuse of government power worthy of Hugo Chavez, is smearing them.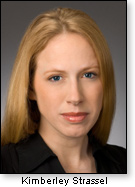 As revealed by
Wall Street Journal
columnist Kimberley Strassel, the president's campaign website publicized the names of eight private citizens who contributed to the Romney campaign, and has hauled out the smear bucket to demonize them. Again, these are private citizens, not political opponents, and not criminals. The message is clear — coming from a government with the power to regulate, audit, and indict.
Theodore Olson, former Solicitor General, told Strassel, "We don't tolerate our people of high power to do these things."
No, we don't. At least not in the America most of us have known.
If elected officials who fancy themselves as our rulers can pull these intimidation tactics on donors able to contribute substantial amounts of money to the opposition, how long will it be until Americans of more modest means hear that midnight knock at the door? People capable of even thinking of doing this might as well carry Communist Party membership cards.
© Wes Vernon
---
The views expressed by RenewAmerica columnists are their own and do not necessarily reflect the position of RenewAmerica or its affiliates.
---